Gary Busey has been a staple of the entertainment industry for nearly five decades. From forming a band during his time at Oklahoma State University and moving to Los Angeles, eventually becoming a movie star, Busey has made his mark with more than 160 projects during his career.
Busey was born June 29, 1944, in Goose Creek, Texas, now known as Baytown, near the metropolis of Houston. He initially went to college at Pittsburg State in Pittsburg, Kansas, on a football scholarship, before landing in Stillwater as a student in OSU's theater program.
"I loved it. It was incredible," Busey said of his time at OSU. "I had an athletic scholarship to play football, and I hurt my knee, so I transferred from that college to OSU and got a dramatic scholarship. I studied under Vivia Locke, my mentor and guide into the beautiful expression of non-acting, just believing what's happening in your heart, and the truth of it and letting that out simply and softly."
Locke, whose name adorns a theater inside OSU's Seretean Center for the Performing Arts, was a theater professor at OSU who was instrumental in the growth of OSU's theater program, as a statue commemorating her importance to OSU is on display in the Seretean Center.
Busey described Locke as his mentor and enjoyed his time studying under her. Many of the things he learned during his time at OSU helped him form the foundation for what he built his lengthy career on.
"That was a big block of my foundation in what I do today in the entertainment business," Busey said. "I've been doing this 49 years, and I have over 160 projects, but that's not the big deal … I'm not talking about me. I'm talking about the greatness that Oklahoma State gave me in my motivation and inspiration to be a better man, better boy, grow up right, do the right thing and to be sure you're right before you go ahead."
Busey took part in Greek life during his time at OSU, rushing with the Sigma Chi fraternity house. Fraternities can be known for their rambunctious activities, and Busey remembers doing exactly that at Sigma Chi.
"I remember I was pledging Sigma Chi, and I remember what we liked to do is get a piece of gristle, about as big as a 50-cent piece, but thin, and put it on fishing line," he said. "There were a lot of geese that were around the ponds on the campus in Stillwater, so we'd feed that gristle to a goose and he would eat it and he'd pass it out. And he'd be dragging that gristle around on the ground on the fishing line, and the next goose would pick it up and eat it, and it would pass to the next goose, until we had 18 geese on a fishing line, walking the same way, the same direction.
"They'd be stopping together, moving together, sitting together and honking together. It was a beautiful goose tribulation that we gave, and since I was born in Goose Creek, it made all the sense in the world to me."
Sigma Chi was also where Busey joined his bandmates, calling themselves The Rubber Band. When Busey transferred to OSU and asked the Sigma Chi fraternity if they had a room for him, he was introduced to a bass player, a guitar player and a piano player, who all were members of the fraternity. It was this band he traveled to Los Angeles with in the mid 1960s.
"I took the band to Los Angeles in 1966 on the old, original Route 66. We went out there and played, and played, and played," Busey said. "We went to the Whiskey a Go Go as guests, and the main group was Them. Van Morrison was singing the hit of the day, which was called "Gloria," and the opening act was a group called The Doors.
"I leaned over to my piano player when The Doors were playing and said, 'I think we're on the wrong trail ride.' Then, at the end of the summer, we went back to Stillwater to go back to school, and the big hit of that time all across the country was "Light my Fire" by The Doors. So I recanted it, I said, 'I think we're on the right trail ride.' Then we went back to California the next year and stayed there, and made a record with Epic Records, an album called "Carp."
Buddy Holly,an American classic
In 1978, Busey starred in "The Buddy Holly Story," a film which tells the life story of musician Buddy Holly. With 2018 being the 40th anniversary of the film, Busey has launched the PledgeMusic campaign in order to support two new recordings, which are produced by his godson and music persona namesake, Teddy Jack, who is the son of Mary and Leon Russell, according to a press release. The two singles are titled "Not Fade Away" and "All The Way." The name Teddy Jack originated with Busey's credited name of Teddy Jack Eddy on "The Wedding Album," a record in which Busey played the drums for the Russells. Busey also joined them on "The Wedding Album" tour. Teddy Jack Eddy stems "from the name of a character Busey portrayed on the local Tulsa television comedy show, "The Uncanny Film Festival and Camp Meeting," according to a release.
Leon Russell, who Busey recorded with at The Church, a recording studio based in Tulsa, had a special connection and instant chemistry with Busey.
"It was fantastic, it was great. It was like we'd been in past lives together," Busey said. "Everything we did was harmonious. We could communicate with each other without talking, it was an amazing thing. He'd be looking at me, and we were in the control room, and I'd be sitting in the swing, and he'd look at me and tilt his head one way and not say a thing, and I'd go and get on the drums and pretty soon, invisibly, he'd be on the piano."
The pre-sale for the albums began Aug. 1, and the campaign closes Nov. 7. More information can be found by visiting www.pledgemusic.com/projects/gary-busey.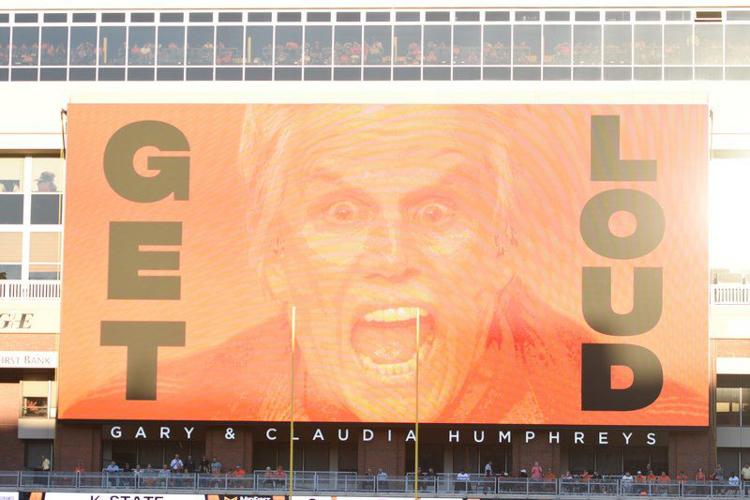 Buseyisms come to Stillwater
On Nov. 17, when OSU hosts West Virginia, Busey will be on the sideline in a return to Stillwater. Busey said the plan is to host a book signing for his latest book, "Gary Busey's Buseyisms: Basic Instructions Before Leaving Earth," which spells Bible. The book is meant to be a motivational and spiritual book, which he will present copies of to members of OSU's theatrical department, which includes stagecraft people, costumers, those who work with stage lighting, and many more.
"I'm going to talk to my friend, Burns Hargis, the president, about having a book signing at OSU," Busey said. "I'll have my books there, and people can come and I'll tell them about the book, have a Q&A with them, they'll get the book and I'll sign it to them personally."
With Busey set for the trip to return to Stillwater, he said there is a special place in his heart for the current students of OSU.
"I love them very much, I was a student, too, and we're all students in the game of life," he said. "And I'm going to come there and meet all of you with love, grace, and understanding and give you information that would be good for you to have, now."