Cowboy hats showcased under glass greet diners as they enter The Ranchers Club. A symbol of the Old West, the hats pay tribute to the American Cowboy of today — and from days gone by — who worked hard at ranching to help place beef on the tables of the growing nation.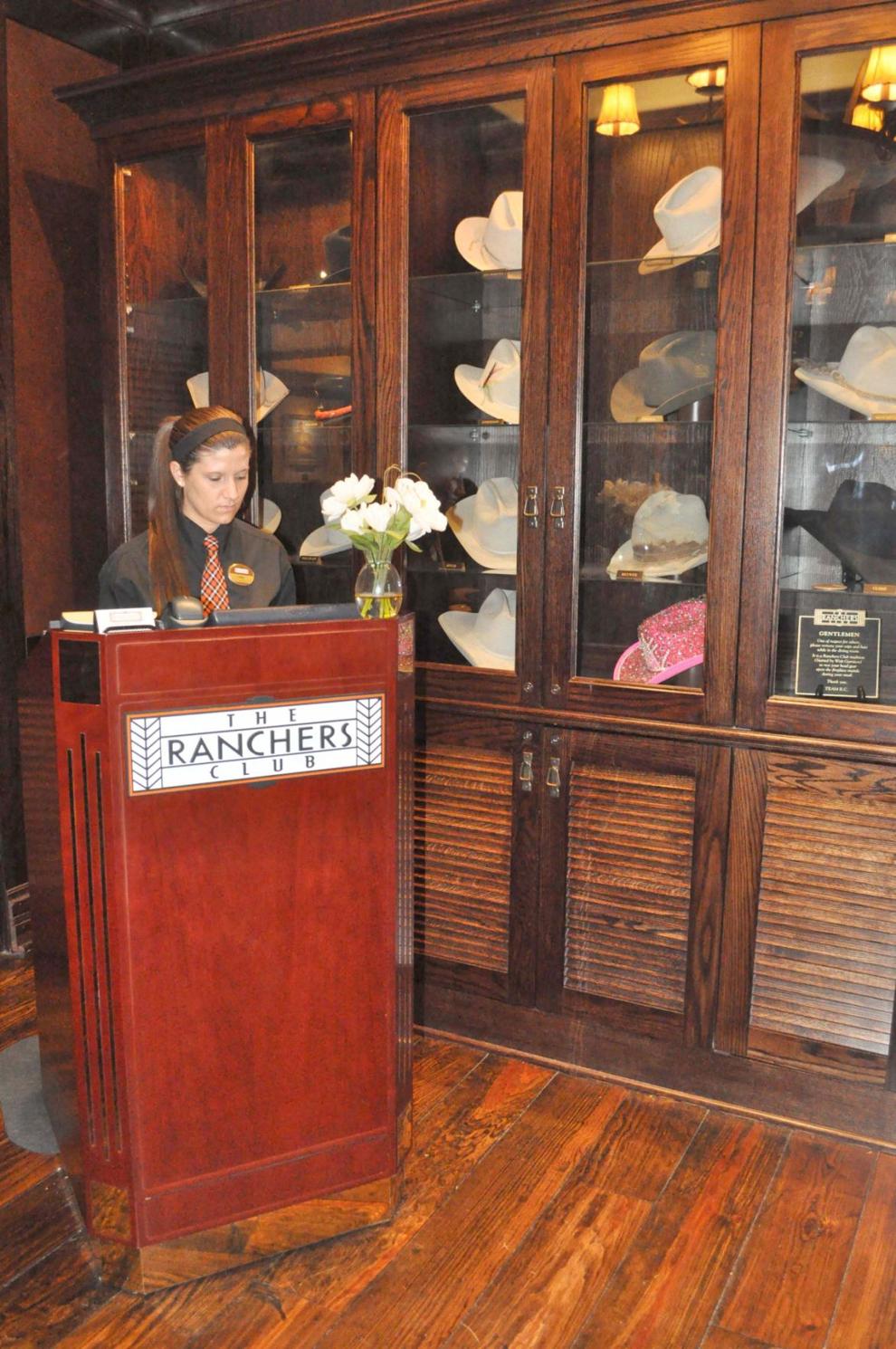 The showcase outside The Atherton Hotel in the Oklahoma State University Student Union is a gentlemanly reminder that all hats are removed when dining at any chuckwagon — with The Ranchers Club wrangling the grandeur of fine dining at its best in Stillwater.  
Well-known for almost a decade for superb catering services and elegant food and beverages, a Chinook blew into The Ranchers Club with a renovation removing the fireplace, replacing chairs and remodeling the buffet area for a new look this spring. The fireplace area was replaced with a large president's table where big groups may all dine together in a more open atmosphere. Western charm still gallops through giving the diner an education in Oklahoma's rich ranching heritage while celebrating cowboy culture with a memorable yet unpretentious dining experience.
Jim Barnard of Persimmon Ridge Management said the steakhouse was created to complement the historic boutique hotel. With its classic Georgian architecture, the full service hotel opened in 1950 and earned membership in the Historic Hotels of America program in 2004. OSU entered into a partnership with Persimmon Ridge Management last summer to oversee the property.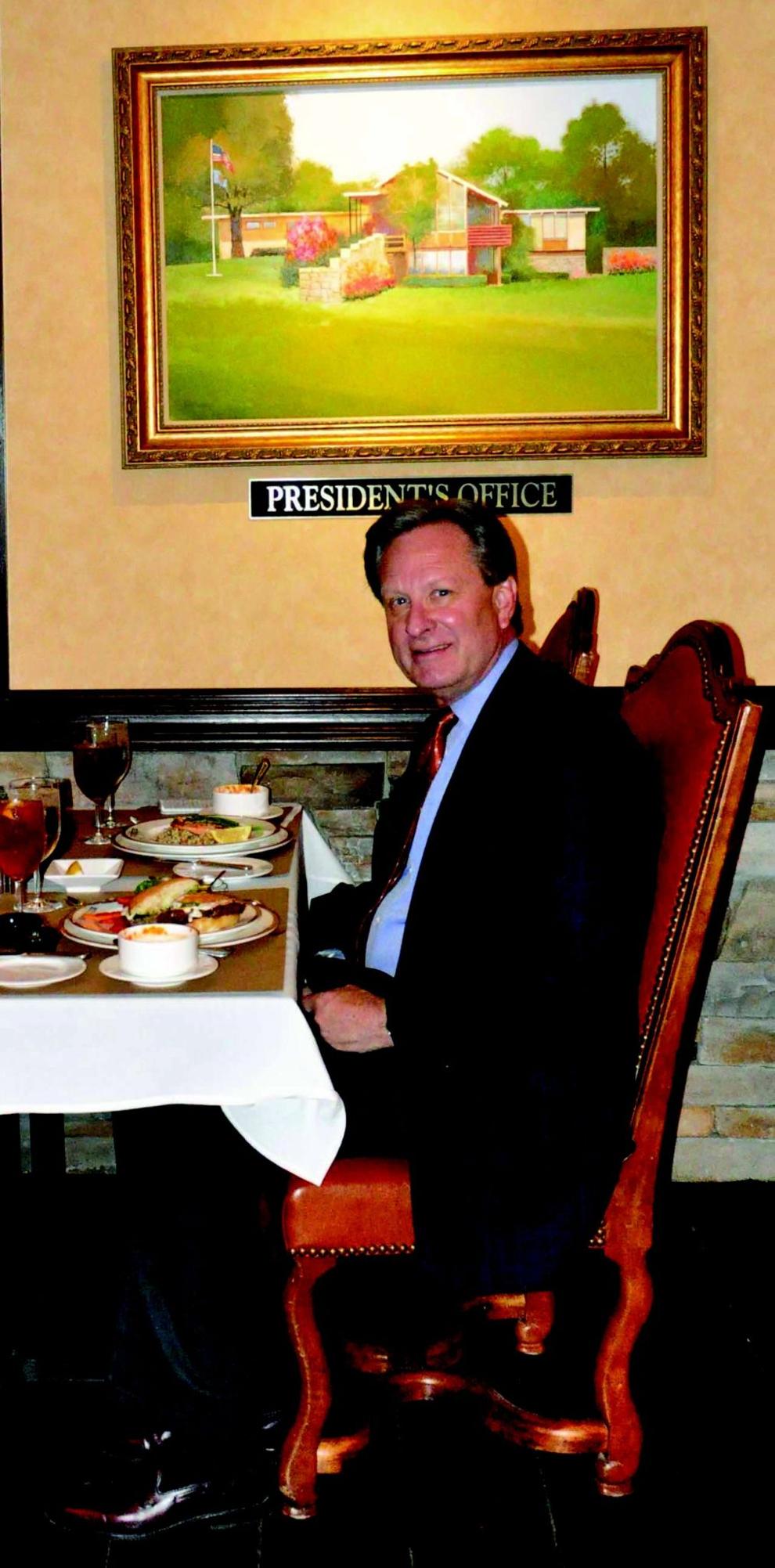 Barnard, an OSU graduate, has more than 25 years in the hospitality industry which helps in providing hotel and restaurant students with a real world lodging and dining laboratory. His son, Josh, cut his teeth growing up in the hotel business, earning a master's degree from OSU. Josh Barnard serves as The Atherton's general manager and director of hotel operations.
"President Bennett was a great visionary — as one of the first to build a hotel on a college campus," Jim Barnard said. "Our place was known as the Waldorf of the West and the food service needed to match the upscale ambiance."
Privately funded donors' gifts exceeding $1 million from many second, third and fourth generation OSU alumni jump-started the project. The restaurant's western ranch-style decor is highlighted with leather, rich hardwood and sandstone including bronze sculptures, rustic antler chandeliers and oil paintings by OSU alum Gene V. Dougherty. A saddle handmade by Billy Cook and donated by the Jameson family who have a ranch near Davis sits prominently in the dining room. Booths commemorating founding members display the names, brands and paintings of their ranches. Founders who don't own ranches have historic campus scenes decorating the area.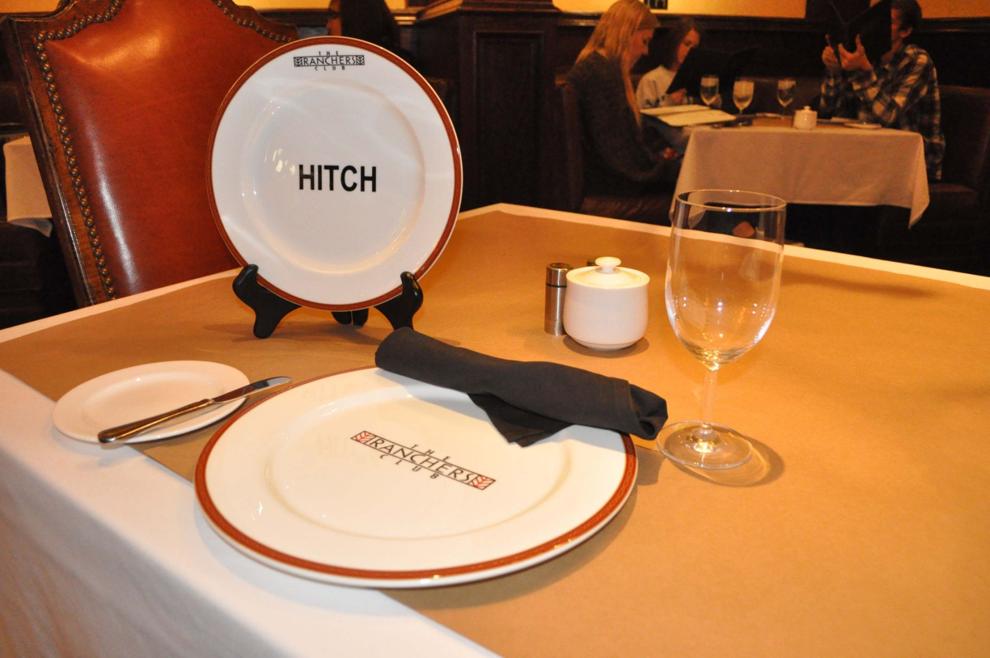 The leadership of OSU alumni Carl and Marilynn Thoma was instrumental in the renovation and opening of The Ranchers Club, Barnard said.  
Carl Thoma, an investment banker in Chicago, grew up on a ranch in Oklahoma's Panhandle between Boise City and Clayton, N.M.  Marilynn Thoma, proprietor of the couple's vineyard and winery in Oregon's Williamette Valley, Van Duzer Vineyards, is a native of Woodward. Their ranch is located west of Boise City on the Cimarron Trail. The couple contributed the cornerstone gift and set a standard for excellence that influenced the project's development. They also helped build the wine list for the five-star restaurant where floor to ceiling wine bins are located in the Van Duzer Wine Cellar.
"They were very influential in setting high standards and we hoped to exceed their expectations,"  Barnard said. "Very few universities have a restaurant with the same quality of food and service as The Ranchers Club."
Customers include OSU students, faculty and administration and guests as well as community members and tourists. In the best cowboy spirit, The Ranchers Club reflects OSU's agricultural heritage in food, too. Executive Chef Ben Coffin, a Guthrie native, assures the quality cuisine for the locavore.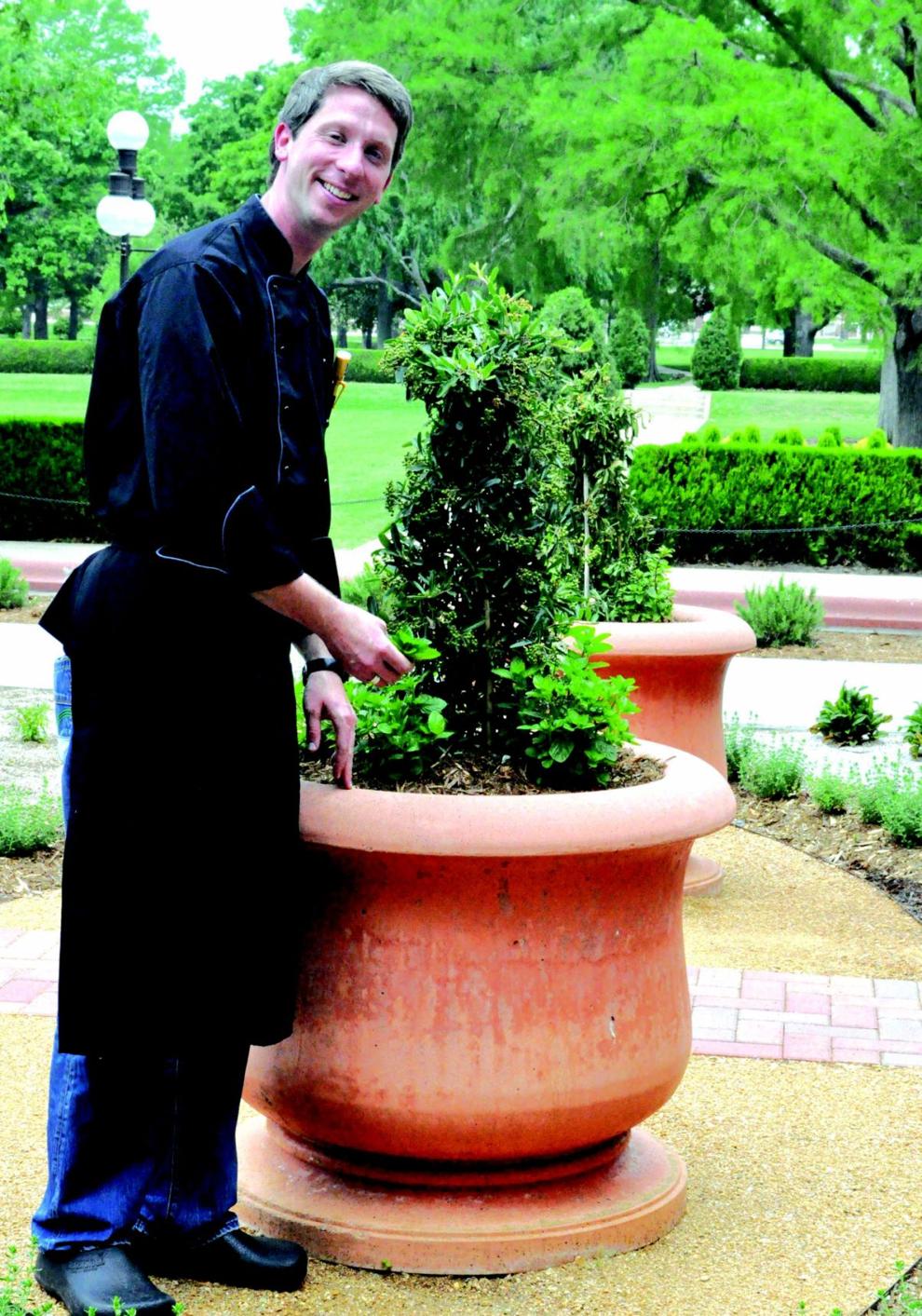 "Food is basic — a restaurant can have a beautiful facility and great design but the food has to be good." Coffin said.  
He graduated from Le Cordon Bleu, London, and the OSU's School of Hotel and Restaurant Administration and has many years of experience as a chef in the United States and Europe including the Connaught Hotel in London and banquets for the Duke of Norfolk.
"Seasonal items are prominent fixtures on the menu with farm to table fresh, local produce," Coffin said. "I do a lot of my own shopping for produce."
With the Price Family Mother's Garden dedicated at OSU's 2013 Mom's Day, Coffin will merely have to step outside the Student Union door for fresh ingredients. There are apple trees and blueberry bushes with a mix of herbs, vegetables, florals and other fruits. A hedge of rosemary will produce large amounts of herbs when established.
"We'll have strawberries, along with all these other fresh ingredients straight from our own garden," Coffin said. "Even the day lilies and dianthus are edible. Dining in the garden will lend itself to a cafe style menu so we are working on a new outdoor patio menu which may feature summer salads with fresh local produce, along with artisan pizzas, although our main focus will always be beef."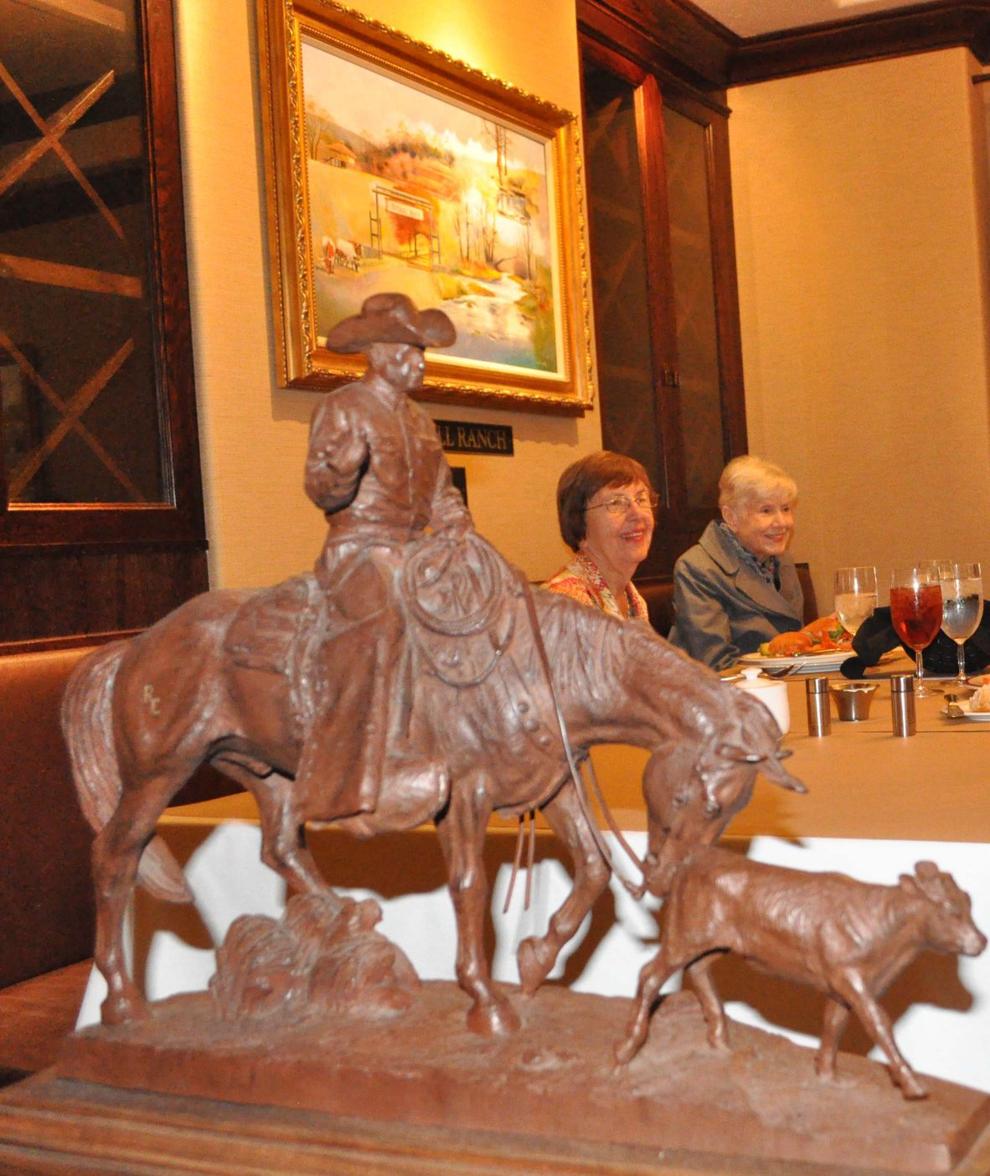 The Ranchers Club menu offers seafood, pork, fowl and vegetarian items, but emphasizes beef even with the telephone number which is 405-744-BEEF.
"We buy directly from Oklahoma producers," Coffin said, "trying to use as much from in state as possible — so we're Oklahoma made."
Clear Creek Abbey, a monastic foundation of the French Abbey Notre Dame de Fontgombault in the diocese of Tulsa, supplies the lamb served. The Clear Creek Benedictine monastery was founded by the monastic community of Fontgombault, a medieval abbey in central France, and the animal management practices used by the Oklahoma monks derive from the rural Old World French peasant shepherd tradition, so this is a premium product, Coffin said.
No herbicides or pesticides are used on the pastures and the special cross-bred lambs selected for Oklahoma's climate have received no artificial hormones and are on pastures all year round.
Fresh honey is gathered from beekeepers at Honey Hill Farm, a 320-acre native grass and clover farm crafting honey near Edmond. Harvest Home Produce by Guthrie provides organic, free range eggs. Produce from Peach Crest Farms in Stratford is USDA certified organic.
The Ranchers Club serves all natural, fine quality beef from No Name Ranch in Wynnewood. The owners, Bruce and Joan Buechner, raise a unique breed of cattle known for its leanness and great flavor, using organic techniques. Their cattle feed on native Oklahoma grasses and drink fresh spring water before being supplemented with a blend of all-natural grain.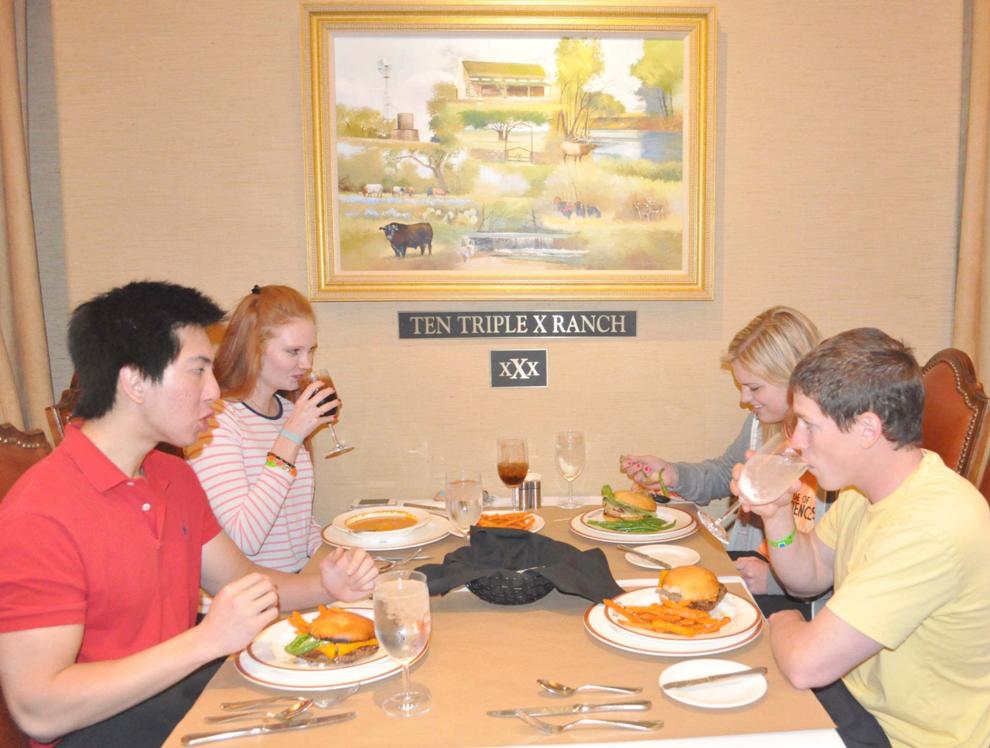 Although beef is at the forefront, the restaurant menu changes with the season offering full service breakfast, lunch and dinner. Students wanting to round up some grub can eat well-prepared comfort food using their meal plan or bursar account to pay for quality fare. For instance, during National Hamburger Month, The Ranchers Club featured weekly variations on the American favorite including the "Junk Burger" which featured bacon, green chilies, avocado, mushrooms and cheese served with sweet potato fries.
"It's a popular place for students — especially for special dates because it gives them an opportunity to dress up," said Naveen Kodadhala, general manager food and beverage services for The Ranchers Club and The Atherton Hotel. "With a dress code, especially not wearing hats while dining, The Ranchers Club serves as a teaching situation for business etiquette, too."
Many students throughout all majors work at The Ranchers Club where they have the opportunity to learn five-star restaurant management service and culinary skills. Future hospitality workers are exposed to paid professionals who are trained to a gold standard.  
"Our wait staff is passionate about gracious hospitality and doing their jobs well for patrons," said Kodadhala.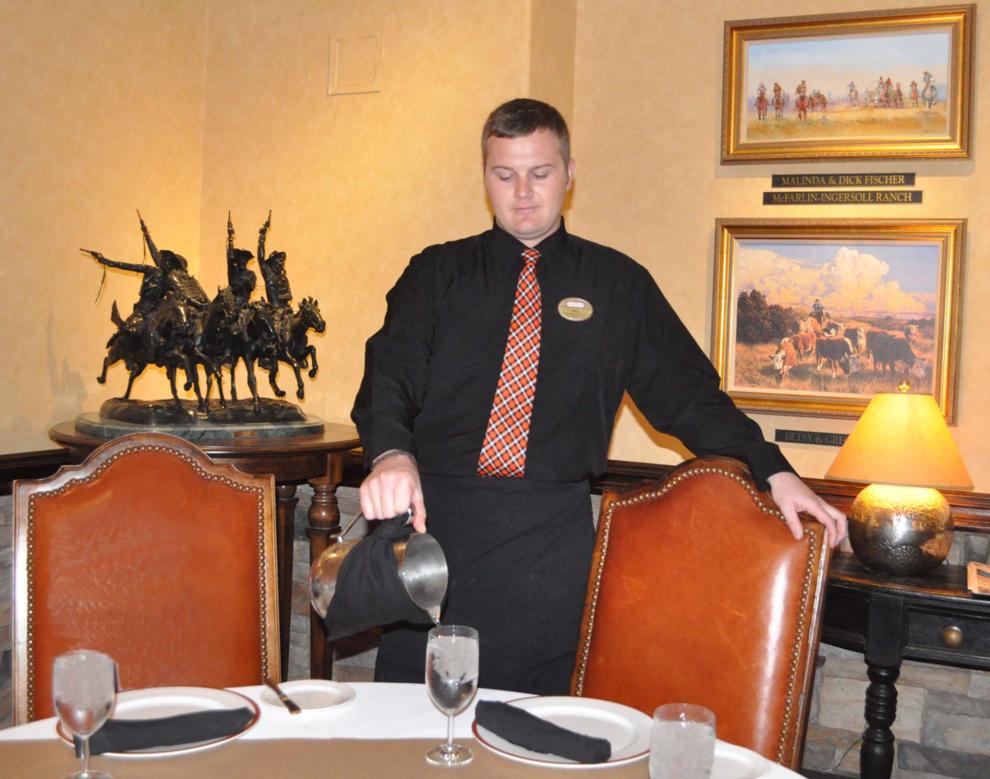 Although walk-in customers are welcome, reservations are accepted online through Open Table, the only Stillwater establishment to participate in the convenient worldwide system.
"We can accommodate large private parties and host a hearty breakfast, power lunches or romantic dinners," Kadadhala said.
Times may vary during special events and game days but general operating hours are a breakfast buffet, 7-9 a.m. Monday through Friday and 8-10:30 a.m. Saturday and Sunday; lunch 11 am. to 2 p.m. Monday through Friday and dinner 5-9 p.m. Tuesday through Saturday.
Soup and dessert specials are announced each day by the wait staff. Regular Paul Epstein, an OSU professor of  foreign languages, said it doesn't matter to him what the soup of the day is because they are all so good with "everything homemade."
"There's a mind at work — an understanding of spices," Epstein said. "The food is imaginative — and always terrific — plus it's not stuffy. People enjoy being here. It's really a hidden jewel."
Twitter @ ElizabethKeysNP