Bright, bold and brilliant, the work of American Pop artist James Rosenquist is on view in the Oklahoma State University Postal Plaza Gallery.  
"James Rosenquist: Illustrious Works on Paper, Illuminating Paintings" is a focused survey exhibition curated by Sarah C. Bancroft. The internationally known former billboard artist became popular in the 1960s alongside contemporaries Andy Warhol, Roy Lichenstein and Claes Oldenburg and has continued creating new work for the past six decades.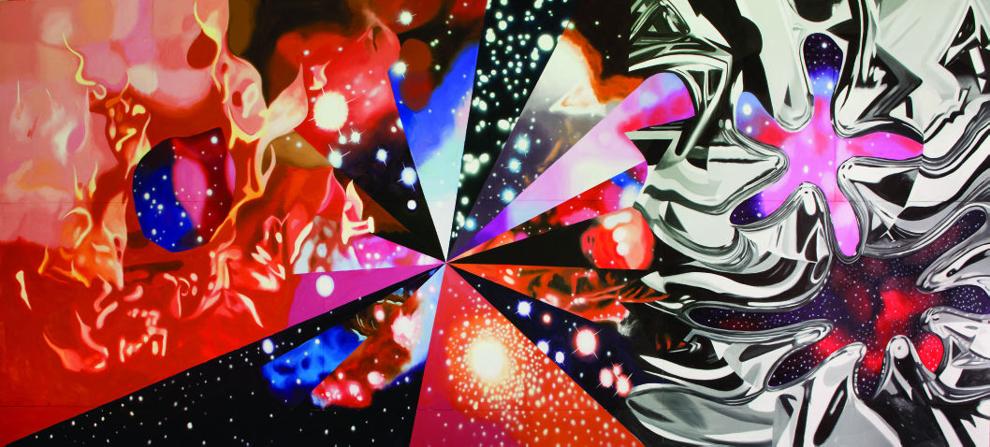 Throughout his career, Rosenquist has devoted his talents to printmaking, collage, drawing and painting. He is one of the most significant artists of the Pop generation with works in major museums around the world including the Museum of Modern Art in New York City. MoMA  recently purchased his painting "F-111," first exhibited at the Leo Castelli Gallery in 1964, and last year made an exhibition of it in a specially designed exhibition room to accommodate the 10 feet by 86 feet painting.
Bancroft is an expert on Rosenquist's work and served as co-curator of the artist's full-career retrospective at the Guggenheim Museum in 2003.  
"The OSU Postal Plaza Gallery exhibition offers a great, focused overview of James Rosenquist's career, from his earliest artistic explorations in the 1960s to recent, billboard-size works," Bancroft said. "Ultimately, he's always thinking and pushes us to think as well. But, he does this in a very right, colorful manner, which you may expect from someone who mastered his craft painting advertisements all across New York City."
Key paintings are included in each section, complementing the array of works on paper and illustrating his artistic prowess in all media.
"The curator is the voice box for the artist - an editor," Bancroft said. "We're not showing everything … there are three galleries of work. Drawing on his early experiences as a billboard painter, he culled imagery from advertising, photographs and popular culture that he combined to create mysterious and bold compositions in art works that question and address the material concerns of life in the 20th and 21st centuries."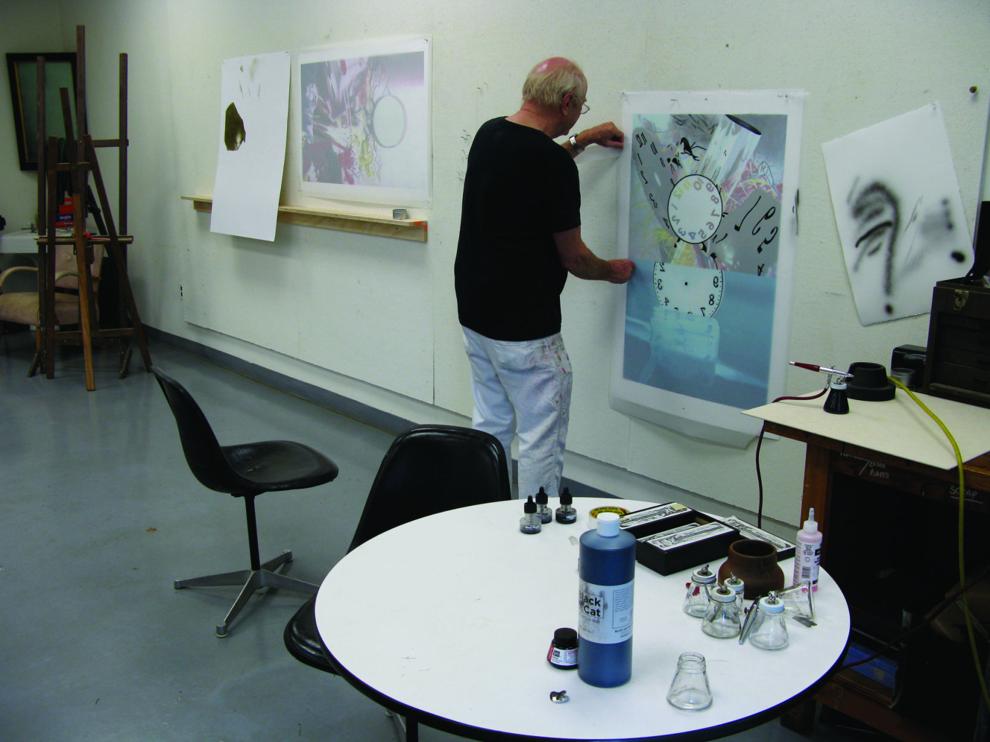 Born in North Dakota and raised in Minnesota, Rosenquist moved to New York City in his 20s to pursue a career as an artist.
"I worked painting Phillips 66 emblems across the Midwest in the 1950s," he said.
Growing up on the plains of America, his art was influenced by the big skies where "you could see forever and you felt that you were living on a dome because the sky would be a big ray to your far left and to your far right," Rosenquist said. "You would think you were standing on a dome.
A color lithograph created in 1973-74, "Off the Continental Divide," is a metaphor for his past life and his future.
"One way or another you leave your home, you slip off the Continental Divide, which goes east or west," he said.
"Off the Continental Divide," as a geographic feature where the water flows down the mountains east or west, is also a reference to the move several artists of Rosenquists' generation made from the Midwest to the art centers of New York City and Los Angles - attesting to a shared history of the coastal draws with the possibility of a bright future or new start.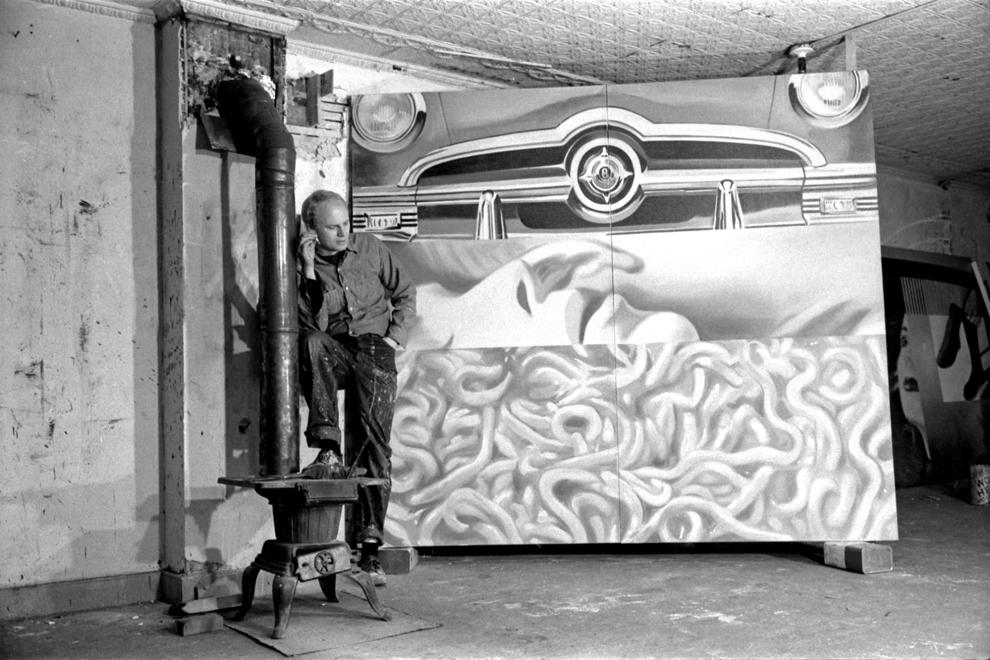 Rosenquist advises all aspiring artists "to learn to do something that no one else does and learn to do it well before you show it to anybody."
"If you show it to someone early, that will be their sole recollection of the work and it will stick with them before you change it and then you'll have to work like hell to show them that you're really good," he said. "Don't show it too early because they'll get a bad impression."
"Work a lot . . . don't call yourself an artist, let someone else call you an artist," Rosenquist said.
He said everyone should remember "that all the famous paintings in museums around the world are made with minerals mixed with oil and smeared on cloth with hair from the back of a pig's ear (and that is a Chinese bristle brush). And all the famous drawings in the Albertina Museum in Austria and all the other museums are merely made with burnt wood smeared on parchment with the charcoal."
"It's very very simple, with a simple message you can make masterpieces, so don't forget it," Rosenquist said. "With a good pencil (a burnt piece of charcoal) and oil paint you can make every work a masterpiece."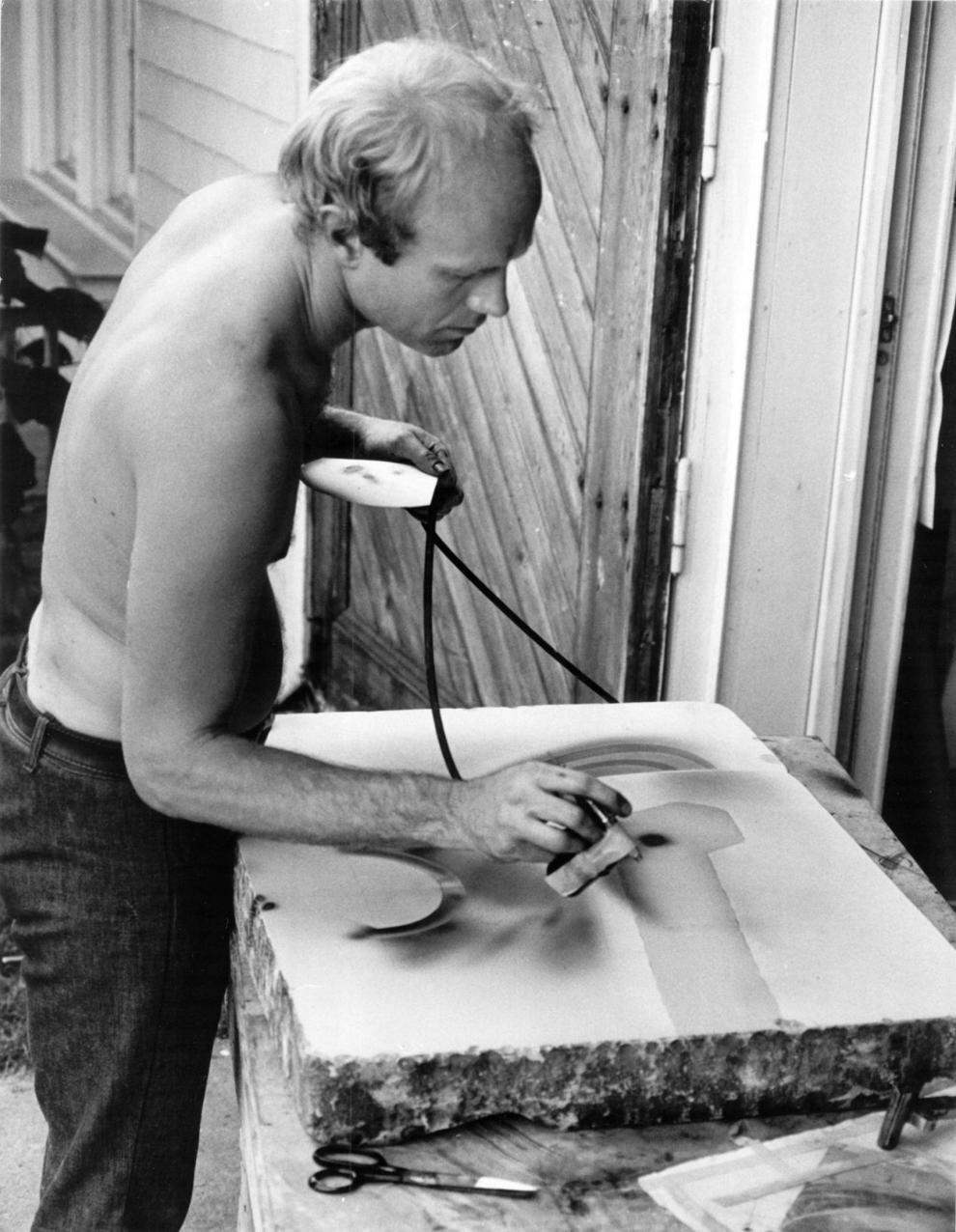 "James Rosenquist: Illustrious Works on Paper, Illuminating Paintings" is the first in a series of ambitious, annual exhibitions at the Oklahoma State University Museum of Art's Postal Plaza Gallery. Exploring key figures who have worked in New York during the past half century, the project will provide pivotal teaching opportunities and engagement for the OSU community as well as the greater Midwest region.
"The New York Project offers an experience often limited to major urban centers of art and seldom found in more rural locations such as Stillwater," said OSU Museum of Art Director Victoria Berry.
These pivotal exhibitions and programs wouldn't be possible without the continued support of the OSU Friends of Art and one dedicated OSU alumnus in particular - Bill Goldston. He is director of Universal Limited Art Editions in New York and a partner of the New York Project.
Originally from Oklahoma, Goldston grew up in Lindsay. He brings years of professional and personal association with New York artists featured in the series and plays a vital role in making the project possible.
"A museum director always hopes for someone like Bill Goldston," Berry said. "What he has contributed and continues to give - in the form of donations and innumerable connections into the artist community - is invaluable. His influence and persuasive talents have provided a fundamentally solid academic institution with extraordinary resources."
As a result of those connections, the New York Project will provide high-profile exhibitions and programs that link OSU to a previously inaccessible art world.
"Goldston's passion for art combined with his connections to iconic artists who have changed the dimensions of American art will help the OSU Museum of Art gain a reputation for bringing big art to a rural setting," Berry said. "Bill's passion to make a difference for students at OSU spilled over to his personal friend James Rosenquist - who also believes in the value in giving back to students."
Goldston graduated from OSU with a bachelor's degree in fine art in 1966. He went to  the University of Minnesota for graduate school and met Zigmunds Priede who was a professor of lithography and printed at the famous print studio on Long Island - Universal Limited Art Editions. Goldston became his assistant after two years in the military in 1969 and eventually became director.
"I first met Jim in the 1960s when I was a student at the University of Minnesota and printing at ULAE where Jim made prints," Goldston said. "Jim is one of my best and oldest friends - and I am honored that he has agreed to share his work with the people of Oklahoma at the OSU Art Museum Postal Plaza Gallery."
The work chosen for the Postal Plaza exhibition is in the words of the artist "a mini retrospective," Goldston said.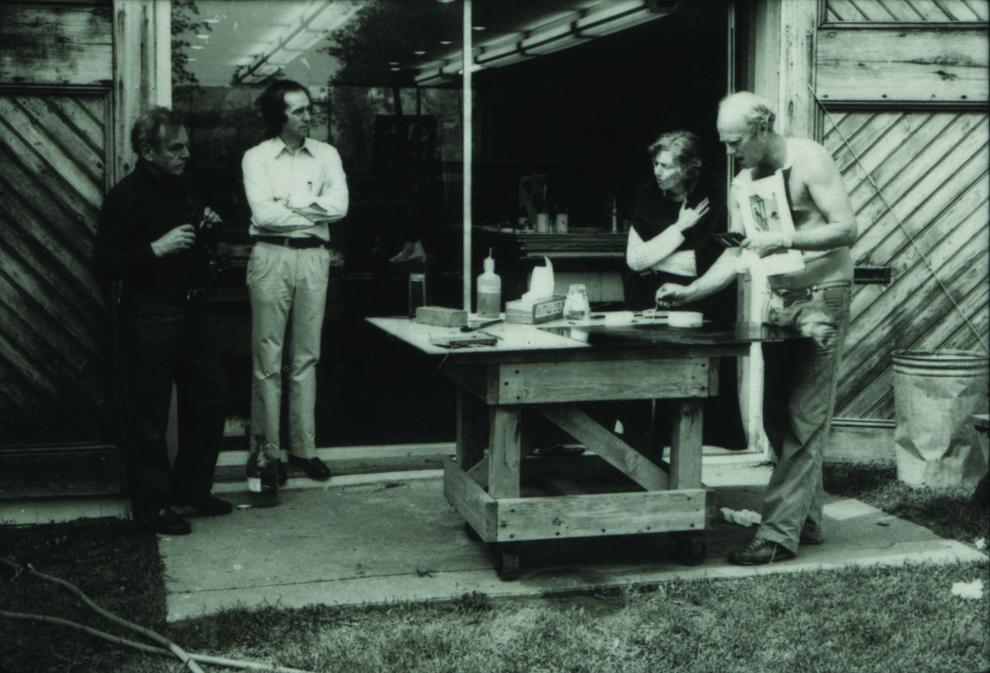 "At present there is no other university art museum in the world with a more significant art event. The exhibition is the equivalent of those at any major museum in the world," he said. "This is the beginning of what we hope will be a cultural revolution for the residents of Stillwater, the students of OSU and the people of Oklahoma."
Goldston comes back to Oklahoma three or four times every year and still has a brother living in Leedy.
"The instruction I received at OSU was excellent," he said. "I was always encouraged to follow my creative instincts and instructional criticism was used to help me develop a better understanding of how to channel those instincts into art."
He will be back in Stillwater for the opening reception Thursday at the gallery. Local art collectors Russ and Julie Teubner will host a private gathering at "Backstage," the renovated building project created behind the headquarters of Hostbridge at Seventh Avenue and Main Street. On Friday, you can learn more about Rosenquist when Bancroft leads a curator's discussion about his career, followed by a conversation with the artist via Skype at 2 p.m. in the OSU Student Union Theater.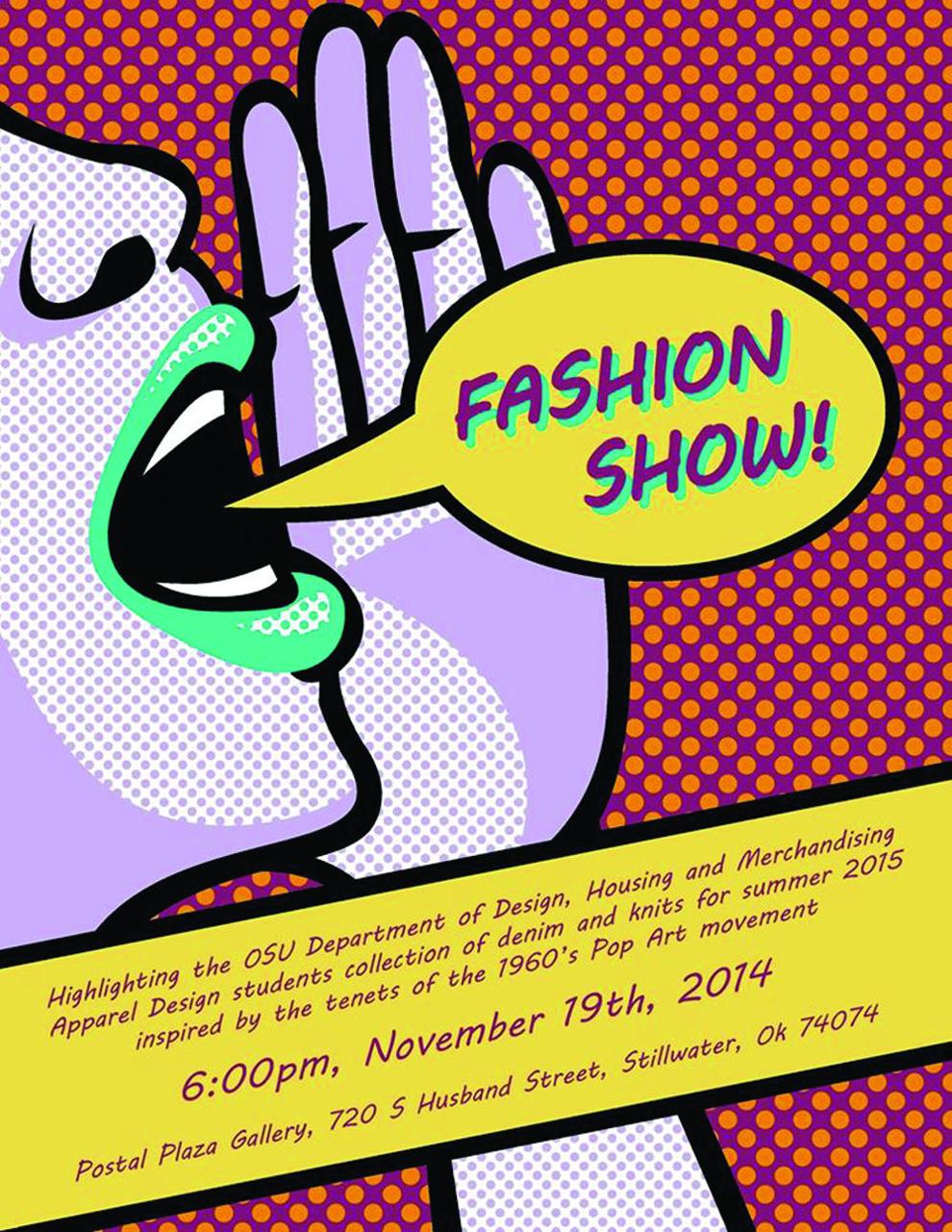 IF YOU GO . . .
WHAT:  James Rosenquist: Illustrious Works on Paper, Illuminating Paintings
WHERE: OSU Museum of Art Postal Plaza Gallery, 720 S. Husband St.
WHEN: November 10 through March 14 during museum hours 11 a.m. to 5 p.m. Monday-Saturday and open until 8 p.m. on Thursdays
FASHION SHOW: Soft Pop at 6 p.m. Wednesday
RECEPTION: 5-8 p.m. Thursday
CURATOR'S TALK: 2 p.m. Friday in the OSU Student Union Theater
INFO: 405-744-2780 or museum.okstate.edu
 Twitter @ElizabethKeysNP