In spite of his small stature, Billy McGinty is the stuff of legends in Payne County, Oklahoma and beyond. During his life he was many things: A cowboy, a bronc buster and a war hero who charged up San Juan Hill with Theodore Roosevelt's Rough Riders during the Spanish-American war.
He later became a performer, touring with Buffalo Bill's Congress of Rough Riders and becoming the first bronc buster to appear in a movie.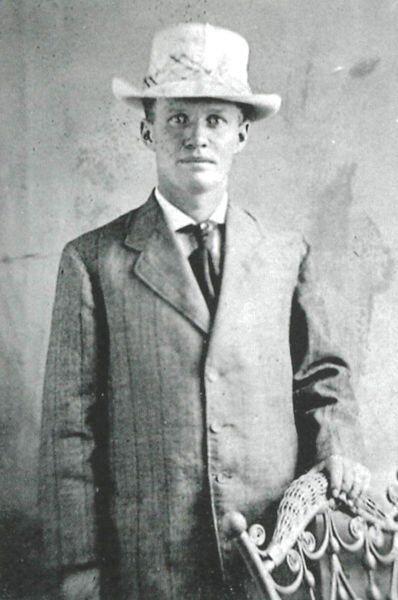 He was the leader of Billy McGinty's Oklahoma Cowboy Band, a group he formed in the 1920s with other area cowboys. They would later become the first nationally famous cowboy band under the name Otto Gray and the Oklahoma Cowboys
He served as president of the Cherokee Strip Cowpunchers Association and in 2000 was inducted into the National Cowboy and Western Heritage Museum's Hall of Great Westerners.
But Rhonda McGinty Hodges of Glencoe called him something more important: Grandpa.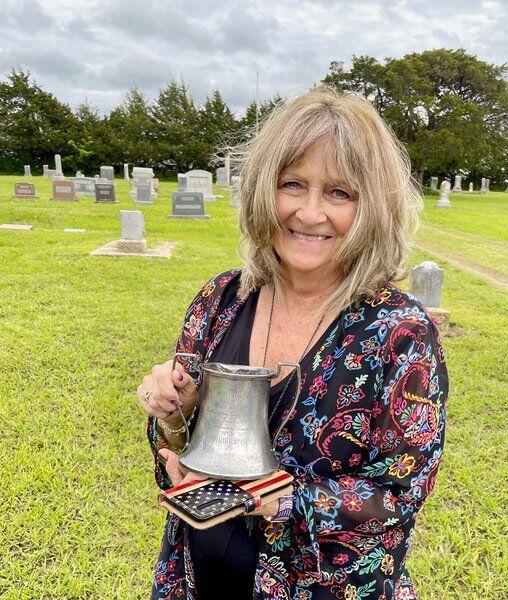 In June the National Society of the Daughters of the American Colonists made their way to the Ingalls Cemetery to honor McGinty after restoring a plaque on his grave that denoted his membership in the heritage society. It's part of a multi-year effort by the organization to ensure the graves of all members are properly marked with plaques, Orriene Denslow DAC coordinator for the project said.
The group asked Hodges to come share stories about her legendary great grandfather.
Her family has deep ties to the area and some of them still live around Glencoe.
Standing in the Ingalls Cemetery at the gravesite Billy shares with Molly and next to photos of her as a toddler sitting astride one of his horses, it was obvious Hodges counts herself lucky to have memories of both her great grandfather Billy, who died in 1961 when she was 7, and her great grandmother Molly.
She also pointed to the grave of Molly's father Dr. J.H. Pickering, the man more commonly known as "Doc" Pickering who helped attend to the wounded during the Ingalls outlaw battle of Sept. 1, 1893. Other members of the Pickering family rest in the Ingalls Cemetery as well.
The history and mythology of the West runs through Hodges' family, with Billy as a prime example.
A cowboy through and through from a young age, McGinty was a renowned bronc buster who knew what made horses tick and how to work with them.
He could ride any horse he met, Hodges said, and given a choice would select the most difficult one, only to have it behaving perfectly for him in short order.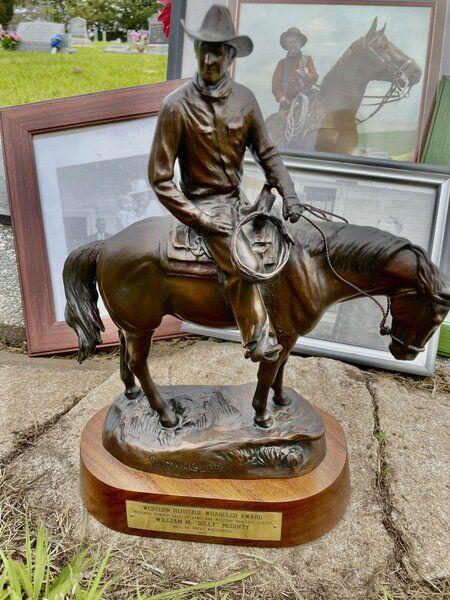 She can't remember the name of the horse she was photographed on but she remembers it would bite her shoes off her feet every time she got on it.
"It wasn't his main horse, just one of his naughty ones," she said. "Well, it wasn't naughty with him because he was like the Horse Whisperer … he could do anything with them, he could tame 'em and just calm 'em down."
He was still riding in his 80s and she tells a story about the year he rode at the head of the parade the town of Ripley used to hold every year.
"He was going to ride the horse with his flag," she said. "...They brought him an old, as he put it, 'nag' to ride and he wasn't going to ride it. He said no, he wanted a spirited horse and there was one in the parade that they were having trouble with, that was rearing up. He said he wanted that one. He was 80-something and my dad said it took him about 10 minutes and he had the horse, it bowed down and let him get on his neck."
McGinty didn't take himself too seriously, as demonstrated by the silver cup he received in 1910 for winning the bronco busting world championship in Southhampton, New York.
Hodges remembers he let it rattle around in his old Model T.
"It's a Tiffany cup," she said. "And see how dented it is? He carried it in his model T and used to go down to the creek and get water to put in the radiator."
Hodges has fond memories of McGinty placing her on one of his horses as a small child or pulling up to the house in the car and taking her for a spin.
She and her daughter Brandy said they were glad to share the family memorabilia and to see him honored.
"We're real proud of him," Hodges said. "We wish we could have known him longer."
Twitter: @mcharlesNP