A line of severe thunder storms moved through the Stillwater area early Friday morning. The storm front was followed by straight line winds measuring up to 81 miles per hour that damaged trees and roofs and knocked down power lines. 
The strongest winds were west and south of Stillwater. Winds within the city limits were recorded at 60 miles per hour while Perkins experienced winds up to 71 miles per hour.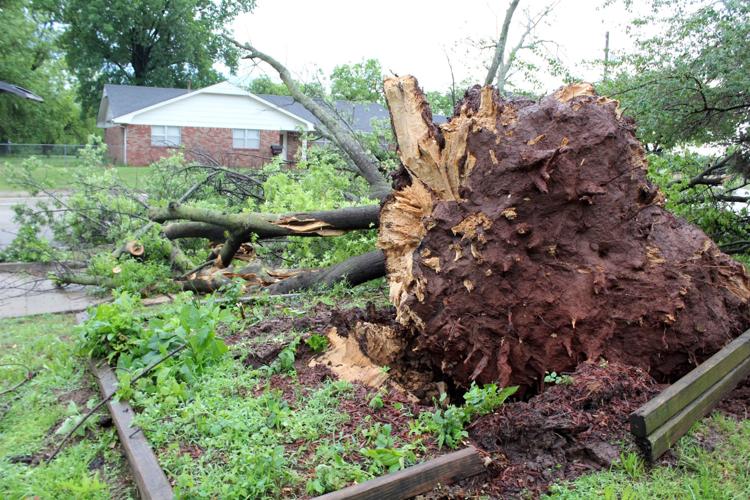 David Sasser of the Perkins Journal reported that a tractor trailer parked at the Ampride station at US 177 and state Highway 33 appeared to have blown over during the storm. A portable storage building on display nearby was destroyed and many tree limbs were down in the Perkins area.
Perry also suffered extensive tree damage and power outages. Perry City Hall delayed opening until 10 a.m. because of the power outage.
At 9:55 a.m. 191 Stillwater Electric customers were without power. Central Electric Cooperative reported 540 customers without power in an area extending from Jones to Perry and west of Guthrie to Cushing.
OG&E said it restored power to more than 22,000 customers who lost power Friday morning. By afternoon, 5,455 remained without power.
Customers in Edmond, Guthrie, Midwest City and Oklahoma City were expected to have power restored by Friday night.
Customers in Avery, Bristow, Enid, Glencoe, Hennessey, Muskogee, Nash, Perkins, Terlton and Sapulpa should have power restored by Saturday night.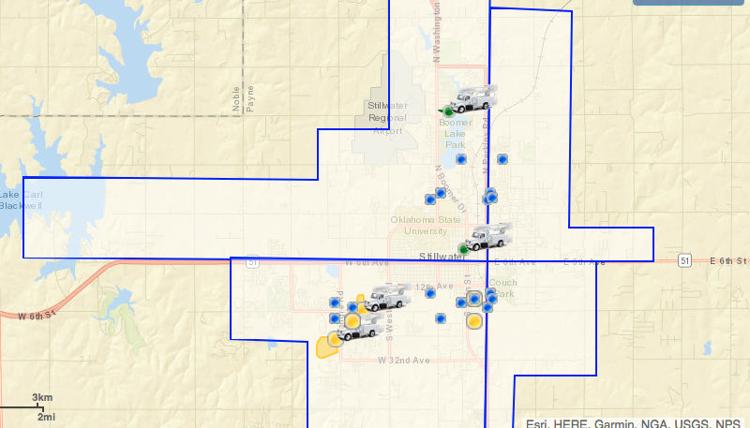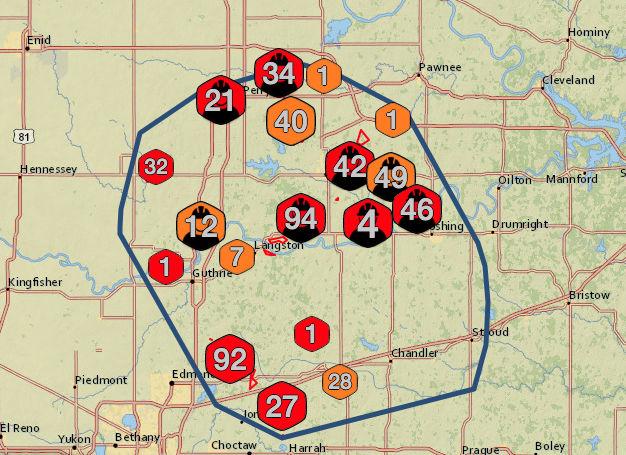 Stillwater Emergency Management Director Rob Hill reported an severe thunderstorm warning for the area beginning at 3:30 a.m. 
As heavy rain moved into Stillwater, Hill warned of localized flooding and ponding on city streets. He also warned drivers out in the early morning hours to be careful of the numerous tree limbs in the roadway.
Stillwater Electric and Public Works crews were out in force this morning addressing the power outages and clearing tree limbs from city streets.
OG&E warned anyone who lost power to be aware of safety concerns: 
Be safe and stay away from downed power lines

Please do not approach crews and utility vehicles in your neighborhood. Doing so could jeopardize your safety and will only delay the restoration process

Safety precautions should be followed when using a portable generator

Check your homes to be sure it's able to take power

For your protection, do not post personal information such as addresses, account numbers, phone numbers, etc. on OG&E social media channels
Twitter: @mcharlesNP