After shutting down for six weeks while people sheltered in place due to COVID-19, the Baby Mobile is hitting the road again.
The mobile food and diaper pantry operated by Infant Crisis Services resumed its monthly stop at Our Daily Bread on Wednesday to deliver diapers, formula and snack food for families with babies and toddlers.
Infant Crisis Services, an Oklahoma City based nonprofit that has been providing supportive services for families with children under the age of 4 since 1984, has two mobile units that cover 19 counties during normal operations, Outreach Coordinator Nicole Sukenis said. The mobile program was launched in 2013.
As they gradually start making their rounds again after the temporary shutdown, the Baby Mobiles are adopting a drive-through delivery format with minimal contact for everyone's safety.
It will make six stops in May and 12 in June.
Stillwater will be a regular stop from 10 a.m. – 2 p.m. on the third Wednesday of each month.
Although Infant Crisis Services normally limits assistance for each child to four times per year, that's not something it's holding people to during the COVID-19 pandemic, Sukenis said.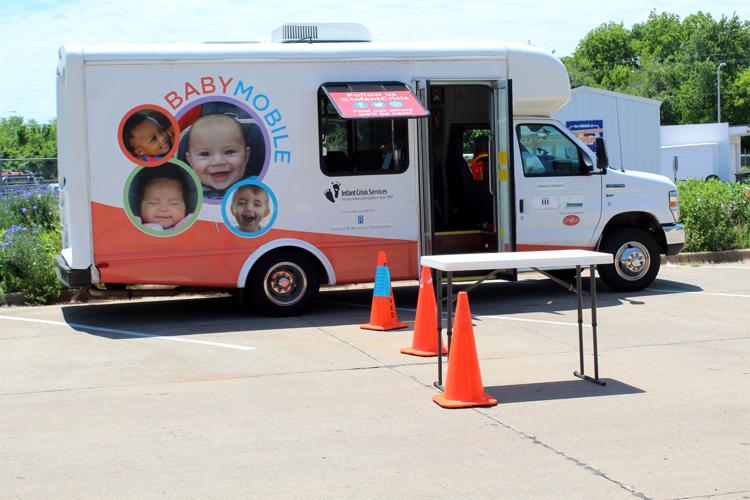 There has been a marked increase in demand since the pandemic started.
Some sites are seeing 120 families per day instead of the 30-40 they were seeing before the public health crisis and economic slowdown, she said. Because of the extreme need, people aren't currently being held to the limit of four visits per year.
"COVID-19 is not a normal situation," Sukenis said. "It's totally different."
People also aren't required to provide identification or documentation that they meet certain income guidelines to access the Baby Mobile.
Right now, even people who have never needed help before are finding themselves stretched thin, but the policy is a regular part of the Infant Crisis Services mission to ensure no baby goes hungry.
"We believe anybody can go through a crisis at any time in their lives," Sukenis said.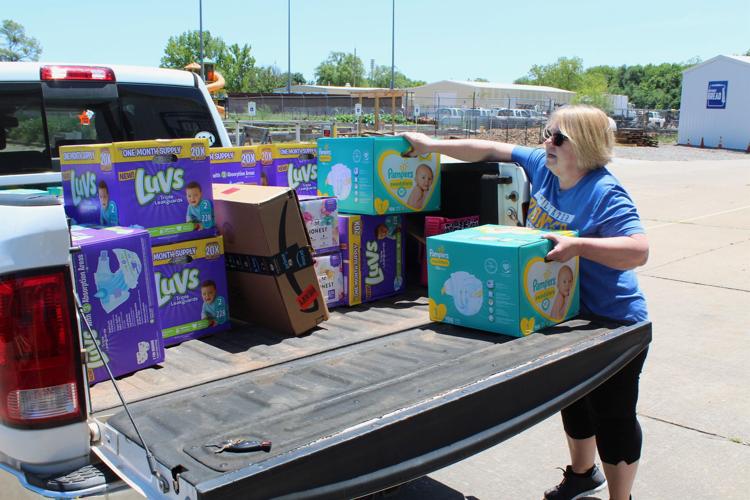 Oklahoma State University Research Assistant Abhiram Pamula and his wife Srilakshmi came to the Baby Mobile on Wednesday afternoon to get supplies for their 10-month-old son.
The extra help makes a difference for their family, he said. They have used the Baby Mobile three times so far.
The Baby Mobile is privately funded by donors like the Donald W. Reynolds and Sarkeys foundations and Impact Oklahoma.
The Stillwater-based OnCue convenience store chain provides fuel for both Baby Mobiles.
Our Daily Bread Executive Director Becky Taylor says the partnership with Infant Crisis Services is a natural fit because her agency has consistently seen a need among its clients for infant supplies like diapers and wipes.
"We're a food and resource center, so we always want to offer resources in addition to food," she said.
Those haven't always been available consistently at ODB and many families that are struggling financially have difficulty paying for them because SNAP, the Supplemental Nutrition Assistance Program doesn't cover anything you can't eat or drink.
Supplies for an infant or toddler can be a considerable expense for a family.
A one-month supply of diapers costs at least $25-$50 at Walmart and enough formula to feed a baby six eight-ounce bottles a day can cost more than $250.
ODB and Infant Crisis Services have been working together since 2017, when the food pantry began looking for funding sources to ensure it would be able to help those families. Stillwater Early Childhood Coalition reached out to Infant Crisis Services and Stillwater became the Baby Mobile's first stop in Payne County.
Working together helps stretch Taylor's budget, enabling her to put scarce resources toward meeting other needs.
Early Childhood Coalition member Peggy Emde also made a delivery of diapers, wipes and formula to stock the shelves at ODB on Wednesday. She said the monthly delivery is made possible by a private grant.
ODB volunteer coordinator Katie Howard expressed her gratitude as she helped unload the bed of Emde's pickup.
"We have people asking (for them) every shopping session," Howard said.
Twitter: @mcharlesNP