VIDEO: Payne County Free Fair rides_2
David Bitton/Stillwater News Press
People enjoy the rides at the Payne County Free Fair Friday, Sept. 1, 2017 in Stillwater.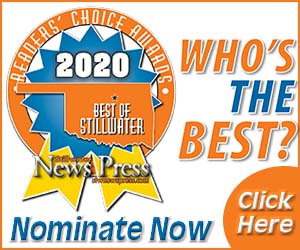 Betty Raunikar died June 4, 2020. Visitation: 10:00 a.m.- 8:00 p.m Monday, June 8, 2020 at Strode Funeral Home- Stillwater, Oklahoma. Funeral service: 2:00 p.m. at First Baptist Church-Stonewall, Oklahoma. Interment: Byrd's Prairie Cemetery- Tupelo, Oklahoma.
Todd Allen, 43, died June 1, 2020 in Stillwater, Oklahoma. Family will greet friends from 4:00 p.m.- 6:00 p.m. Thursday, June 11, 2020 at Strode Funeral Home in Stillwater. Todd was born July 4, 1976, the perfect day for a man who lived his life with a spirit of independence from birth to hi…
Susan Kay Posey passed from this life on June 2, 2020 in Stillwater, Oklahoma. Although no public service is planned at this time, the family has entrusted her care to Strode Funeral Home. Susan was born in Walworth, Wisconsin on November 1, 1948 to William and Dorothy Quaas. She graduated B…
Stay up to date on COVID-19
Get Breaking News
Sign up now to get our FREE breaking news coverage delivered right to your inbox.
Sponsored By: Integrity Audiology