When Hallee Fuqua began volunteering at the Human Society of Stillwater in November, she was just trying to get her dog fix. She didn't expect to actually lose her heart to one of them.
But she did.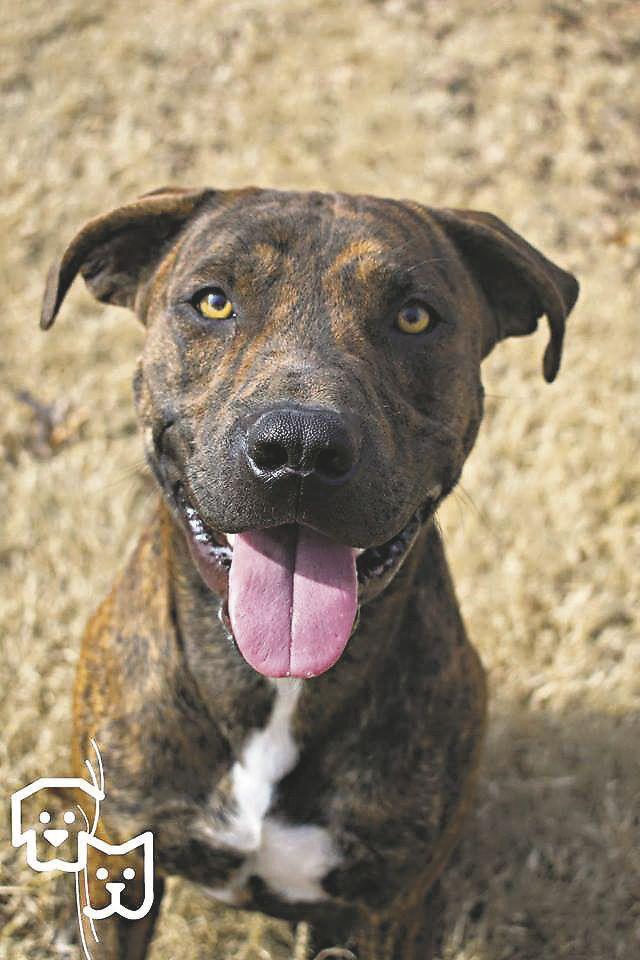 Then just before Christmas break, she learned he had been adopted and thought she would never see him again.
"It's one of those things where you're happy he's going to have a home but you're sad that you're not going to be able to give that to him," Hallee said.
She didn't know her family was planning a Christmas surprise that would move her and others to tears while increasing awareness about shelter pets.
The Oklahoma State University sophomore says she had been asking for a dog for Christmas for years but her parents were adamant that she wait until she graduates from college. So she settled for walking and playing with shelter dogs for the time being.
One of them was a two-year-old Plott Hound mix that had been picked up by Stillwater Animal Welfare as a stray. Humane Society director Jackie Ross-Guerrero says he's exactly the kind of dog that can be hard to place.
He's big, weighing about 70 pounds. He's an adult dog instead of a puppy. He looks a lot like a Pitbull. And last, but not least, his name is Rambo which sounds tough and aggressive. But what you think you see isn't what you get with Rambo.
Hallee quickly learned that.
"For whatever reason, she and he just had an instant connection," Ross-Guerrero said.
Hallee would visit Rambo regularly and take him for walks but she says unlike other dogs, he didn't want to run or play. He really just wanted to sit and soak up her affection.
"He was quiet," Hallee said. "A lot of the dogs would bark but he just sits there ...He is a ginormous cuddler. He thinks he's a giant lap dog."
As Hallee became more and more attached to Rambo, she started sending her parents photos and videos of him.
It finally triggered something in her mom Jessica, who says there was something about him from the moment she saw his face.
"I just knew he belonged here. I've said 'No' long enough," Jessica said. "I think he belongs in our family."
So the Fuquas began plotting to pull off a surprise adoption.
Hallee's dad Lance contacted Ross-Guerrero and asked if there was a way for them to adopt Rambo even though the Human Society doesn't hold animals and the family wouldn't be able to pick him up for a few weeks.
It's not something the organization would normally do but Ross-Guerrero had observed the bond between Hallee and Rambo and she wanted him to have a good home.
"I just said, 'We've got to make this happen,'" she said.
She had to keep the secret for weeks while Hallee continued to volunteer, which also meant keeping Rambo listed as available on the Humane Society's social media accounts so Hallee wouldn't suspect anything.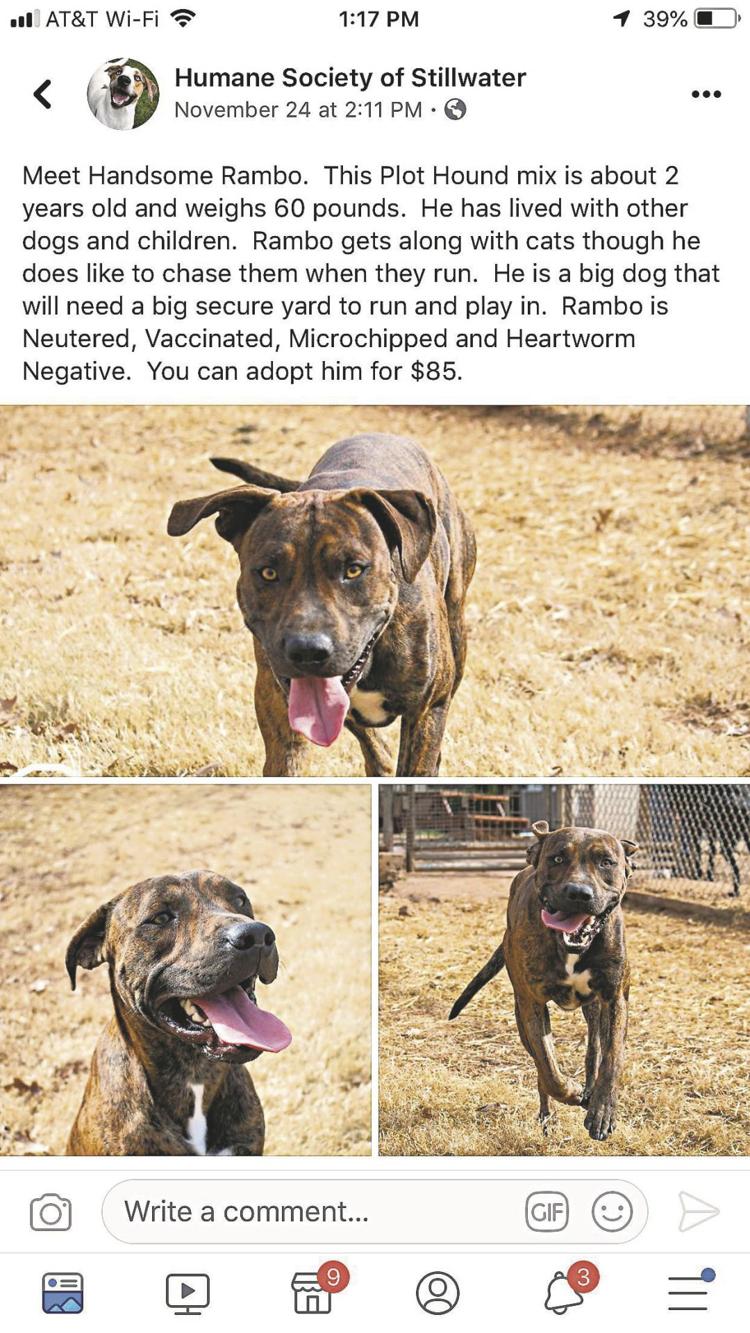 Then about a week ago, someone commented on the listing and asked if he was still available. Ross-Guerrero had to reply that he had been adopted. Everyone had hoped that wouldn't happen before the Fuquas came to get him.
When Hallee saw it, she was broken, Lance said. She had planned to stop by and visit Rambo before she headed home to Seiling for break and now she thought she had missed her chance to say goodbye.
Watching Hallee's heartbreak was tough but it ultimately made the surprise even better, he said.
Hallee said the family was at home on Sunday and her parents had told her not to look because they were carrying Christmas presents into the house. Then she got a text from her mother asking her to open the front door for her dad.
He was waiting in the front yard with Rambo, who was wearing a set of Christmas antlers.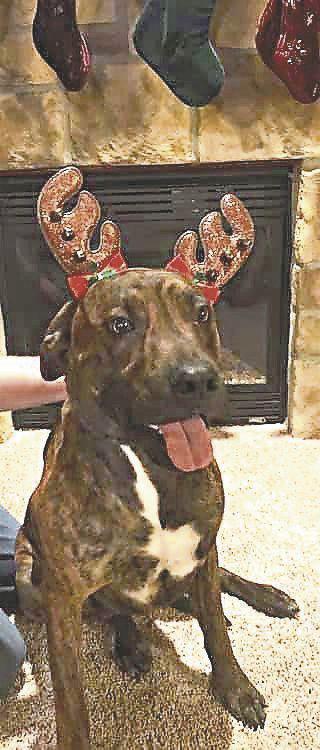 In the video the family posted to Facebook, Hallee looks confused then dissolves into tears when she sees the dog, who immediately runs into her arms.
"It took her a minute to process that it was Rambo," Lance said.
The Fuquas say they shared the video online and created a fundraiser on the post because they wanted to help the Humane Society of Stillwater and raise awareness about other shelter pets looking for forever homes. The video got a strong response on social media, with almost 20,000 people viewing it in the first 24 hours and people commenting that watching it had made them cry.
It would be wonderful if every dog at the Humane Society could have the same kind of happy ending Rambo got, Ross-Guerrero says. People are missing out on some great family pets if they don't give adult dogs or bigger dogs like Rambo a chance.
"We have so many great adult dogs and cats but we get calls every day from people looking for puppies and kittens," she said. "I try to tell them, 'In eight months that puppy is going to look just like that dog.'"
Rambo is settling into his new home nicely, the Fuquas say. He just loves following the family around and being with them. Luckily he's a good, mellow boy, because he has already made himself right at home.
"He's ruling the house right now," Lance said. "He's definitely entered his domain."
Twitter: @mcharlesNP