This was not his first production to take part in, but it was still a challenge.
Brennan Lacy, a junior music education major from Stillwater, stopped at intermission during dress rehearsal to talk to the News Press about his role as The Baker in "Into the Woods", the Oklahoma State University Opera Theatre's latest musical.
The musical was presented Thursday and Friday in The McKnight Center for the Performing Arts.
"Into the Woods" intertwined the plots of several Brothers Grimm fairy tales and explored the consequences of the characters' wishes and quests.
The main characters were taken from "Little Red Riding Hood", "Jack and the Beanstalk", "Rapunzel", "Cinderella" and others. James Lapine's book and Stephen Sondheim's music created the on-stage adaptation.
"We've had our highs and we've had our lows," Lacy said. "It's turned into a really beautiful show through a lot of hard work, sweat, tears, everything. But the cast has grown a lot in our acting and in our vocals."
The storyline involves a childless baker and his wife and their quest to begin a family and their interactions with a witch who has placed a curse on them and other storybook characters during their journey.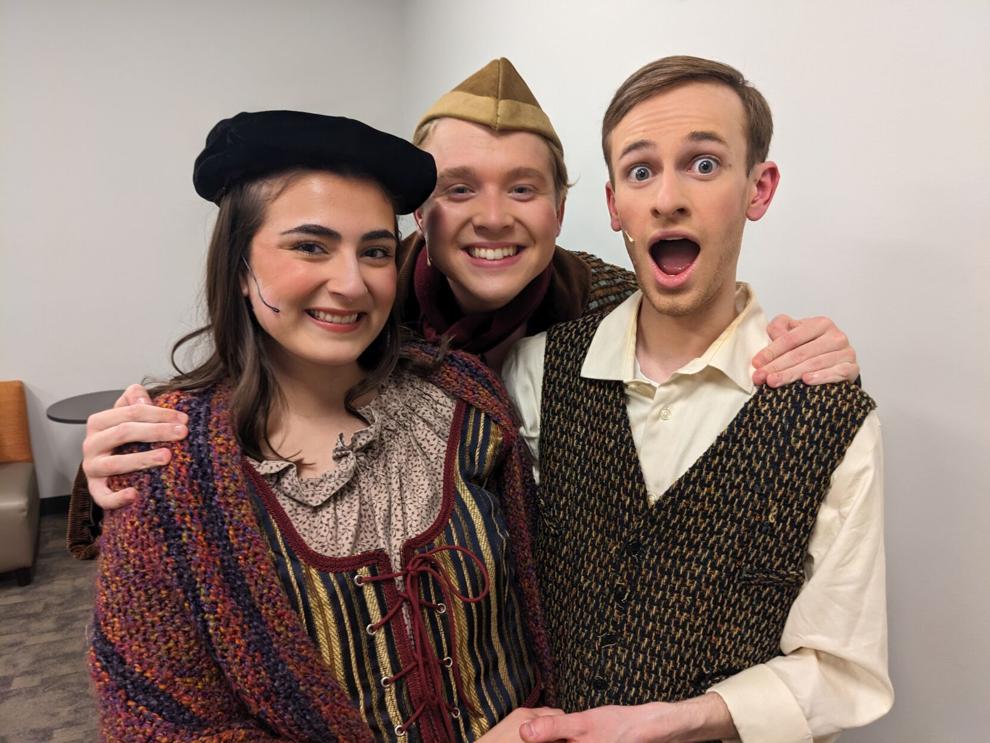 The cast and orchestra were comprised of students from the Michael and Anne Greenwood School of Music and the Department of Theatre. Although the group is an opera company doing musical theater, the students learned what it takes to do musical theatre.
"They're two very separate entities, but they collaborate a lot," Lacy said.
Musicals require a different type of process. Students learn the music first, then begin blocking -- or planning the movements on the stage while they learn their lines.
"It was kind of a joint effort of everything, trying to learn it all and see how everything fits; how your singing tells the story of your blocking and the blocking tells the story of your lines," Lacy said. "Everything had to be one to make this show."
Another big challenge for the students was learning to project over the music as they sang, even though they each had a microphone.
"If you're muddying your words, a microphone is just going to amplify the muddy and make it even muddier," Lacy said. "You have to crisp up your articulation even more."
Charlotte Sams, who played Cinderella in the production, is not a music or theatre major.
The sophomore multimedia journalism major from Bixby was involved with the Tulsa Opera since middle school because her mom encouraged her to pursue performance opportunities. Her experiences with O'Colly TV on campus helped her as she learned her lines, she said.
"It's a lot of words and it's different languages, so you learn how to pronounce things," Sams said. "When I'm reading a script as a news anchor for the TV station we have here on campus, I see words and I'm like – I know how to say that."
Sams was in a show last year, but it was just an ensemble, so this was her first time in a big role.
"It was a lot of commitment, but it's very rewarding at the end," Sams said.
Students learned which roles they would play in the summer of 2022 and worked hard on them since.
Assistant Voice Professor Steve Sanders and Voice Professor April Golliver-Mohiuddin co-produced the musical.
Sanders said the students worked about six and a half hours every week in classes.
Most professionals work eight to 10 hours every day for six days per week within three to four weeks of production. The students had fewer hours spread out over the semesters to put on a professional-level show.
"So you think about actual time, it's a crunch," Sanders said. "You have to help them learn their music and everything else. It's the magic of the theatre."
B. Peter Westerhoff stage directed the musical and Megan Barth Argo conducted the music with assistance from Sanders and Golliver-Mohiuddin.