Stillwater Police Officers responded in large numbers to what at first appeared to be a life-threatening situation Sunday morning at Prime Place Apartments. Police now say that there was no crime scene, and no caller found after they searched the apartment complex following claims of hostages being held and pipe bombs in the area.
LifeNet was staging in the area and said via radio they had been told to exit after there were "no patients." According to an official SPD news release, a male caller at 9:45 a.m. told police he had several hostages, had pipe bombs lying around the area and "stated he had already shot one of the hostages."
According to SPD, the caller had also demanded large sums of cash in exchange for hostages and gave SPD a name but did not provide an apartment number.
"First notice I got was from the building managers calling me within moments of the Stillwater alert that goes to the campus, within a minute, both were contacting – same information, hostage situation," said Derek Pugh, who works for the building. "I was able to get a master key set and a parking access to the police so emergency vehicles could access. First thing I got from them was they evacuated all apartments in the immediate area to the issue."
Officers waiting outside Sunday said they believed the threat was coming from the upper floors. Some tenants who had left earlier in the day were not allowed to return the building. It is unclear how many tenants were actually evacuated. Many were watching the scene unfold outside of the complex.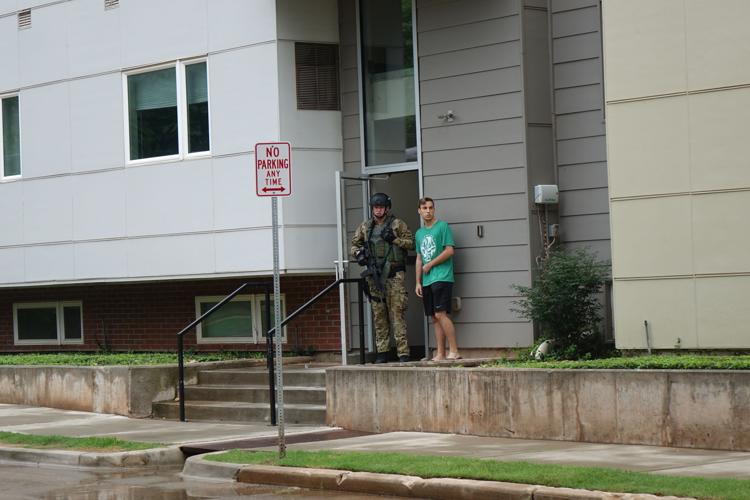 "I was in my apartment, I just got a text from OSU campus. I just laid in bed. I didn't do anything. I didn't think it was over here, I didn't think it would be in my building. I was just laying in my apartment, waiting. I heard people coming in and out of the building," Kelli Martin, a tenant, said. "My friend lives in this building (pointing behind her), she texted me and told me what was going on. She said, 'stay in your apartment.' I stayed in there until they said they were going to start evacuating. I'm on the very bottom. She said they were going to start evacuating the third and fourth floor. I didn't want to wait, I just wanted to get out of there."
Out on the sidewalk, Martin said she heard that there were four hostages, and that the person was asking for $20,000.
"That's what the officers said. Then I saw the sniper over there. I don't where they were going," Martin said.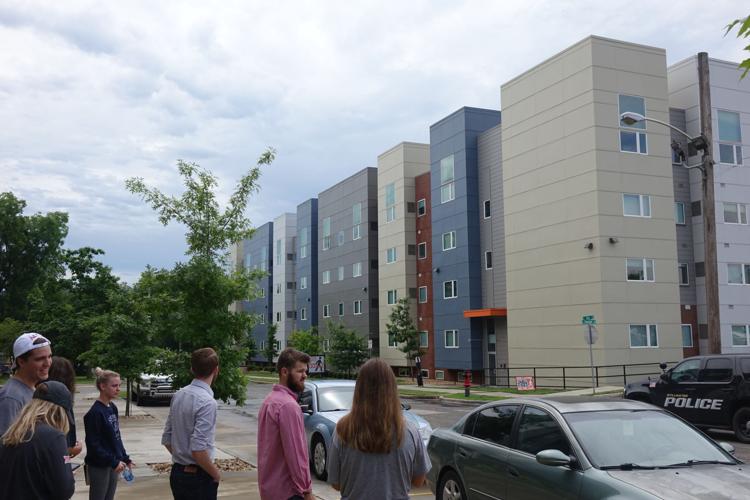 Ann Marie Potter is a student pursuing a Ph. D in English at Oklahoma State University who lives on the first floor of the Prime Place apartments. She got a text alert from OSU at 10:27 a.m. about a threat in the 200 block of W. Elm Ave.
"I got it and then I realized, 'Oh s---, I live at 213,'" Potter said.
Shortly after that, a police officer knocked on her door and told her she needed to leave because the department was investigating a possible threat upstairs.
Potter says she moved from Las Vegas about a year ago and she became used to being rousted from her home because of similar situations.
"We call it the 6 a.m. wake-up call," she said. "I used to keep a 'stand-off' bag packed that I could grab and go."
Potter said as she left the building she could see the Special Operations Team coming down the street carrying shields.
Amanda Paust is an OSU music major who is about to enter her senior year. She lives in the basement level of Prime Place. She wasn't contacted by police as they began searching the building and didn't check her phone so she hadn't seen the alert from OSU before she stepped outside to take her dog Delia for a walk.
She found out when she wasn't allowed back in the building.
She and Delia sat in a shady spot on the side of Salem Lutheran Church for more than two hours. Paust said she really didn't have anywhere to go and had only brought her phone and apartment keys when she went out because she expected to be right back.
Hoping for an end to the evacuation, she watched the police activity from down the block.
"They just brought the police officers pizza," she said. "That's not a good sign."
Pastor Sally Houck of Salem Lutheran Church, which is located at 101 S. Duck St. and has a parking lot that backs up to Prime Place, said Sunday morning service was wrapping up when some members of the congregation got the university's emergency alert.
"We have coffee hour after church so we said, 'Everyone is required to come to coffee hour until we can figure out if it's safe to go to their cars,'" Houck said.
She later walked down the street and invited apartment residents who had been sitting on the street for hours to come into the church for a drink of water or to use the bathroom.
Just before 1 p.m., SPD said it was attempting to evacuate as they attempted to locate the caller and had enlisted the Oklahoma Highway Patrol bomb squad for assistance.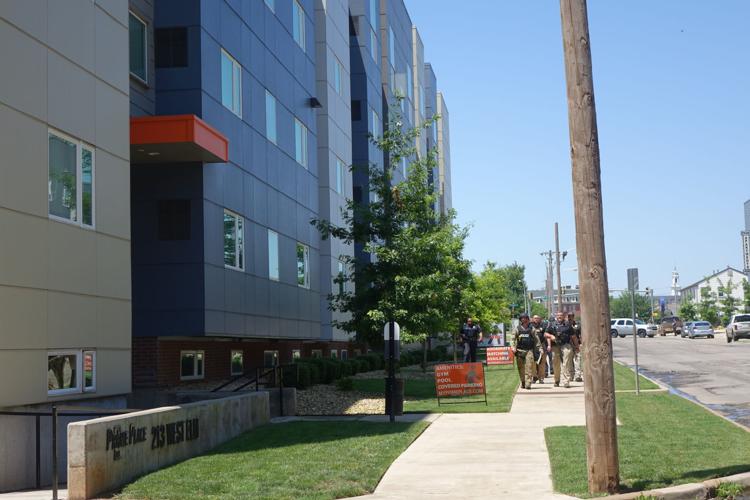 Some time later, police entered to "clear" the building, likely meaning a room-by-room check. Not long after, tenants were being told they would be able to return to the building. 
The evacuation was almost over by the time Luke Porter left his fourth floor apartment. People below could see him looking out the window before he finally exited the building.
Porter said he had been up since 8:30 a.m. so he saw the text alert right away. He looked outside and saw police, then looked through the peephole in his apartment door and saw more officers down the hallway who appeared to be going door to door. When they reached his apartment, they asked him to step outside while they searched it.
He said when they finished, they told him he had the option of going back in or leaving the building. He opted to leave.
Porter said is was a strange feeling when he saw police swarming the building but it wasn't completely foreign. He had a similar experience last year when police knocked on his door after getting a report that someone in an apartment adjacent to his was holding a sign in their window that said "Help me".
Nothing was found in that instance either.