Governor Kevin Stitt and representatives from the Oklahoma Departments of Energy and Commerce were in Stillwater Thursday to help the City of Stillwater and USA Rare Earth LLC celebrate the announcement of a factory that will bring a new type of industry not just to Stillwater, but to the state.
More significantly, USARE has said it will be the first production facility of its kind in the Americas.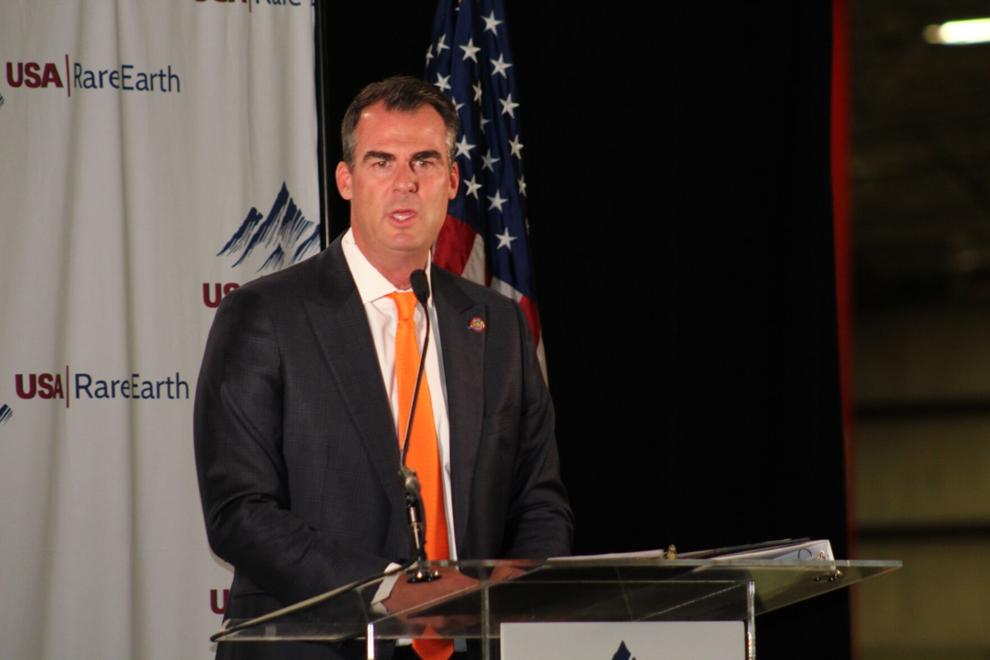 The Stillwater City Council approved a deal Monday that provides a $7 million incentive the company will use to renovate a vacant industrial building at 100 W. Airport Road that was most recently occupied by Total Energy.
It is also receiving assistance from the State of Oklahoma through the Governor's Rapid Closing Fund and the Oklahoma Department of Commerce Quality Jobs program.
USARE's total investment in the Stillwater site, including buying, renovating and equipping the facility is expected to top out at $100 million.
The company said it plans to have operating permits in place for all metal, flake and magnet operations in 2022, with initial production in 2023.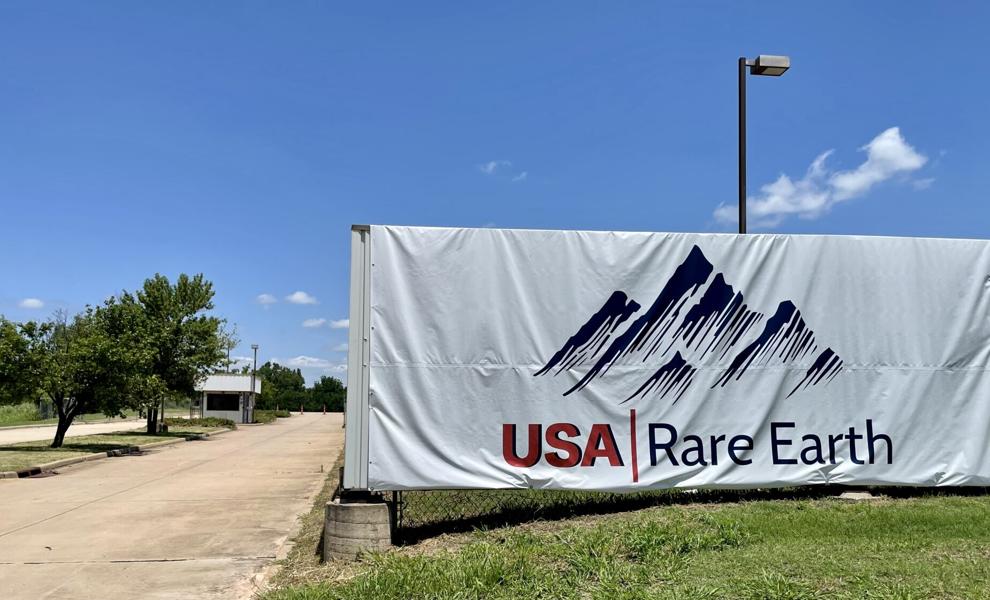 It will eventually employ around 100 people, USARE CEO Thayer Smith said.
The Stillwater plant will manufacture powerful magnets from highly conductive and highly magnetic rare earth minerals that are used in almost every kind of modern electronic equipment. It's an important first step to establishing a secure domestic supply chain for the vital components.
"They really are ubiquitous in everything we use every day," Smith said during Thursday's event. "Admittedly, magnets are not the most exciting things to talk about, but they're one of these critical things that when you don't have them, it's really a problem."
They aren't just important for consumer electronics, he said. They're vital for the technology that goes into equipment for military defense. An F-35 has 900 pounds of rare earth magnets in it and a Virginia class submarine has 9,000 pounds of rare earth magnets.
"And we don't have the ability to make any of those here," Smith said. "It's a shame and something that we need to remedy."
China primarily controls the industry, both mining of raw materials and manufacturing, in part because of environmental issues, Oklahoma Secretary of Energy and Environment Kenneth Wagner said. The state is working with USARE, which must meet federal Department of Environmental Quality and Environmental Protection Agency standards.
"This facility will be key in showing that we can produce and process these critical minerals … the U.S., along with the European Union, Japan and really, much of the developed world is fully and wholly dependent on China to produce these rare earth elements," Wagner said. "These materials serve a critical function in our everyday lives and again, are used in everything from smart phones to medical technology, but they're also critical in our aerospace and defense technologies. Of the 10 highest-volume shipping ports in the world, seven are located in China."
He said shipping delays and manufacturing shutdowns during the COVID-19 pandemic showed the dangers and pitfalls of depending on other countries for the supply of critical minerals. Establishing a reliable and predictable supply is a matter of national security.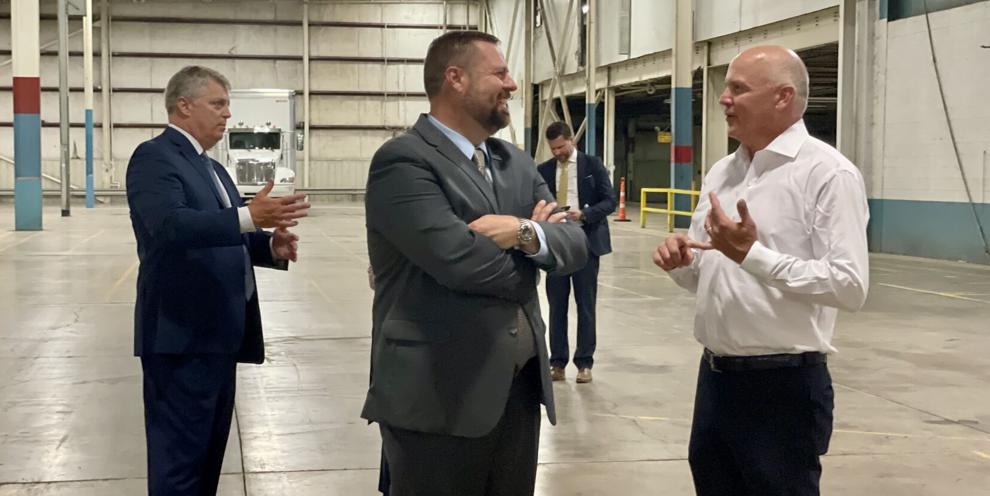 USARE is developing a vertically integrated operation, meaning it controls every phase of production from mining and processing the raw materials to manufacturing them into sintered NdFeB magnets made from neodymium, iron and boron.
The sintering process uses heat and pressure to essentially bake the powdered minerals into a ceramic with magnetic qualities, Smith explained.
The Tampa, Florida-based company owns 80% interest in a rare earth minerals mine in Texas and has a research and development facility in Colorado.
Stillwater Mayor Will Joyce celebrated what is seen as a big win for the city.
"If this is the first you're hearing of how important this is to our city, our state and our nation, this is really exciting," Joyce said. "We are honored here in Stillwater to be a part of what this facility will provide to so many people throughout the United States. We're excited for this partnership with USA Rare Earth and we believe it complements our city's education and job force investments with Oklahoma State University, with our partners at Meridian Technology Center, Stillwater offers a unique business environment."
The city's diversity and the research capabilities of its educational institutions are key, he said. The USARE facility will come alongside ongoing research projects on advanced materials and critical minerals.
Because the money the City has pledged will stay in Stillwater and be invested into a tangible asset – the building – City leaders say they feel comfortable taking the risk.
The company is paying $9.9 million cash for the 350,000 square foot facility, which means the City of Stillwater can be listed as the first mortgage holder, Deputy City Manager Melissa Reames told the Council.
Joyce said Thursday's announcement is just part of what is going on in Stillwater. The city's leadership, from the City Council, to the City Manager's Office and local business leaders are aggressively working on opportunities to improve Stillwater's economy and the overall quality of life for residents, he said.
"You may not have heard, but Stillwater is in the middle of an economic renaissance," Joyce said. "We have major projects under way in the hospitality industry, residential housing, mixed-use entertainment venues, a beautiful downtown city park and critical infrastructure. and with this facility, also in manufacturing. There is a ton going on here in Stillwater and we are so excited … This partnership with USA Rare Earth will expand our local tax base, it will increase local job opportunities and promote future economic development … It's a great opportunity for Stillwater and our state and we're excited to get going."