Stillwater is the kind of place where lifelong friends can be made in grade school or college. Sometimes it's neither. Darrell Seward wasn't a lifelong Stillwater guy, but he made plenty of lifelong friends in his short time here. Frank Wyatt met Seward sophomore year of high school, then called C.E. Donart.
"I was born and raised in Stillwater and there's a lot of people there, we all grew up with from first grade on," Wyatt said. "I still play golf periodically with some of my buddies that I met in first grade. But Darrell came in our sophomore year of high school, and I don't know, we hit it off. We became friends through sport. We both rode the pine on JV basketball, we'd sit and joke on the bench about how bad we were and the coach would never put us in. He went on to be a high-jumper on the track team and I played baseball, he subsequently got a scholarship to keep jumping in college and then he just stayed in touch."
Seward's career track took him to coaching in Arkansas. Wyatt continued his education all the way through a doctorate at the University of Northern Colorado in Greeley, Colorado. He is now a full professor at Midwestern State University in Wichita Falls.
"(Darrell) followed me, he stayed in contact, he'd call me, gosh, every few months I'd get a call from Darrell. He'd visit my wife and I wherever we were, San Francisco, and Colorado, it didn't matter, Darrel would come visit us," Wyatt said. "He really put out the effort to stay in contact and come visit us. In that regard, we stayed really close and had a lot of good memories and a lot of good stories to tell. He was at our 40th high school reunion in 2013, the class of '73, and he was robust he was fine. He was a coach in Little Rock for close to 40 years, so you know that he touched a lot of young lives, but then he didn't show up at 45 and I hadn't heard from him in about two or three years, which was quite strange. Finally, when I contacted him after our 45th, that was October of 2018, that's when he told me he had been battling pancreatic cancer for two years. The last time I contacted him, I sent him a Happy Thanksgiving in November and he responded. Five days later he was gone."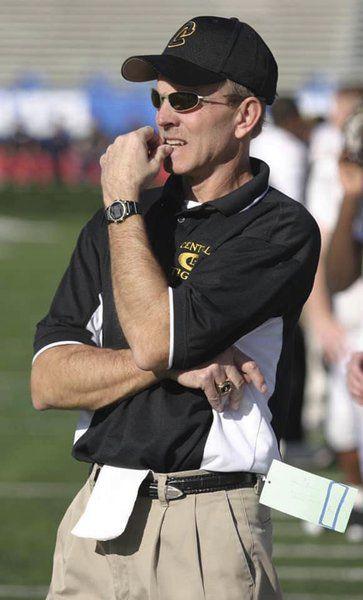 Seward passed away Nov. 27, 2018, at the age of 63. Coincidentally, the cause of Seward's death is something very close to the fields of research in which Wyatt has participated. Wyatt decided to honor Seward the best way he knows how, with Darrell's Ride, this June. It's a 925-mile bicycle ride from Wichita Falls to Stillwater to Greeley.
"First and foremost, it's a ride inspired by the death of a very good friend of mine, a guy my age, he's just a good bud. It's inspired by his tragic death to cancer, that was the first thing. The second thing, is I wanted to do this so that somewhere someone would benefit," Wyatt said. "There's a lot of charities, cancer charities, heart charities, and all kinds of charities, but there's one charity in particular that's very personal to me and that is the University of Northern Colorado Cancer Rehabilitation Institute. The reason it's personal to me, is because 1) I graduated from the University of Northern Colorado with my doctorate, and during that time I had a professor by the name of Carol Snyder. Dr. Snyder was diagnosed with cancer, went into remission, during her years while it was in remission she started this institute. Then it came back and took her life. The institute is predicated on exercise being a modality for rehab and also for prevention of some cancers as well. The reason that's important to me, is because that's my field. I have me doctorate in eyxcersice physiology from Northern Colorado and I'm a full professor now at Midwestern State in Wichita Falls, Texas.
"There's many layers in terms of what this is all about, and it starts with Darrell and I guess it ends with the ride."
It might be fitting that athletics brought the friends together and an athletic endeavor will be their final goodbye. A lot of the research being conducted by the institute, as well as Wyatt's work in exercise physiology, is in discovering the myriad health benefits of movement.
"What we're finding, exercise and movement by the human species, is incredibly medicinal. There are some preventative aspects to exercise in cancers," Wyatt said. "Apparently during treatment, during chemotherapy, during radiation therapy, exercise facilitates energy, actually increases energy, helps normalize their life if they continue exercising. And, in the rehabilitative state, they come back faster to their normal functioning levels through exercise. In all three phases, whether it's preventative, during treatment and when it's in remission, when they're rehabbing post-treatment it's beneficial. That's the fascinating thing about it, and we're learning more and more about exactly what kind of exercise, the intensity, how often. And, which cancers. That's the other thing, not all cancers are equal. It's really a fantastic set up. They operate primarily through donations so it's extremely important that we get donations their way."
Wyatt will be joined on his ride by friend and colleague Charlie Zamastil, the director of the Midwestern State University Cycling team. But, they're also hoping they get some tagalongs from the local cycling communities in Wichita Falls and Stillwater. Wyatt said Stillwater riders can follow them out of town for as long as they want to, but a support car will only be available to Zamistil and himself.
"We're hoping that people will ride out with us as we leave and head up north to Oklahoma, and we want the same thing in Stillwater, when we head out of Stillwater, we're hoping the local cyclists will follow us as long as they want to go," he said.
It's all about raising awareness and hopefully drawing some attention to the institute. Donations can be made there at https://unco.everydayhero.com/us/darrells-ride. Wyatt also wanted to draw attention to the people here in Stillwater who have helped accommodate the ride and the memorial, residents like Nancy Beckstrom, Barbara O'Steen and other C.E. Donart grads. Stillwater friends are hard to forget.
"It hit me hard," Wyatt said of Seward's death. "I'm sure a lot of people have similar stories. I've had relatives die of cancer, maybe because of Darrell's strong friendship, maybe because of his age being the same, and how fast it all occurred, it just motivated me, I had to do something, this is my way of honoring Darrell. A small price to pay and hopefully the main thing we're trying to do is raise donations for this cancer rehab institute."