Many forms of martial arts date back centuries. Used as an art of war, many forms of martial arts were the secrets of their founding countries for generations. They were used by the young warriors of these nations to train for combat, with the goal of ultimately killing an opponent. In more modern times, martial arts serve as more of a peacekeeping aspect for those who practice them.
For Brett Jackson, owner of Jackson Academy Family Martial Arts in Stillwater, it is ironic how such an art can be used for peaceful purposes when it once was used to defend nations.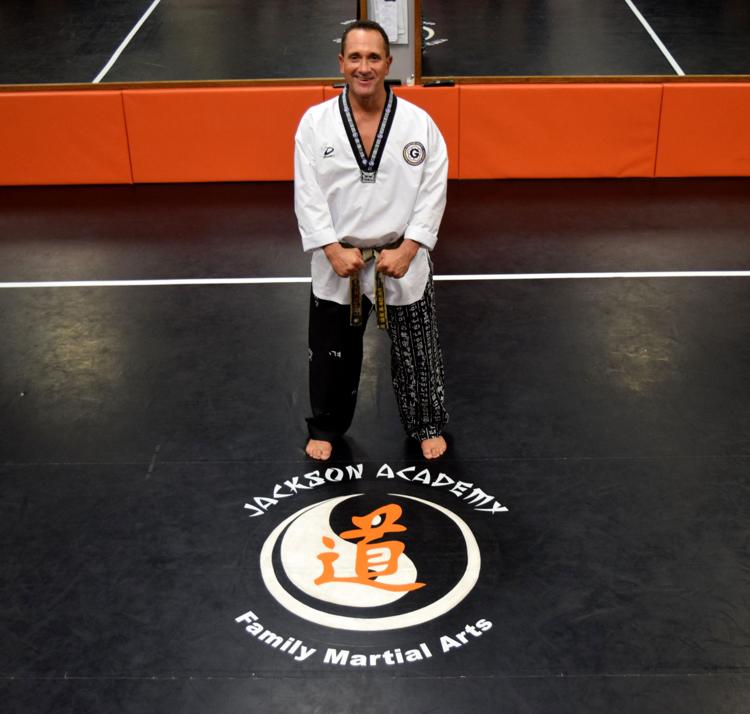 "We've just become a global community where we've got the internet, so we've go access to all these different martial arts," Jackson said. "This used to be a country's secret, and it was an art of war. It wasn't something kids did. It was something that young men, to prepare for war, did and they did it in a way that was final. Everything was meant for finishing the guy, because it was meant for the battlefield."
All of these evolved from arts of war so people could protect themselves, to what we are now, which is interesting. Now it's more like, to me, an art of peace. We teach children hopefully to esteem themselves, a high level of confidence so they can walk away from a fight. So to me, it's very ironic that the martial arts we train, absolutely were for killing."
Jackson can count many achievements during his time in martial arts. He achieved his eighth Dan (blackbelt) in Taekwondo in 2016, and is also highly-achieved in the arts of Krav Maga and Gracie Jiu Jitsu. He trained under Grandmaster Sae-Jin "Jack" Hwang, who was among the first to bring the art form to America from Korea, who made his practice in Oklahoma because it was in the center of the country.
Jackson has a deep respect for the traditional teachings of martial arts, as Hwang taught him in the traditional forms of Taekwondo. Jackson even uses the same goals for discipline and perseverance that Hwang taught decades ago.
Jackson graduated from the University of Iowa in 1998, and worked at company in Cedar Rapids, Iowa, that made alloys of copper. The company's roots were in Korea, and one of Hwang's students had opened it. There were several Koreans who worked at the company, and their was a desire to have a program to help instill hard work and perseverance for their workers, prompting Hwang's student to be brought in.
Jackson took a job at the company, which paid for his college as he ran security and lived on the grounds. He said he ate with a different Korean family each night, and learned Korean over the course of his time with the company. This helped Jackson develop a deeper understanding of the culture surrounding Taekwondo.
"I've always taught Taekwondo with a certain level of terminology," Jackson said. "There were some things I already knew, but I understood if I wanted to be a master of my craft I need to understand more about the culture and the language."
Following his time in Iowa, Jackson went to Jupiter, Florida, to help Hwang's daughter open up a school. He spent 22 years in Florida before wanting to move back to Stillwater when his mother moved to town. A strong love of Stillwater was also a big part of his decision to move and set up his practice in town.
"There's room for every martial art in this town, and there's an audience for them," Jackson said. "They're all doing a great job. And I'm just blessed to be here. I think this is the greatest town in the United States. We keep the culmination like a small town, we are, but I love everything about this town. I just love Stillwater and it's always been a dream of mine. When my mother moved here about 10 years ago, and I made my mind up that I was going to come back. I'm just excited to give back to her, but Stillwater in general. It's a great place with great people and we deserve the best of everything."
1988 Olympics
Leading up to the 1988 Olympic Games, Taekwondo was being looked at as a possible event to be added to the schedule. The main backers of making Taekwondo an Olympic sport were among the younger of the world's masters, clashing with the older masters who held the traditional views on Taekwondo.
Jackson qualified to competed in Taekwondo, yet was faced with a decision by Grandmaster Hwang.
"I qualified on seven different platforms. Master Hwang told me if I went, then to not come back," Jackson said. "That was like three days before I was ready to leave. I thought about it and wanted to go, but I couldn't. I couldn't justify that loyalty. I'm glad I didn't, because he's the one who sent me to Iowa to get an education and he sent me to Florida and he's always been like my father.
"The younger masters that were putting together the Olympics hands-on, they were in such opposition and political turmoil with the older guys who really set the rules. I just got caught in the wrong place at the right time or vice versa. Sometimes I think what if, by I don't regret my decision."
Training with the stars
Being a pupil of Grandmaster Hwang had its perks besides the opportunity to learn from one of the best. His prestige attracted many who wished to train with Hwang, including some of Hollywood's biggest stars.
"It's been really one thing after another," Jackson said. "Steven Seagal, I got a chance to train with him because of my instructor. One of his instructors and my instructor had a common bond, and I guess just kept doing all I could do. I have to give it all to Mr. Hwang. If it wasn't for them, I wouldn't have met all these people. Bruce Lee came to work with him when he first came over.
"Chuck Norris is amazing. But he would regularly come to work with Mr. Hwang from Texas. During his movies, even in the middle of a movie he's filming, he'd come out to Oklahoma City and go. Mr. Hwang made sure I was there to spar with him and let him beat me up. I've just been blessed, I guess. Maybe I just had the right attitude, I don't know. A lot of these guys, I didn't know how famous they were … I didn't even know who they were. He wouldn't tell me who was coming, but it was always a pleasant surprise."
Jackson also got to the in the Teenage Mutant Ninja Turtles show from the 1980s, as he was friends with Ernie Reyes Jr., who portrayed Donatello. Jackson played one of the bad guys who would get beat up by the Turtles.