After 44 years of teaching, 35 of which were spent with Stillwater Public Schools, beloved World Studies teacher Cindy Petree is retiring.
Her current students wanted to celebrate with her in a unique and caring way. After some brainstorming, it was decided that they would give her a surprise retirement party and shower her with her favorite drink, Diet Coke.
And shower her they did
Every student brought her at least one bottle or can of soda, some even brought entire 24-packs of cans. The total added up to over 200 bottles and cans of Petree's favorite drink. But the most special part of the gift was the hand-written and illustrated messages attached to the bottles. The students put so much time and care into making their personalized Diet Coke bottle "label," each time Petree opens a new bottle there will be a sweet message from a student attached.
On May 9, Petree was in a seventh grade World Studies teacher meeting while her students shuffled all of the Cokes into the cafeteria. When everything was in place, Principal Bo Gamble interrupted the meeting asking Petree to come with him because he "needed her wisdom and advice" concerning an issue. He escorted her down the long Arete hall way while, unbeknownst the her, her entire team of students were waiting for her at the end. Once she was in view, the students yelled out the classic surprise party phrase, "Surprise!" Petree was truly taken aback and thanked her students for the generous gift joking, "This will last me at least a week!"
She also commented on how impressed she was that all 140 students were able to keep the party a secret. Petree then took a seat next to her Diet Cokes and listened as three of her current students and one of her previous students spoke to her and the crowd about the impacts she has made on their lives.
"She taught me so much about loving and learning about other cultures. I'll never meet another teacher like her," current student, Aubrie McEndoo said.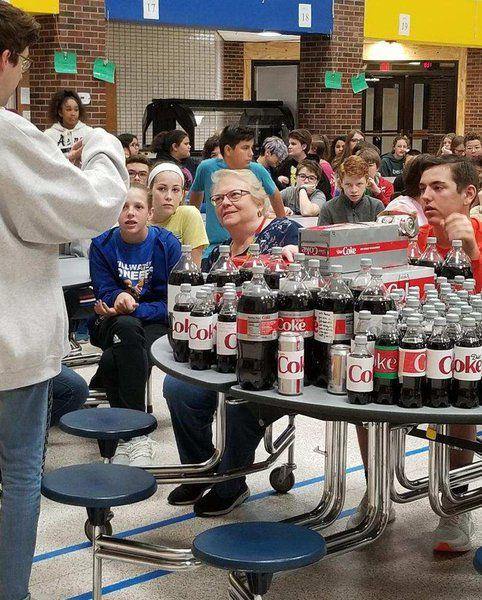 Lucy Darr told everyone about her seventh grade enrollment day and about how excited her siblings were for her that she was assigned Ms. Petree for world studies, just as they had been.
"She always makes us smile and she's a really great teacher. We'll never forget her," Avery Littlefield said.
Previous student Janita Cormell, who's now the Theater Arts teacher at the Middle School, spoke about how impactful Petree has been in her life. She told the students her story of how Petree taught her so much as a child, then transitioned into being one of her most treasured friends in adulthood. Cormell advised the students to cherish these last few days with Petree, as they will never meet another teacher or person quite like her.
In listening to her students, and admiring the efforts her students went through the surprise her, it's evident that she's made a huge impact on them and will leave quite a legacy behind her. While all of us are sad to see Petree leave, we also share excitement for her in next chapter. She plans on traveling, relaxing, and assisting the district in their New Teacher Training Program. As well as, of course, drinking a lot of Diet Coke.