The international search for cheap, readily available drugs that can be repurposed to prevent or treat COVID-19 infections is underway. Among the medications being studied is ivermectin, used as a treatment for intestinal parasites in animals and humans. A few studies have also shown it to have potential as an anti-inflammatory.
But Ivermectin is still being studied and has not been proven effective or approved as a treatment or preventative for COVID-19. Health officials at the national, state and local level are warning people not to dose themselves with the drug, especially if they're considering veterinary versions.
Ivermectin is available by prescription for humans at most pharmacies and is readily available over the counter at farm and ranch supply stores in formulations for cattle, sheep, horses and pigs. It is also used to treat dogs for heart worms and other parasites.
Dr. Rosslyn Biggs, a veterinarian, OSU Extension specialist and Director of Continuing Education for the Oklahoma State University College of Veterinary Medicine says she has heard that across the U.S. and in Oklahoma people are taking ivermectin labeled "not for human use" and that is a concern.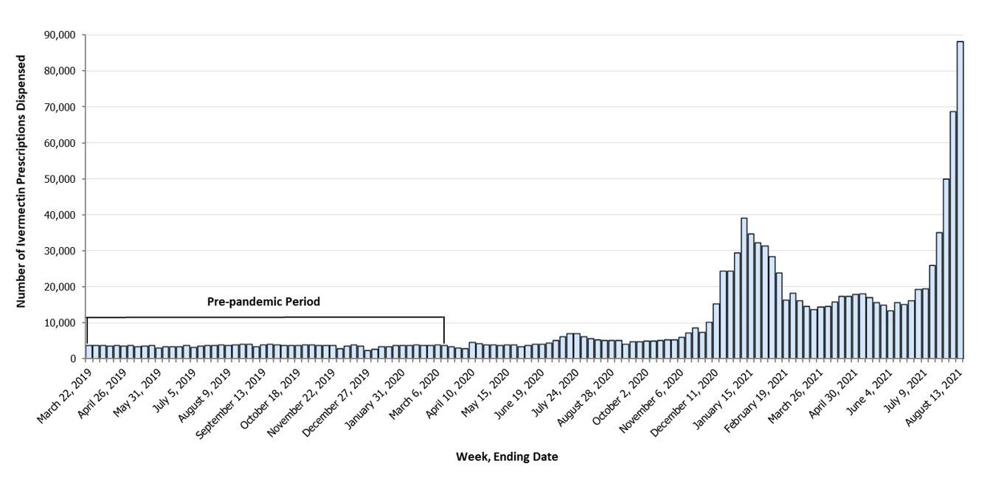 Overdosing would be easy because veterinary formulations meant for animals that could weigh 1,200 pounds might be 10 times what would be an appropriate human dosage, she said. Although formulations for a different species have the same active ingredient, they contain inactive ingredients that are not evaluated for safety in humans.
It's just not a good idea.
"Any of our medicines do have toxic levels and even lethal levels," Biggs said.
On Friday the Centers for Disease Control and Prevention issued an alert for health care providers and the public about sharp increases in calls to poison control centers regarding ivermectin.
Ivermectin poisoning can cause gastrointestinal symptoms, neurological effects and low blood pressure, the CDC said.
The American College of Veterinary Pharmacists lists fatigue, difficulty walking, increased saliva production, dilated pupils, blindness and seizures as signs of ivermectin toxicity.
People are reading things online that encourage them to think it's an answer but studies that have shown antiviral effects were done outside human bodies in test tubes or petri dishes, using concentrations much higher than would be produced if a person took the drug orally.
Biggs said you hear anecdotal stories about benefits but it's important to review studies critically.
"It goes to the basics of scientific research and being educated particularly in medicine," she said. "What you find in labs when you combine things in vitro is not the same as when you apply in at the field level, in real life situations."
Pharmacist Lance Reece said he has seen a huge increase in the number of prescriptions for ivermectin coming across his counter and he doesn't believe it's because a lot of people have suddenly developed worms.
He says it's pretty obvious why people are suddenly taking the drug.
Farm and ranch stores are having trouble keeping ivermectin in stock and it's getting harder to get new shipments.
But Atwoods shift manager Nicole Nicholson said that isn't necessarily caused by people taking it for COVID-19. This is the time of year when farmers normally use more wormer.
Reece said demand from pharmacies is making it harder for him to get ivermectin from his suppliers and the cost is rising. The price has more than doubled recently.
A course of ivermectin that once would have cost $40-$50 now costs $120, he said.
Reece doesn't worry too much about people taking ivermectin meant for humans as long as they consult with their doctors and take it as recommended. Even if it doesn't help, it probably won't hurt them.
But he does worry about people going it alone and using the veterinary versions. A few of his customers have told him that's what they're doing.
There are websites that provide information about converting the dosage but Reece said it's important to make sure you're taking the right amount. He advises people to talk to their doctors and follow instructions.
"Just don't get your dose off a Facebook page," he said.
Twitter: @mcharlesNP