Tuesday's freezing rain brought damaging ice to Stillwater, leaving many homes and businesses without power.
Broken tree limbs were scattered across Stillwater neighborhoods Tuesday morning and continued crashing to the ground throughout the day, taking out power lines along the way.
According to the City of Stillwater outage map, as of 12:15 p.m. there were about 12,600 customers affected by power outages. By 3 p.m. about 7,100 customers remained without power.
Stillwater Emergency Management Director Rob Hill drove through Stillwater Tuesday afternoon, recording a Facebook Live condition report. He said Stillwater Electric had every available person working to restore power in neighborhoods across the city.
"They are so backed up right now that they can't even get the phones answered to report outages," he said. "They can either stop and answer the phone for outages they already know about or keep working to restore power. There is not way to know how long the power is going to be out."
Hill said Stillwater couldn't call any other utilities for help because they were all either responding to their own outages or preparing for the same situation.
Limbs continued to drop throughout the day, posing a safety hazard. Hill advised people to avoid standing under trees and to refrain from touching limbs that have fallen onto power lines, which could still be energized and cause electric shocks.
Hill advised people to keep their phones charged and be prepared to lose power. More rain is expected and people should expect the risk of power outages to continue.
"It's only a matter of time before the trees that haven't broken break," he said.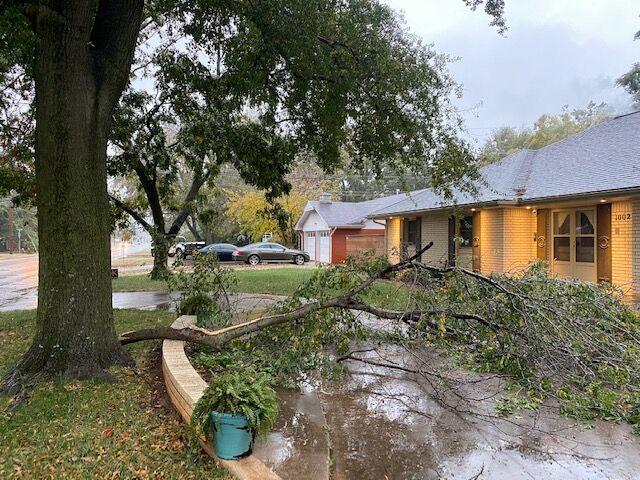 Included in the power outage were the Payne County Courthouse, which had power restored just after 11 a.m. and City Hall. Court was suspended at the county level for the day.
A news release from the City reads, "The City of Stillwater is working to maintain core services during the current winter weather conditions."
City Hall is currently closed, and municipal court trials have been canceled.
Oklahoma State University and Stillwater Public Schools made the decision to cancel classes Monday night.
Hill praised school districts for their decisions to cancel classes, saying he wouldn't want to be transporting students on a bus over county roads with overhanging trees. Some of the school sites had already lost power during the day, he said. 
According to OGE&E, around 201,000 customers across Oklahoma remained without power by 11 a.m., and power had been restored for about 70,000. The utility said it was mobilizing 400 additional personnel to respond to the heavy line and tree damage it was experiencing systemwide.
"Motorists are discouraged from traveling as highways remain slick and hazardous in the Panhandle, northwestern, north-central and central Oklahoma, including I-40 west of the OKC metro and I-35," according to the Oklahoma Department of Transportation. "While conditions are improving in the Oklahoma City metro area, drivers should remain alert, especially at bridges and overpasses, as conditions can quickly change."