STILLWATER – Iranian students studying at Oklahoma State University are beyond frustrated with the travel ban President Donald Trump placed on several Muslim-majority countries last year and feel demoralized after the Supreme Court ruled last month that Trump had the authority to do so in his effort to make the country safer.
The travel ban impacts Iran, Libya, North Korea, Somalia, Syria, Yemen and Venezuela.
At OSU, there were 58 students from Iran, five from Venezuela and four from Libya, according to the most recent data, which is from fall 2017.
Travel restrictions vary country-to-country and there are case-by-case exemptions allowing some individuals to get a travel visa. Venezuela's ban impacts government officials and members of their families. The other six countries have indefinite bans for permanent immigration to the United States but varying regulations for temporary immigration.
Students and exchange visitors from Iran are allowed. But that doesn't mean anything comes easily for Iranian students wanting to study in America.
Pouya Jahanshahi, 47, co-advisor for Iranian Student Association and assistant professor in the graphic design department at OSU has seen the impact on students firsthand. Jahanshahi, who immigrated to the United States in 1985, is a U.S. citizen and is beginning his fifth year at OSU, said Iranian students should be focused on "scholarly activities ... learning more about humanity and sharing knowledge."
With no U.S. embassy in Iran, Iranian students seeking a visa have to travel to an embassy in another country, face weeks of waiting and incur those additional costs. Once in America, they face the hardships of not seeing their loved ones.
"If they go back, they risk not being able to come back to the U.S.," Jahanshahi said. "Some parents are dying, some have kids back home and these students have to choose. These are choices humanity shouldn't force on someone."
With the current taunting going on between Trump and Iranian President Hassan Rouhani, Jahanshahi doesn't see the travel ban ending anytime soon.
To Iranian President Rouhani: NEVER, EVER THREATEN THE UNITED STATES AGAIN OR YOU WILL SUFFER CONSEQUENCES THE LIKES OF WHICH FEW THROUGHOUT HISTORY HAVE EVER SUFFERED BEFORE. WE ARE NO LONGER A COUNTRY THAT WILL STAND FOR YOUR DEMENTED WORDS OF VIOLENCE & DEATH. BE CAUTIOUS!

— Donald J. Trump (@realDonaldTrump) July 23, 2018
Two OSU students wanted to speak up so the community understood the impact the travel ban is having.
Solmaz Bastani, 34, from Tehran, Iran, and Omid Khandel, 27, from Ilam, Iran, are both working on PhDs.
Bastani, who is studying medical physics, is working to develop gold nanoparticals to improve the imaging quality of cancer cells. Khandel, president of the Iranian Student Association and studying civil engineering, is looking at risk assessment of bridges and the impact climate change has on their failure.
Bastani:
Q: What do people need to know about the travel ban and how it is impacting students?
A: First and foremost, people need to understand the difficulty it brings, like we can not see our parents. Most of us are on single-entrance visa which means once we enter the U.S., if we leave we have to enter an embassy again. The clearance process for Iranians usually takes more than two months so there is a risk of losing one semester of studies. In the physics department we have a guy whose clearance took a year and a half. I have a friend who is a student here and her husband has been waiting for the clearance for 18 months.
Since coming here seven years ago, I've gone through so much difficulty. I've lost my only sibling, my brother. I could not go back for his funeral because of the risk. I was advised by my father to stay here.
Q: How has the travel ban impacted your schooling?
A: Not being able to go home when my brother died was very hard. It has impacted my productivity to a great amount. Instead of just worrying about writing your dissertation and getting your research done, the first thing that occupies your mind every morning is what if I'm kicked out right now, what if, what if? I don't see how students who are contributing highly to the society and doing good things can be a threat. We are all legally here.
Q: What did you think about the Supreme Court ruling?
A: I was shocked and feel hopeless. I had this hope that they don't approve it because I'm dying to see my parents. They are old and I don't know if I can ever see my parents again. My father is dealing with severe depression after his son was lost. The only thing that half-kept him alive was the very small hope that he would see his daughter. But now that gate is closed.
Q: How helpful is it to have other Iranian students at OSU?
A: Two years ago we had about 120 students. My first year there were about 20 students. Now we are 70ish. We found our own group of friends and stick together. I think all the Iranian students here have had horrible weeks since the Supreme Court ruling. We text each other and ask how we are doing.
Q: What are some of the other impacts?
A: There is no money transfer between the two countries. I worry about what if I lose my position as an RA or TA. I didn't have a position last summer and there was no one I could ask for money. So I ran for positions on campus because we can only work on campus. In late May I was lucky and found a position in the Wes Watkins Center. A very close friend of mine at OSU is dealing with this problem right now. He is calling all his acquaintances around the U.S. to see if someone can lend him some money. His father would pay in my currency back home. But this is rare.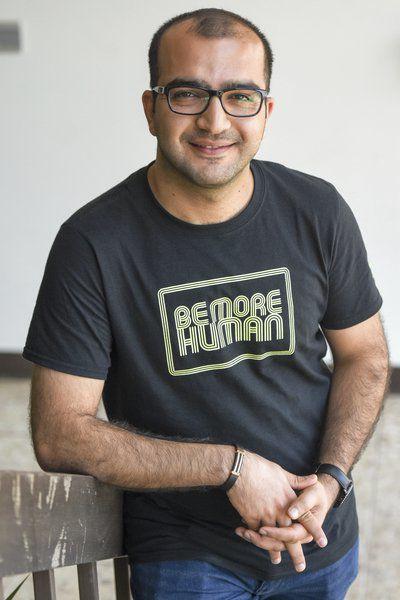 Khandel:
Q: What are some of the impacts of the travel ban?
A: The people who are doing PhDs are supposed to be in a high-level in society, but we aren't living like it. Being a student in the U.S. from Iran has always been hard since the Iranian Revolution 40 years ago. But now the problems are increasing daily. You go to sleep and wake up and see there is a travel ban. The next night you go to sleep, wake up and there are sanctions so you can not even transfer money from Iran. The only way now is to find someone who is flying from Iran to the U.S. and ask them to bring money. It is like 200 years ago.
Q: Do you worry about going home and not being allowed back into the U.S.?
A: I decided to go back home last summer and get married. I called my parents to let them know. Usually the reaction of parents is they are very excited and happy. My dad said, "Mmm, no. What if you can't go back?" I told him I don't care because I want to get married.
Q: Are Iranian graduate students choosing to study at other universities around the world instead of somewhere in the U. S. because of the travel ban?
A: There are many other places as good as the U.S. Canada is competing very well and students there feel welcome.
Q: What did you think about the Supreme Court ruling?
A: We had hoped our parents could apply for a visa. But now we know that when they go to the embassy and are asked "Are you Iranian" that they will be refused. Even now after four years (in America) I can't put my phone on silent during the night because I'm always thinking that something happened and they need to call me.
Q: What is the impact on U.S. citizens?
A: This travel ban doesn't only affect immigrants, it affects the U.S. citizens. Both of my nieces are born in America. My parents can't get a travel visa to come see their grandchildren.
Q: Do you see the travel ban being lifted anytime soon?
A: I don't have any hope that things will get better in the next several years.
Twitter: @dbittonNP