Myda Lewis might have fulfilled a dream Thursday by riding through downtown in a convertible to celebrate her 107th birthday, but the resulting, almost spontaneous parade that developed as word of her cruise up Main Street spread across social media achieved something else Myda wanted just as much.
Earlier in the week when asked what she wanted for a birthday gift, Myda told her hospice worker, "I want people to be happy."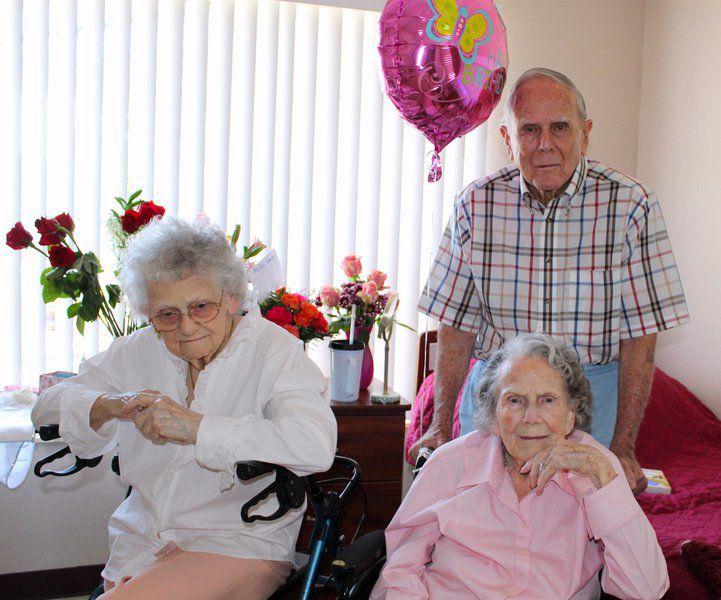 And Myda's birthday parade seemed to accomplish just that for thousands of people in Stillwater as they armed themselves with all the makings of a great birthday party: Happy birthday signs, American flags, party hats, balloons, banners, flowers and even confetti. They lined a five-block stretch of Main Street, never realizing that the joyful atmosphere was making two of Myda's wishes come true.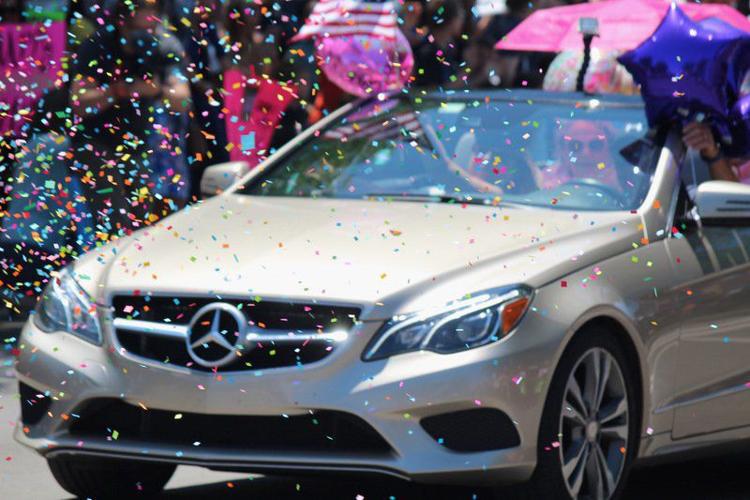 Smiling people grabbed their children or took a break from work and streamed into downtown to witness something special, even as they were creating it.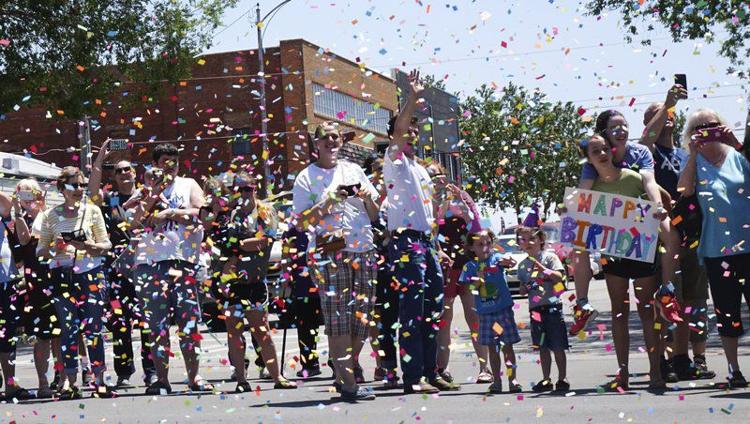 Toni Ivey attended a sign making party at a downtown business before setting up at the corner of Ninth Avenue with her three children to wish Myda well as her convertible drove by.
"We're out today because what a fun thing to celebrate!" Ivey said. "I mean, who gets to turn 107? And if she wants to have a parade by golly, we're going to give her a parade!
"And we need this positivity in the world right now. Everybody's smiling today, I don't see one grumpy face ...The whole town has come together."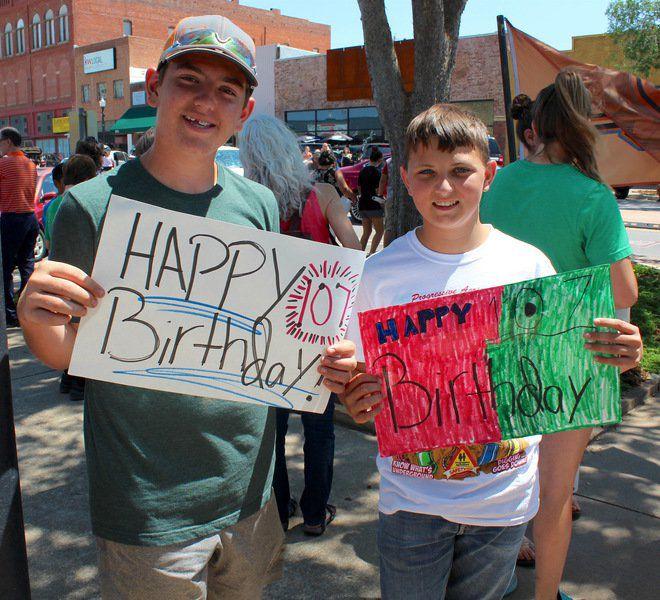 Sabrina Reetz, 7, Sophia Reetz, 10 and Asher Baghurst, 8, were also all smiles while holding a "Happy Birthday Myda" sign as Lewis cruised past them.
"This is pretty cool because not many people turn 107," Sophia Reetz said.
"I think it is awesome that she got her wish," Baghurst added.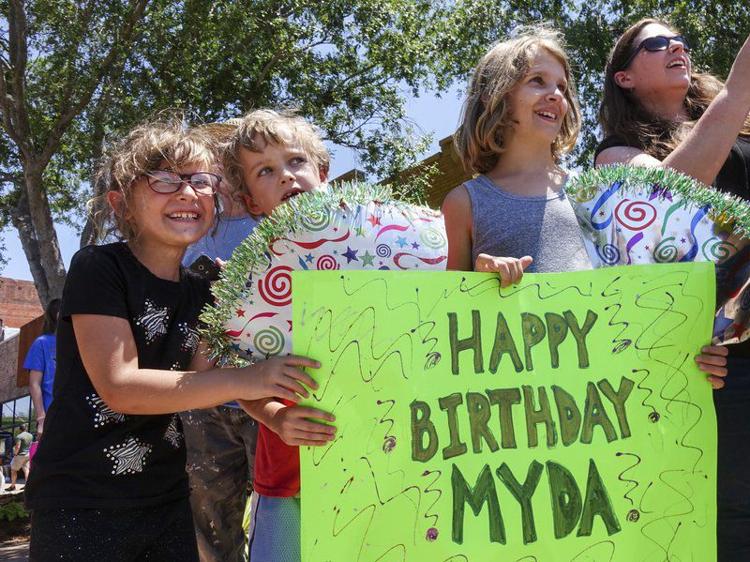 Teressa Web of BancFirst was one of several people who walked up to the convertible as it passed by to present Lewis with a gift.
"We all signed a card and gave her a dozen red roses," Web said. "This is awesome."
Carmen Steele ran up and presented Lewis with more than a dozen colorful helium balloons.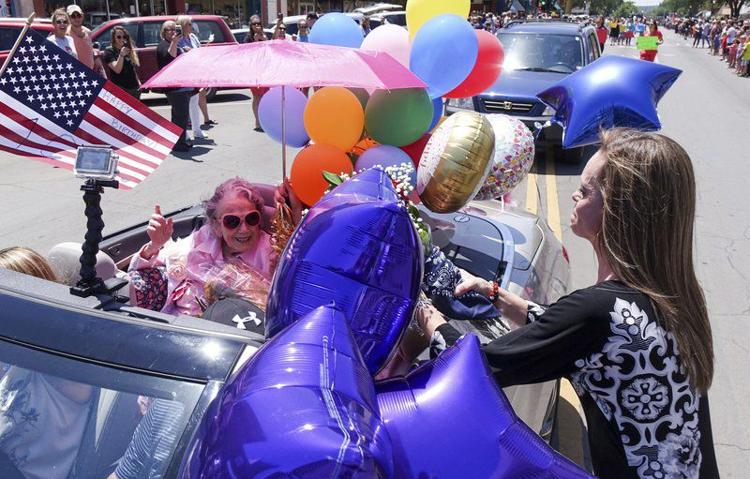 "I'm so touched but not at all surprised that the community came together to make one lady's wish come true," Steele said. "It just shows what Stillwater is made of."
Ivey, who moved to Stillwater seven years ago, expressed similar feelings.
"It's just a reminder of why I've come to love Stillwater," she said. "This community really pulls together for whatever the cause and today we have a really fun thing to celebrate."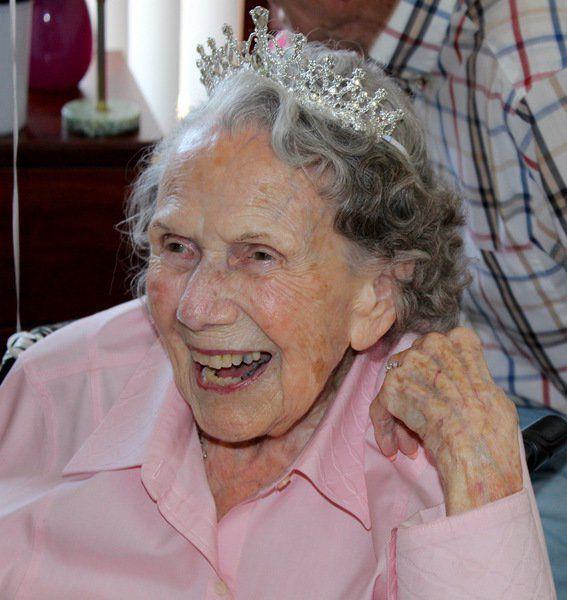 Twitter: @dbittonNP, @mcharlesNP