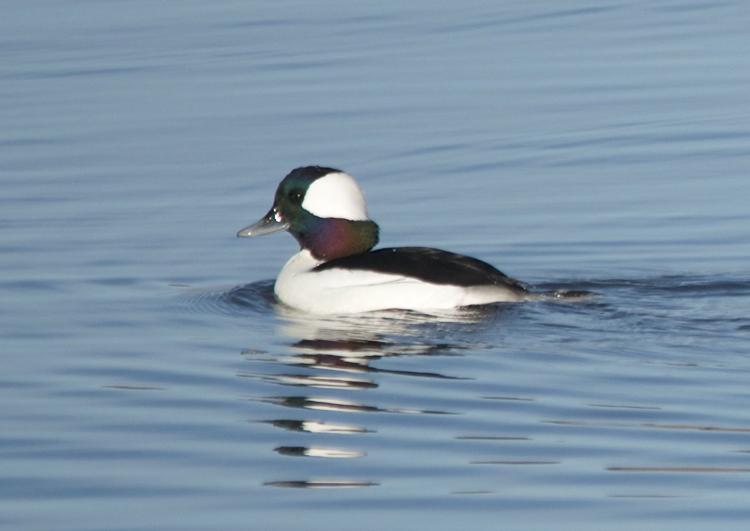 There were no rarities on the Payne County front last week, but there had been some odd weather including fog. This anomaly occurs when warm air meets the cold air, and we have had more warmth this winter, which could easily change very soon.
Last Tuesday, Jan. 14, a warmer and foggy Boomer Lake counted over 100 Cackling and Canada Geese. There was also a Northern Shoveler, three Bufflehead, two dozen Mallards, four Ruddy Ducks, four Double-crested Cormorants, four Great Blue Herons, as well as four Pied-billed Grebes, and three American Coots rounded out the water denizens. Also included were the Belted Kingfisher, Red-shouldered and a family of Red-tailed Hawks, Blue Jays, American Crows, Tufted Titmouse, Eastern Bluebirds, Carolina and Bewick Wrens, several sparrows, and numerous migratory American Robins coming from the north where there are snowstorms, Carolina Chickadees, Brewer and Red-winged Blackbirds.
Meridian Tech Ponds shared numerous Eastern Meadowlarks, several Savannah Sparrows, and a Horned Lark.
Last Wednesday, after the post dense fog lifted, an unseasonably warm Boomer Lake uncovered three dozen Canada Geese, as many Mallards, Ruddy Ducks, Pied-billed Grebe, Mourning Doves, Great Blue Herons, American Robins, European Starlings, Dark-eyed Juncos, a goldfinch, and cardinal.
After a couple of days of rain, Boomer Lake's chilly morning brought the return of our usual suspects, along with hungry Harris and Song Sparrows, American Goldfinches, and Carolina Chickadees, as well as Dark-eyed Juncos last Saturday morning.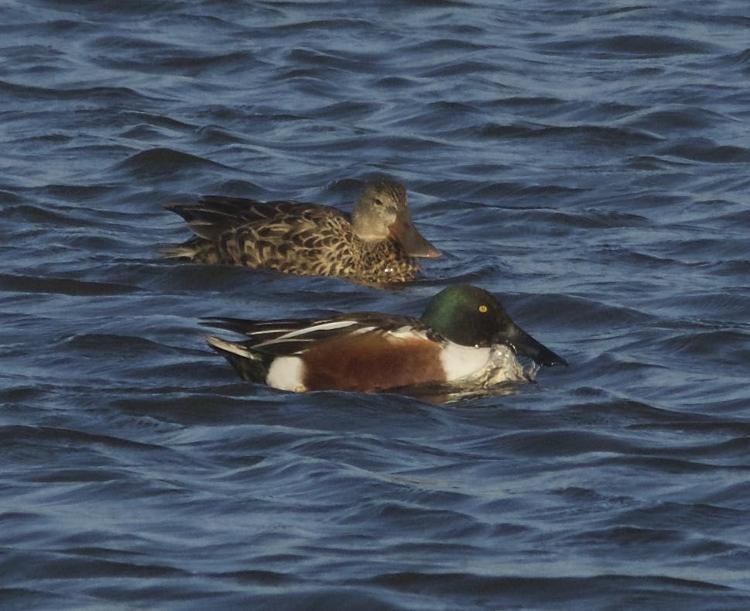 Last Sunday, Jan. 19, Couch Park shared the Red-shouldered and Red-tailed Hawks, Yellow-bellied Sapsucker, Downy Woodpecker, Eastern Phoebe, Golden-crowned Kinglet, Tufted Titmice, Carolina Chickadees, White-breasted Nuthatch, Carolina Wren, Eastern Bluebirds, House Finch, Yellow-rumped Warblers, Red-winged Blackbird, and several American Robins and Cedar Waxwings.
Boomer Lake's Heron Cove with a wind chill of 24 degrees, chimed in with a few Canada Geese and Mallards, several dozen Ring-billed Gulls, Ruddy Duck, Great Blue Herons, Red-shouldered Hawk, scant sparrows, three American Crows, a jay and a bluebird.
On Martin Luther King Day, Lake Carl Blackwell added several sparrows, a dozen crows, both yellow- and red-shafted Northern Flickers, but there were no ducks other than Mallards.
The OSU Cross Country Course shared a few Northern Shovelers, Gadwalls, and Ring-necked Ducks, as well as Northern Harrier, Red-tailed and Red-shouldered Hawks, and most of our winter sparrows, including several LeConte Sparrows.
This Tuesday, we found several dozen migratory American Robins, Red-winged Blackbirds, and Cedar Waxwings near Whittenberg Park, as well as a few sparrows, the Brown Thrasher, and Cooper Hawk.
We're still keeping a watch for more prevalent numbers of ducks as we see a trending cooldown in the near future.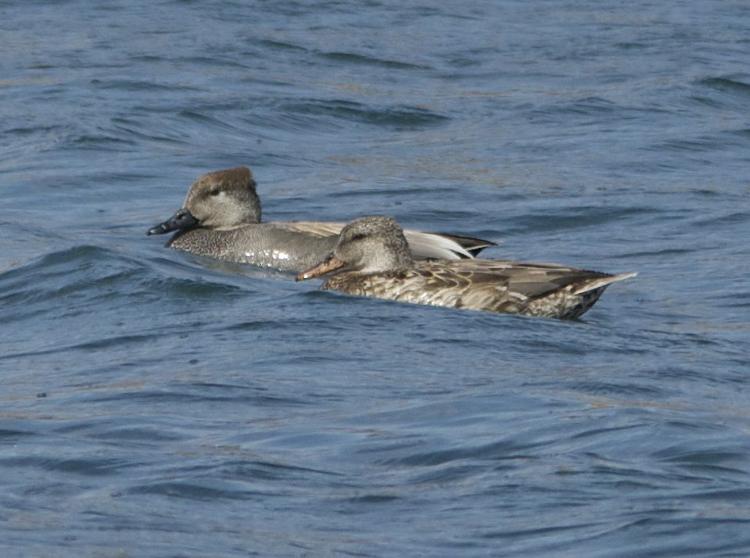 There should be more seasonable weather over the rest of the month, as well as February. Looking forward to spring, we're hoping to come up with additional migrants, and with good precipitation like we have been having, we should see more of them. Chances are good that some species might be a little earlier with migratory movement, which has been generally trending over the past few years.