Last week closes out in Stillwater with 4.5 inches of rain, which brings Boomer Lake back up to normal levels, and the cracks in the ground have closed for now. If good amounts of precipitation for the fall are received, we should have a good spring next year filled with plenty of fruit and migrants to help consume it.
Since the city workers have uncovered a few additional mulberry bushes, we have plenty of good songbirds to look forward to seeing when spring of 2020 comes into view. We also have additional sunflowers and native flowers coming up for the fall birds that are here now and will be passing through this fall.
Last Friday, after a good overnight and early morning rain, several Black and Forster's Terns dropped into our laps at Boomer Lake, possibly more than we have ever seen. Many of these birds had an extended stay at Cheyenne Bottoms and Quivira over the summer, and are making their way south at a more leisurely pace. Spotted Sandpipers are a little more plentiful this year, which includes breeding as well as non-breeding birds.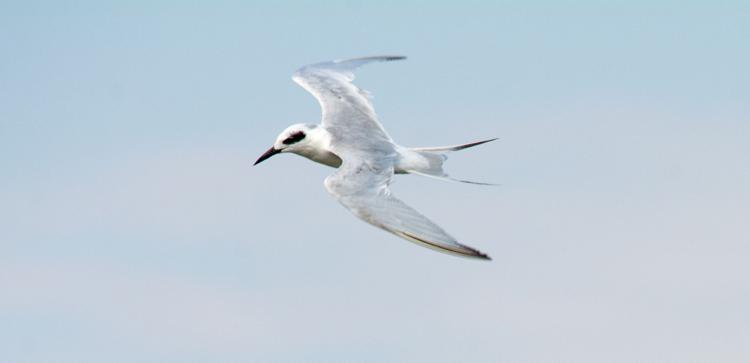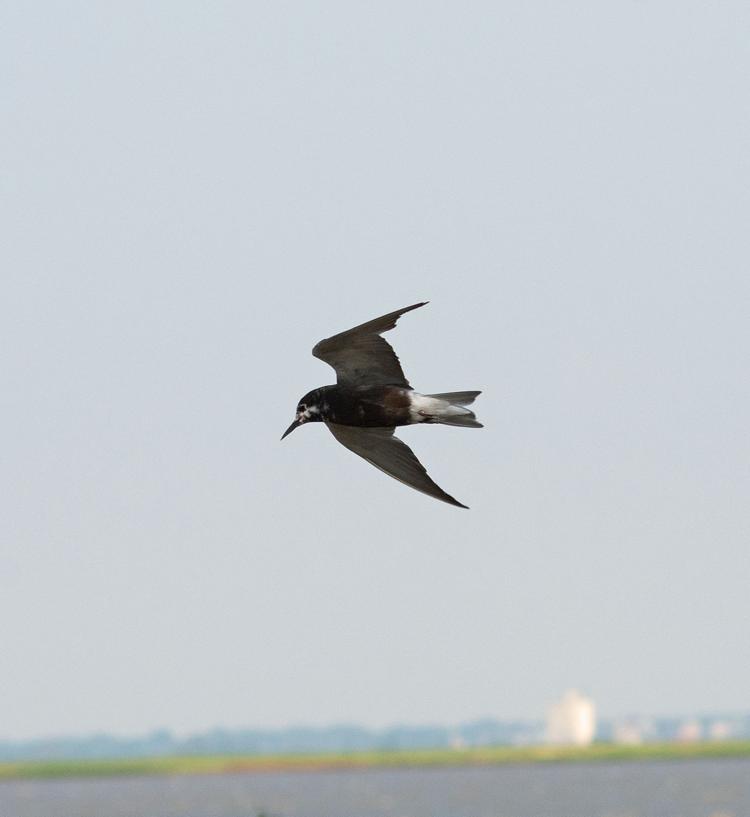 We had also been privy to half a dozen Blue-winged Teal winging their way past us last Tuesday, with several Mallards in the sky at the same time, which only highlighted those tiny teal. Those adult males were sporting powder blue speculums, which could readily be observed across the lake.
Plenty of Mississippi Kites are filling the skies in many parts of the area, and there is no wonder with the numbers of dragonflies and cicadas. We are averaging a respectable eight of the couplet in a square meter, which could easily be the most that have been under observation for quite some time. There were even six of them making themselves comfortable at Heron Cove while they were temporarily seated in a snag, also last Tuesday.
Migratory insects are passing through right over Boomer Lake, including june bugs, may flies, along with plenty of grasshoppers, all observed resting on Heron Cove, along with several species of butterflies. It was also brought to my attention that firefly populations are not what they once used to be. This may have something to do with the excess heat that we recently have experienced, especially with July having been the hottest on record.
We are still seeing migratory Barn Swallows, but by the same token, there were less Scissor-tailed Flycatchers and Eastern Kingbirds over the summer season than we have had over the past few years. There is a good chance that their numbers moved a little more north than they have in the past.
Most of the shorebirds are in transit south from their breeding grounds in the High Arctic and boreal forest. If more rain is in the cards, perhaps we will get to see a few more of them on the ground before they leave us for the year.
Keep your eyes on the ground and your head in the clouds. Happy birding!