Even for Chris Pope, a man who served in the US Marine Corps, getting picked up from the airport in Tanzania made him nervous.
It wasn't the man who met Pope there who was the problem. He felt secure with Kishumu Parkep. A smaller man, Parkep was both Pope's translator and a warrior of the Maasai tribe.
For Pope, an American who grew up in Arkansas and an experienced traveler to Tanzania, the concerning part of the trip was the same as always — the road.
"Oh it's scary," Pope said. "It's scary. It's almost like it's unregulated. There are people walking on both sides of the road, you've got people driving in both directions on both sides of the road and then you're already on the wrong side of the road."
Vehicles whizzed by on the left side of the road, often veering around pedestrians on foot and motorcycles. Pope, who was part of a church group that provided medical help and surgery for people in Tanzania, and Parkep started their time together.
Pope spent three weeks with Parkep and found himself asking a question.
"How can I help?"
In February of 2020, Pope answered his query by founding Books Over the World. A nonprofit company based in Stillwater, BOW supplies children's books to the Maasai people in Tanzania.
The first language of Tanzania is Swahili. The Maasai, a tribe rooted in tradition, are historically pastoralists. Their livestock-centered way of life became under fire. Increased urbanization in recent years led to the Maasai having limited ability to maintain their way of life.
"They herd cattle," Pope said. "They've done it for thousands of years in the region of the Rift Valley. I think they migrated from Kenya. But now with fields and fences and what all, they are kind of the black sheep of Tanzania."
The Maasai culture features aspects of western behavior and tribal tradition. People may wear a button-down shirt one day and tribal garb in the village the next. The standard Maasai belt has a place for a machete, a Rungu — a club that is a favorite of the people — and a cellphone.
Parkep felt his people lagged in learning a tool that would help them flourish as they moved into the next era — the English language.
"They don't even speak a language that would give them access to global economy," Pope said. "Kishumu expressed this desire for his people to overcome their illiteracy."
Partnering with his church, Mt. Zion Baptist Church in Stillwater, Pope created BOW to help the Maasai learn English by providing reading resources for teachers and English-speakers to master.
BOW volunteers ship boxes from Stillwater to Morogoro, Tanzania, filled with books aimed for children from kindergarten to 12th grade. BOW aims to ship one a month. Each box fits approximately 100 books and costs around $400 to ship.
"I've received books from California, from Washington," Pope said. "We have a donor in Hawaii. When people realize what we're trying to do they help with the expense."
Morogoro is a rather large city in Tanzania, but it has fewer paved roads than Stillwater. The United States Postal Service is the most efficient way to go. Although each box is limited to 50 pounds, a package reaching it's destination quickly is never a guarantee.
"The postal service in Tanzania is not quite so simple," BOW Senior Vice President Cindy Pennie said.
One time, a box labeled for Tanzania was mistakenly delivered to Tunisia, a country on the very northern tip of the continent. Picking up packages from overseas can be a painful process and Pennie, known as "Mama Africa" for her efforts with BOW and medical visits, has experience of the multi-hour ordeal of picking up a box from the post office.
Regardless, the efforts are appreciated. The BOW team hopes to expand their reach, even eyeing the big goal of providing funds for a school building.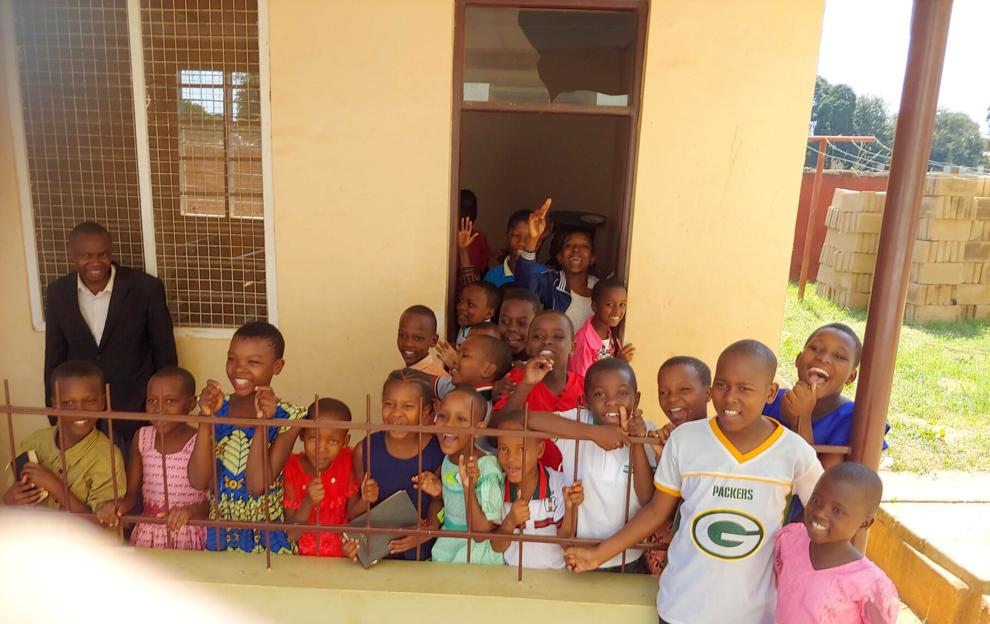 A primary contact for BOW is Bishop Mameo. A Maasai warrior and bishop of the Christian church in Tanzania, Mameo is a helpful administrator.
"We hear from Bishop Mameo and the church there that they pay attention to what's going on here and they pray for us," Pennie said. "And we support them."
Whether journeying to Tanzania on a medical visit or working with Pope to provide books for the Maasai tribe, Pope and Pennie have a humble perspective about their work among their African friends.
"Over the years I've learned a lot," Pennie said. "We're not the great white missionaries that are coming in to save the poor. We're brothers and sisters working together."
People wanting to support Books Over the World can send tax-deductible checks made out to Books Over the World to 2723 South Pioneer Trail. All funds go directly to BOW. More information is available at booksovertheworld.org.