Developers will tell you that land suitable for building is hard to come by within Stillwater's city limits. KMR Development is moving forward with plans to market lots for new homes in the northeast part of town by rezoning a long, narrow strip of land located east of Perkins Road and south of Lakeview Road.
The owner was granted a map amendment by the City Council on Monday that rezones an undeveloped tract at 506 Swim Ave. from RT, residential two-family zoning to RSS, small lot single-family zoning.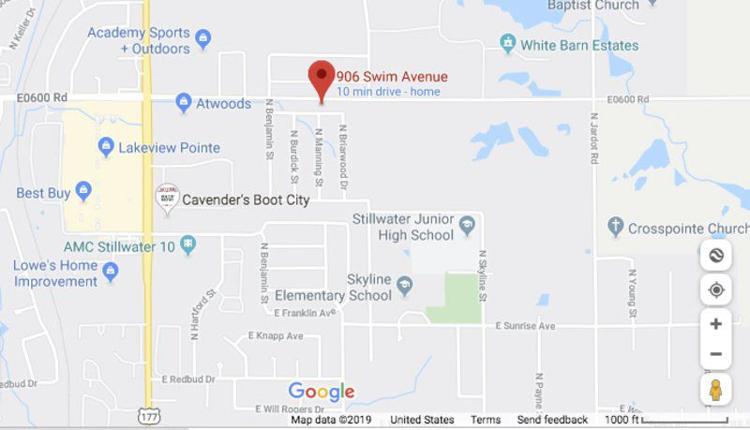 Stephen Gose of the civil engineering firm Gose and Associates said the land was originally platted for 17 lots before there was a requirement for water detention. A replatting in 1997, knocked out five lots.
The new plan for the 2.55 acres is 12 lots plus one outlot on the west end that is dedicated for water detention.
The owner could have built single-family homes under the current zoning but the required lot sizes would have been larger, Gose said.
He addressed potential concerns about cars pulling onto Lakeview Road by saying the frontage and access points for all homes would be on Swim Avenue. He pointed out that the developer could have built duplexes under the existing RT zoning, which would have doubled the increase in traffic.
According to a report prepared for the Stillwater Planning Commission, The property owner plans to subdivide the property and sell off individual lots for development.
The preliminary plat was approved by the Planning Commission in October. It goes back before the commission at 5:30 p.m. Tuesday for approval of the final plat for Eastridge Second Section Block 6.
In other business:
The City Council postponed discussion of revised parking requirements in the Westwood Neighborhood Conservation Overlay District.
Chose Guy Engineering to perform bridge inspections.
Heard from Bryan Langford-Loftis, Chairman of the Stillwater Chamber of Commerce Government Affairs Committee about a plan to develop a local legislative agenda to address the concerns of the businesses and organizations that make up the Chamber.
Acting as the Stillwater Economic Development Authority:
The trustees went into executive session to discuss economic development matters, including the transfer of property, financing or the creation of a proposal to entice a business to locate within the City of Stillwater. No action was taken