The Stillwater Planning Commission considered the city's first ever Specific Use Permit applications to allow development of medical marijuana dispensaries during its regular meeting Tuesday.
Although medical marijuana was a hotly contested issue for Oklahoma voters, both applications failed to attract anyone to speak, either in support or in protest, at their public hearings.
With no objections and city staff saying the applications were both consistent with state law and the City of Stillwater's comprehensive plan and were allowed under existing zoning, the planning commissioners voted unanimously to recommend their approval.
The SUP applications for Brandan Isley, whose establishment is licensed by the state as Doc Green's, LLC, 106 W. Elm Street, and Rich Forbecker, licensed by the state as Integrated Creative Investments, LLC, 1103 S. Perkins Road will now go before the Stillwater City Council for final consideration.
The City of Stillwater requires Specific Use Permits for medical marijuana facilities to allow a greater degree of review. According to the City of Stillwater's SUP application form, uses that require the permits are more intense or have the potential to have a greater impact on surrounding properties than the uses that are permitted by right under a property's zoning.
Before the Planning Commission voted on the matter, commissioner Cindy Thelman-Braun asked planning staff if city ordinance requires medical marijuana dispensaries to maintain a certain minimum distance from places like public parks and schools.
Development Services Director Paula Dennison told the commission dispensaries must be at least 1,000 feet from schools but that is the only requirement.
In other business, the Planning Commission voted to recommend approval of another SUP that would allow construction of five single-family residences in an area in the 400 and 500 blocks of S. Gray and Pine streets that is zoned for two-family and multi-family structures.
The homes, which are built and managed as rental units for college students, will have six bedrooms but are considered single-family because they have only one living area and kitchen.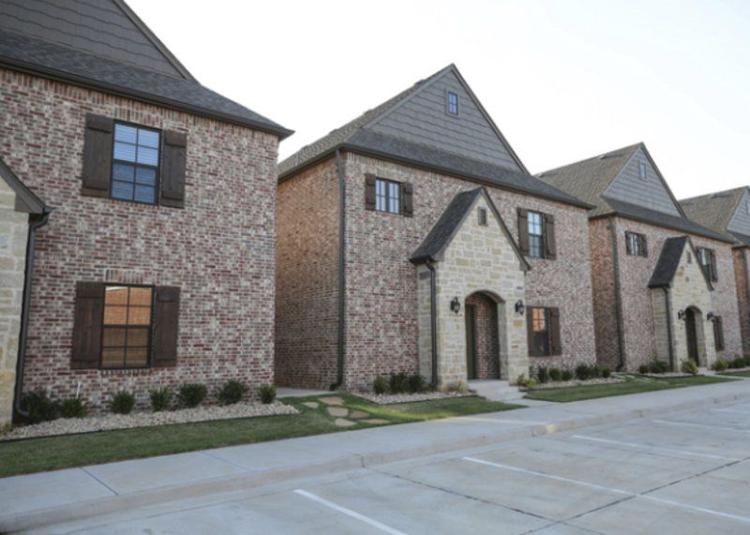 Presley, LLC has already built a number of similar residences with four bedrooms in the area south of Oklahoma State University.
The properties are listed for rent at $550 per bedroom.
The homes look similar to conventional single-family homes but instead of front yards they have concrete parking pads that are needed in order to meet parking requirements, Development Review Manager Lanc Gross said.
On-street parking is not allowed on Gray Street and under city code the developer must provide at least one parking space per bedroom if the project has more than three bedrooms.
Goss said so far neighbors haven't complained about the lack of lawn or the minimal landscaping but most similar projects have been built in areas where rental properties dominate.
This type of construction is probably cheaper than conventional multi-family construction for a variety of reasons, including not needing sprinkler systems, Goss said.
The planning commission also voted to recommend approval of an application from Badiyan Properties to annex seven parcels of land located at 124-102 S. Main Street into the city's Corridor Redevelopment Area.
Roger Gose of Gose Engineering explained on behalf of the property owner that the zoning change was being requested to allow more flexible development of the properties that extend south from Elm Street.
He said several projects have come in that would incorporate both that section and the half block to the west of it, but all of the projects would work better if the property fell under form-based code, which encourages mixed-use developments, instead of conventional zoning.
The report from City Planner Patty Evans lists mixed-use commercial, office and multi-family as the proposed use for the properties.
Twitter: @mcharlesNP