The rush to capitalize on Oklahoma's medical marijuana market doesn't show any signs of slowing whether it's across the state or in Stillwater. The Stillwater City Council was asked to review four more applications for medical marijuana dispensaries Monday and all four received Specific Use Permits, which the city requires before a medical marijuana business can be established.
City Attorney John Dorman has explained that because of the way the state law was written, cities have little ability to deny such applications as long as they meet zoning requirements.
The new businesses join what is beginning to look like a crowded market.
Assistant City Manager Paula Dennison said the newest businesses bring the total of approved applications in Stillwater to 17.
One more application is currently being processed.
Stillwater also has three grow facilities, including one that is a combination growing and processing facility.
Not every facility that has been issued a Specific Use Permit by the city has opened, Dennison said.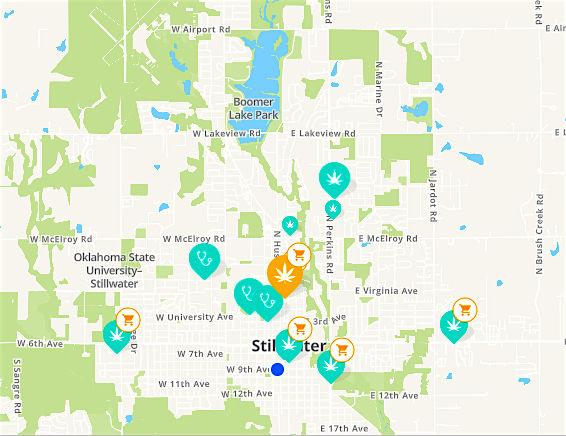 The Oklahoma Medical Marijuana Authority has seen greater than anticipated demand statewide for both business and patient licenses since it began issuing them in late August.
The Tulsa World reported in April that OMMA officials had expected to process 40,000-80,000 patient applications in the first year. They said they were on track to process 150,000 in 12 months.
OMMA has been receiving about 5,000 patient applications each week.
Marijuana Business Daily reported that OMMA approved 1,150 applications for dispensaries and 65,578 applications for patients from August 25 to March 25.
Those numbers have increased dramatically in recent months.
By May 13, the authority had approved more than 115,000 applications for patients and 1,468 for dispensaries and by June 3 those numbers had jumped to 129,085 patients and 1,479 dispensaries.
OMMA Communications Director Melissa Miller told the Tulsa World she has heard people comparing the number of dispensaries in the state to the number of McDonald's restaurants.
"There's definitely going to be a supply-and-demand issue at at certain point," she said. "It will be interesting to see how the market plays out and who can grab ahold of the market."
In Stillwater, residents are beginning to compare them to chicken restaurants, which many feel the city has in excess.
It remains to be seen if a city with an official population estimate of just under 50,000 can support that many dispensaries. However, the medical marijuana market could become an extension of Stillwater's role as a hub for north central Oklahoma. Payne County has an estimated population of nearly 80,000 and Stillwater draws people from the surrounding rural areas and from towns up to an hour away for work, dining, shopping entertainment and medical care.
Twitter: @mcharlesNP