The storms that have repeatedly drenched and battered Oklahoma since May 20 have caused property damage and forced people across a wide swath of Oklahoma from their homes. But humans aren't the only ones who have found themselves in need of help.
Animal shelters, rescue organizations and county animal response teams across the region responded to disaster scenes quickly, locating animals and getting them to safety.
The Oklahoma Medical Reserve Corps State Animal Response Team has been activated and is sending volunteers from various county teams to assist at mass shelters established in the Tulsa area. Hazardous conditions and circumstance inundated shelters, that were already near capacity, with animals that had been separated from their owners.
Loads of animals that were already in the shelters and available for adoption are being flown to other parts of the country to make way for others that are waiting to be reunited with their families.
Payne County Animal Rescue Team co-director Stacy Mason said Tulsa Animal Welfare sent about 120 dogs to Virginia.
Tiny Paws Kitten Rescue Nursery and Training Coordinator Renee Huddleston said another load is preparing to go to the Chicago area.
Tiny Paws Kitten Rescue is a Stillwater organization that is frequently called upon to take in animals from other cities, because it specializes in doing something that few do: Bottle feeding and nursing the smallest and most sickly kittens to health. Tiny Paws is currently caring for several litters of kittens that were separated from their mothers by floodwaters and severe weather.
Its staff has also helped get about 200 older cats to other shelters, Tiny Paws founder Holly Chapples said.
As you walk through the facility with Chapples, who ran the rescue out of her own home for many years, and Huddleston, the sheer number of kittens they care for and the circumstances under which they were found is shocking.
"These were found in a trash dumpster," Chapples said, pointing to a litter of four with brown tabby stripes.
"These actually rode from Wisconsin in a trailer," Huddleston says of a multi-colored litter of seven, "They found them when they got to Ponca City."
But Tiny Paws also has several litters of kittens that were washed away from the places their mothers had hidden them or rescued from rising water.
One litter was stranded in the corner of a barn that was flooding, with their mother nowhere to be found. One litter of three was found by a farmer, clinging to the top of his farm truck's wheel, in a lake that used to be his pasture. He thinks their mother put them up there to keep them safe but she couldn't make it back to them.
Another litter of newborns was swept into a pile of twigs and leaves under a shrub. The person who found them picked them out of the debris one-by-one, not sure what they were because they were covered in mud and slime, Tiny Paws staff said. One of the kittens died when it developed an infection from an injury caused by the storm debris.
One particularly small and sick litter of kittens was rescued by someone in another town after they washed out of a culvert pipe. The Good Samaritan took them to a nearby shelter but that shelter later began to flood in the night. By morning, the kittens' cage was filling with water and the babies, who were already not doing well, were dying.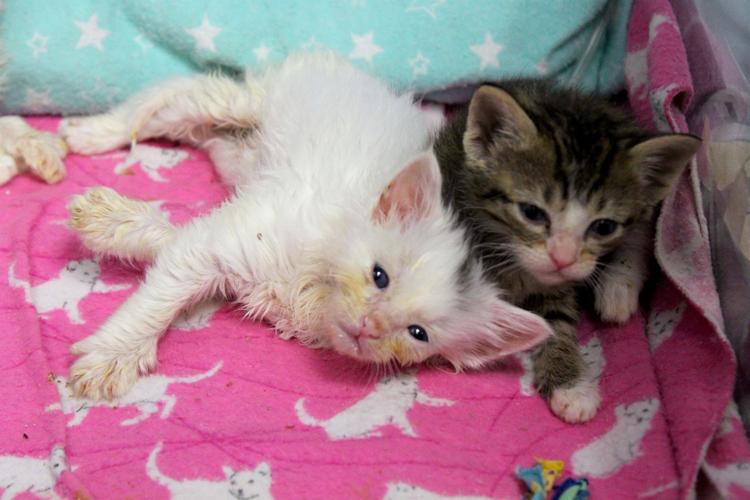 Tiny Paws took them in a bid to save their lives. The four kittens are currently on a heating pad in an oxygen enriched environment and are getting medical care and hand feeding. They have a long road to recovery but are fighting to survive.
Overall, Payne County's animals seem to have been come through the worst of the flooding fairly well.
Mason said PCART sheltered a few animals for a short time while their owners were in temporary American Red Cross Shelters. The team wasn't called upon to rescue any large animals or livestock.
Local volunteers were able to evacuate 13 horses on May 21 from the Turning Point Ranch therapeutic riding facility on Country Club Road after ranch staff found them standing neck-deep in flood water.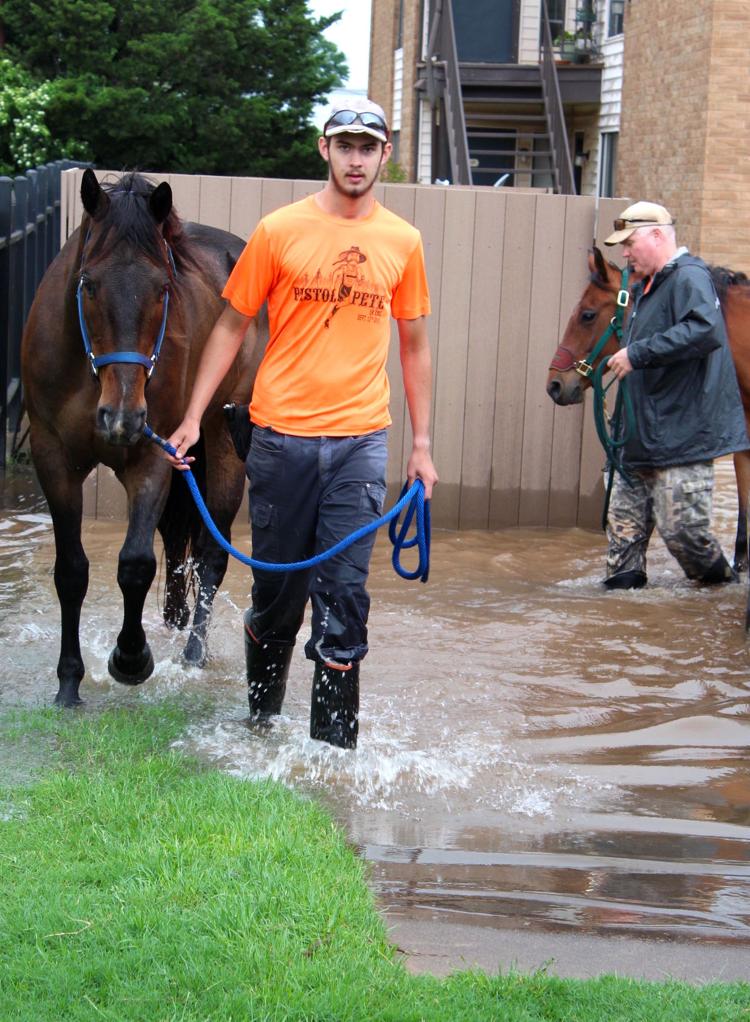 Some private individuals helped people get to their pets as flood water surrounded their homes.
Mason says overall people did a pretty good job of preparing and taking care of their animals so PCART was available but wasn't called on for long. The members of the team are now assisting in the Tulsa county mass shelters.
The recent flooding has made it apparent that PCART needs a flat-bottom boat and specialized training for its volunteers so they can help with water rescues, Mason said. Several people had to leave their animals behind to "shelter in place" when they left their homes last week because the fire department didn't have the resources to carry the animals out as well. If PCART has a water craft, its members could help in those situations.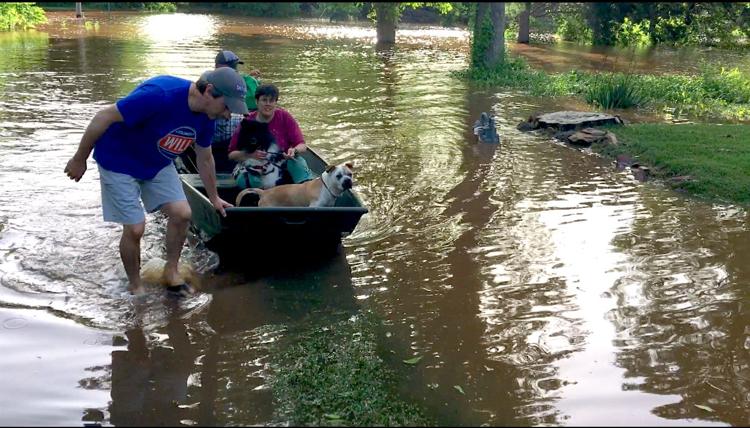 Both PCART and Tiny Paws say they need the public's support for the work they do.
PCART is currently raising funds on its Facebook page to buy a small boat and pay for water rescue training.
Tiny Paws Kitten Rescue is always in need of donations from paper towels and baby wipes to cash, which enables its staff to meet critical needs as they present themselves.
Chapples says Tiny Paws is also in desperate need of volunteers to bottle feed kittens. It's always a challenge but between the flooding and the fact that it's kitten season, the shelter is packed at a time when many student volunteers go home for the summer.
People who are interested in donating to Tiny Paws or volunteering should call Tiny Paws Kitten Rescue at 405-612-0071.
Twitter: @mcharlesNP