Students are heading back to the classroom as local governments and school officials watch COVID-19 infection reports, hoping for the best and planning for the worst.
Officials at the City of Stillwater, Oklahoma State University and Stillwater Public Schools are watching what appears to be a small local spike in diagnosed cases, even as it becomes apparent that not all testing is being counted in the Oklahoma Department of Health's official numbers.
The uncertainty around Oklahoma's status is compounded by a large music festival being held just outside of Stillwater over the weekend and the revelation that a report the White House Coronavirus Task Force released Sunday was not shared with local officials by Gov. Kevin Stitt.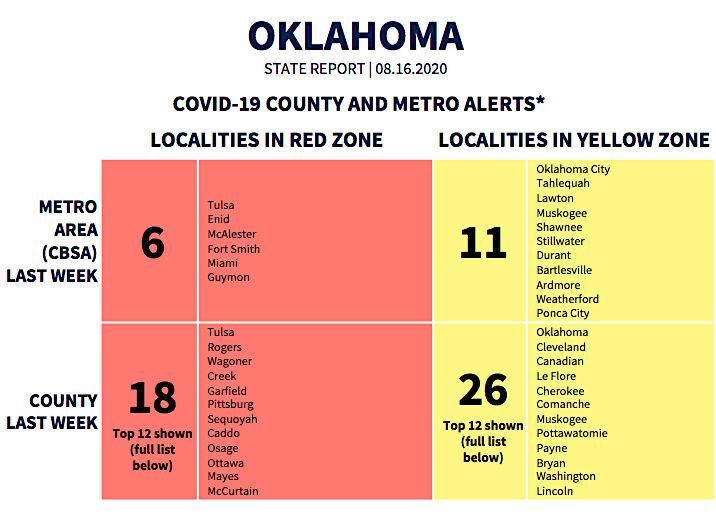 The task force report shows the state in the red zone for COVID-19 cases and the yellow zone for test positivity.
It ranks Oklahoma 15th in the nation for most new cases per 100,000 and 11th highest for positive tests for the previous week. It remains close to the red zone threshold for test positivity, according to the report.
According to the report, nearly 60% of the counties in Oklahoma have ongoing community transmission, with 22% experiencing high levels.
After Public Radio Tulsa interviewed mayors who said they had been "blindsided" and "shocked" by news of the report and had heard nothing from Stitt about it, Stillwater Mayor Will Joyce tweeted one word: "Ditto."
The transmission is occurring in both urban and rural areas, and the statewide average of 117 new cases per 100,000 exceeds the national average of 112 cases, according to the report.
Stillwater and Payne County remained in the yellow zone at the time the report was published.
Policy recommendations to prevent "exponential community spread" in counties in the yellow zone include: wearing masks at all times outside the home along with physical distance, limiting social gatherings, avoiding bars and nightclubs, and reducing public interactions and activities, among other measures.
It recommends that public officials limit the occupancy of gyms, close bars and create outdoor dining opportunities. Gatherings should be limited to 25 people or fewer.
Stillwater's city leaders have not taken many of those actions although social distancing is still recommended, face coverings are required in most public places and a new program to allow more outdoor seating at bars and restaurants was just created.
Oklahoma State University
Classes at Oklahoma State University began on Monday.
The university is testing students and monitoring positive test results, including a sorority that went into quarantine after 23 members tested positive for the virus.
The university announced it would be posting COVID-19 testing numbers in a new dashboard format beginning Tuesday.
Out of 3,931 students tested by the university as they moved into student housing, 30 tested positive for a 0.76% positive rate. Other students who provided negative test results on arrival were not tested.
According to the university's statement, University Health Services also had 74 students self-report a positive COVID-19 test during the first week of school. Most of those students returned home or to an off-campus residence to quarantine.
The university is keeping 22 students in university-sponsored isolation and quarantine spaces.
Students who test positive are being asked to self-report.
Stillwater Public Schools
Stillwater Public Schools students returned to class for the first time in five months on Thursday. Superintendent Marc Moore has been authorized by the Board of Education to determine each week whether school will be held in-person or virtually, based on the Oklahoma State Department of Health's color-coded alert system.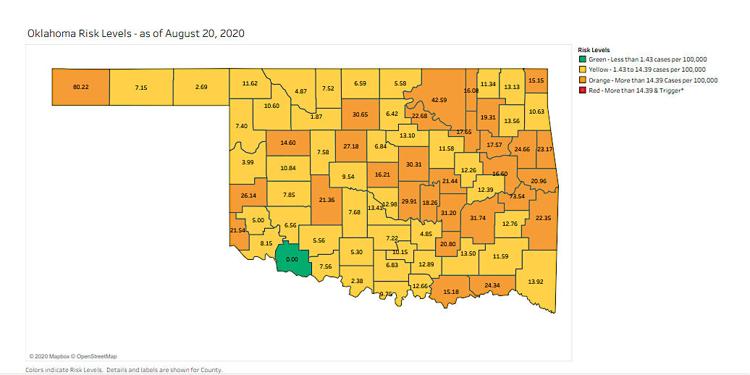 Payne County remains at code yellow according to the health department and will continue with in-person schooling next week, although people in the community have tested positive for the virus using the rapid test that isn't recognized in the state's official count.
School officials are aware that others, like the 23 sorority sisters who tested positive via rapid test, are in the community but said the district will continue to go with the official health department numbers for the time being.
"We've got to use some kind of data point," Communications Coordinator Barry Fuxa said.
Moore told the News Press the district is constantly reevaluating as it gets more information and understanding.
He said the district doesn't just use the state's color code, it also consults with local health officials, which provides flexibility to adapt to changing circumstances. Although decisions about how school will be conducted are made on Friday, adjustment could still be made over a weekend or at any time as needed, Moore said.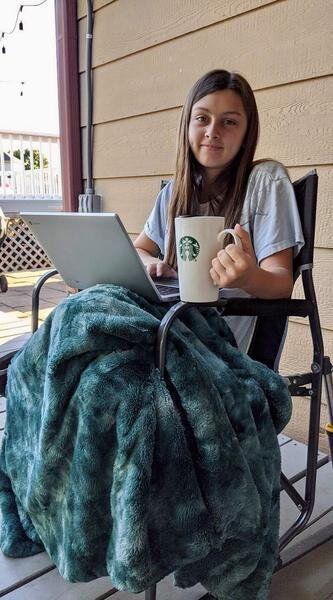 If there is a localized concern, just one school or even one classroom could be shut down and shifted to virtual instruction as needed.
"We need to be adaptable," Moore said. "… We're trying to help parents plan for the week."
So far, there has been one confirmed case at Skyline elementary and contact tracing is underway, he confirmed. Anyone who is determined to have been in close contact with an infected person will be contacted and given instructions.
A few students from Stillwater High School and other area schools are self-isolating after being exposed to a classmate at Meridian Technology Center who tested positive.
Other area schools are facing the same issues.
Morrison Public Schools reported a case this week and Coyle Public Schools announced that its superintendent had tested positive for COVID-19. Coyle schools were closed Thursday for cleaning and will temporarily switch to remote learning beginning Monday.
Twitter: @mcharlesNP