Milo is one lucky puppy.
At just 11 weeks old, the hound puppy getting a new lease on life thanks to a rescue organization willing to take a chance on him and an Oklahoma State University veterinary team willing to take a shot at correcting a rare structural defect that caused his front legs to twist and his paws to turn upside down.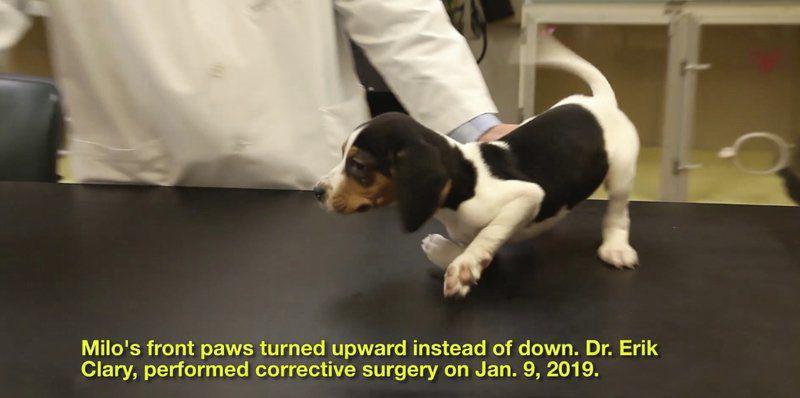 Although the puppy is still recovering from surgery to realign his elbows and straighten his legs, he's making strides that his caretaker Jennie Hays hopes will someday lead to taking literal strides.
She says he still has a long road to full recovery after he leaves the Oklahoma State University Center from Veterinary Health Sciences and goes home on Friday.
Hays, who operates Oliver and Friends Farm Rescue and Sanctuary in Luther with her husband Jason, is working on a rehabilitation plan for Milo that includes continuing to work with specialists at OSU and working with their local veterinarian at Great Plains Veterinary Services.
The plan includes activities like walking on a water treadmill.
If Milo is going to be mobile, he'll need to develop the range of motion in his joints and gain strength in legs that have never been asked to hold his weight.
"He's definitely trying to stand up," Hays said. "But his elbows are pretty stiff and his ankle joints are pretty lax … We're only about halfway there. He doesn't even know how to walk. He won't be running across the pasture any time soon."
When Milo's story first began to make its way around the world, Hays was overwhelmed by hundreds of emails a day from people interested in adopting the little guy.
She's thankful that has slowed to a manageable few a day and she warns that if he is made available for adoption, it won't be any time soon because of his lengthy recovery.
"It's going to take a while and I think people are starting to realize he's probably not leaving me," Hays said.
That's not just because she and her husband have been through so much with Milo, it's also because Milo will likely have some level of disability and need special care throughout his life, even with straight legs.
He also has a much greater chance of developing arthritis in his leg joints later in life and Hays says she wouldn't want someone who didn't know what to look for taking care of him.
Milo's medical expenses are still adding up and will continue to as he goes through rehabilitation.
People wanting to make a tax-deductible donation to help with Milo's medical care can find more information at oliverandfriends.org.
Twitter: @mcharlesNP