Changes are needed as the Stillwater Fire Department adapts to new demands being placed on it and the growth of the city it serves. One of those changes will come more quickly if voters approve a $9 million bond issue on April 5 that would fund construction of a replacement for the historic campus station, Fire Station 2.
The building – owned by Oklahoma State University and leased to the City of Stillwater, was placed on the National Historic Register through the efforts of Fire Protection Engineering students. The City of Stillwater is in year 86 of a 100-year lease on the property and there is no option to renew it, even if SFD wanted to, Fire Chief Terry Essary told the News Press. OSU already has undisclosed plans for the building.
It will remain a landmark at the corner of University and Knoblock streets but if voters approve funding for a new station, fire personnel and equipment will be relocated to a modern station built by the City of Stillwater on a tract of OSU-owned land on Western Road north of McElroy Road.
As part of the partnership between the City and the university, OSU is providing land for the project under another long-term lease with an initial 50-year term and the option to extend it twice, for a total of 100 years.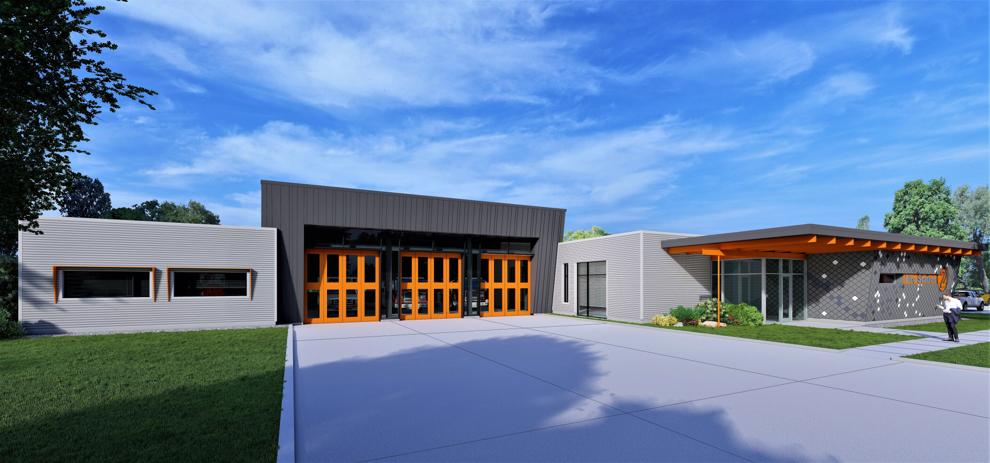 The new station will be a two company station, built to accommodate the ladder truck, which must now be stored at Station 1 because it's too tall to fit through the bay door at Station 2, the rescue truck and an engine.
The initial plan called for training and meeting space to be part of the new Station 2, but with the training tower located on South Main Street at Station 1, it could make sense to move administration offices north and consolidate training on the south side, Essary said. But the plan has not officially been changed yet. For now, training space is part of the plan at the new station.
Essary said even if OSU were willing to extend the lease on the campus fire station, he believes it would cost more to renovate it to modern standards and bring it up to code than it would to build a new station.
When funding for a new station and other public safety items like police cars and a new emergency radio system were voted down in 2013, city leaders estimated it would have cost at least $ 4.5 million to renovate the historic building. Construction costs have risen since then.
"It would be significantly more expensive and then you would still be dealing with a lot of the issues that we're dealing with now, as far as there's no parking," he said. "You could put a training facility in there, but where are we going to put them? We can't park people there, we have a hard enough time having our employees park there … So anybody coming from the outside or other stations, going there to meet is just not an option … You're blocking up the road, you're blocking the front ramp, there's no place to park behind."
And parking isn't the only issue: Renovations still wouldn't make the station big enough to hold more apparatus, Essary said.
Some have questioned why the City of Stillwater would spend that much money to build a fire station on land it doesn't own. Essary says there isn't a more appropriate piece of city-owned land.
The City of Stillwater owns some open land north of Lakeview Road near Stillwater Regional Airport, but that would be even further from the heart of the city, he said. Finding large pieces of undeveloped land in the center of town is difficult and buying up homes to create a space isn't an ideal situation either. A city park on University Drive was considered as a location but it just wasn't big enough.
With OSU providing the land, more of the money can go into the new station, which was already scaled back to ensure it wouldn't go over budget. Essary said the original thought was it needed to blend with the buildings on campus, but losing the brick veneer shaved more than $1 million off the budget.
The proposed design is still attractive but more modern, similar in style to city-owned facilities at the nearby airport, he said. It would also provide the department with room to grow.
It will also have improved living quarters for the now co-ed fire crews and up-to-date safety features, including places to clean and store firefighting gear to reduce exposure to carcinogens and toxic chemicals.
The hope is to be in the new building in about two years, depending on supply chain issues.
For Essary and other city officials, it's not just about dollars and cents or quid pro quo for fire service, it's also about the partnership between the City of Stillwater and OSU.
"Right now, it's keeping a partnership alive with OSU because not only do they help with things like this, helping us with the land – it's a really good location – but they also help with the airport and they help with other things throughout the city," Essary said. "And of course, OSU really keeps the heartbeat of the city strong and vibrant … It's not just about the fire department … it's not just transactional. It's a partnership."
He said concerns about moving the station further away from the university area with its concentration of humanity are valid, but he thinks the positives outweigh the negatives.
The new station will still be within a 4-minute response time for that area and will be better able to respond to residents on the west side of town and to the airport, he said. Having access to arterial roads like Western, Lakeview and McElroy, which will eventually be widened to four lanes, will help with response times.
Running districts for the stations will be redrawn to eliminate overlap. Although Station 2 will be further from its response area on the east side of town, other stations will take over primary response for the east side.
Stillwater really needs another fire station on the east side of town, but Station 2 has to be attended to first, Essary said. There is a lot of open farm land on the west side, but there are also a lot of homes and a considerable wild land fire risk where the undeveloped and developed areas meet.