The Oklahoma A&M/OSU regents on Friday unanimously approved removal of the Murray name from Oklahoma State University Stillwater-campus buildings. 
The namesake comes from William H. "Alfalfa Bill" Murray, the state's ninth governor, who was a noted Segregationist. The signage is on Murray Hall and North Murray Hall, both on Monroe Street near the intersection with University.  
The building was named for Murray in 1935, the final year of Murray's term as governor. According to the Oklahoma Historical Society, a popular orator at the turn of the century, Murray's unique moniker comes from speaking engagements where he boasted of his farming credentials. In Oklahoma, Murray State College, Alfalfa County and Murray County are all named in his honor.
In a 2018 interview with OSTATE.TV, Judge Thomas Bennett told a story of how the naming of Murray Hall was directly tied to its funding. He said his father, OSU President Henry Bennett and business manager Clint Strong, in a meeting with Murray, used the naming of the building to help secure funding in the legislature and Murray's signature, to get it built.
Vice President of Finance Joe Weaver brought the issue before the board during a regular meeting, saying he was pleased to tell the board that the "campus is receiving this idea very well," and committees had approved the decision.
Regent Doug Burns said he was proud of the process that brought the item before the board.
"It began many months ago, very deliberative, designed not to be a knee-jerk reaction, but allow input from all people who might have input," he said. "It's been based on fact and history, all of us should be very proud that we do have a process that allows for that type of deliberative and communicative process."
Though the process for removal began last year, it has gained new attention during recent Black Lives Matter demonstrations. Students and faculty had a rally for removal last week, and a petition to remove the name gained around 5,000 signatures.
"It has been reasoned, reasonable and deliberate and it has been extremely inclusive all across the campus," Chairman Tucker Link said. "It is absolutely the right thing to do and I commend the committees and President (Burns) Hargis for bringing it forward."
Hargis asked regents to put the item on the agenda earlier this week. 
"Today's decision to remove Murray's name from our campus is an important step to eliminate any actual or symbol of racism on OSU's campus," Hargis said. "For many in the OSU family, the building's name has invoked reminders of a painful past. I appreciate the leadership demonstrated by students, faculty, staff and alumni, and the unanimous action the Regents took today to remove the name."
According to a news release from Oklahoma State University, the college began removing the signage not long after the regents' decision, though complete removal will take some time, "as one of the areas includes a name carved in a limestone facade."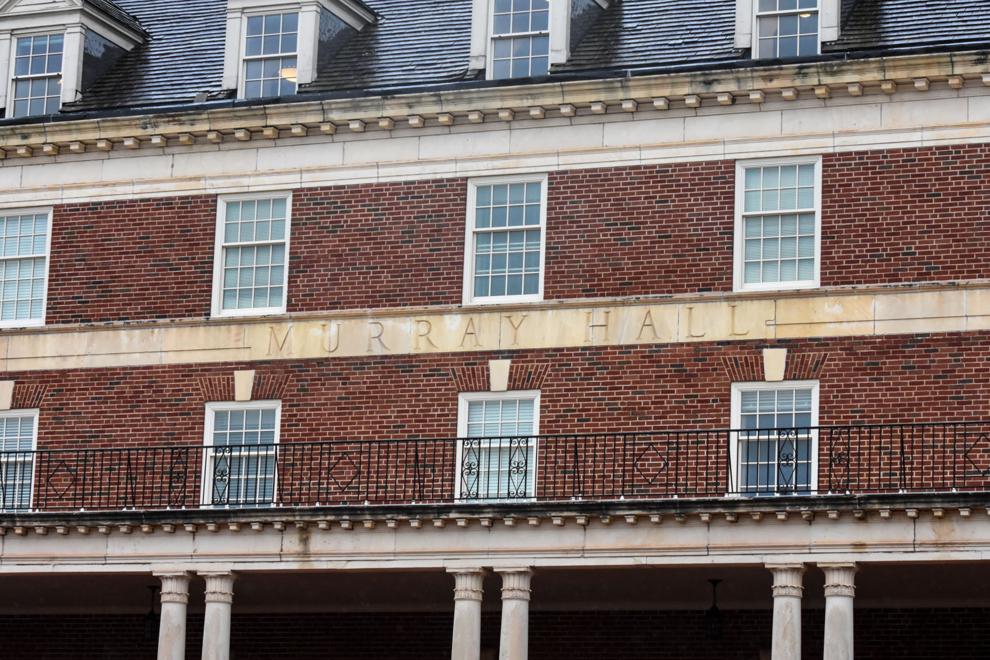 In the release, former Student Government Association president Katilyn Kirksey, a senior at OSU, was credited with initiating the formal action that led to the signs' removal.
"This moment is over two decades in the making," Kirksey said. "I'm proud to have been part of the final push in the un-naming of Murray, but I am only one of many Cowboys to have fought for this change. Removing the name is about learning from our past, not rewriting it.
"As a Cowboy Family, we aspire to achieve inclusive excellence in our community, both personally and physically. And as we chart our course for the future, we will continue to fight for each other and for every member of our family to feel included, valued and loved here at Oklahoma State. Removing Murray's name is just another step on our journey to make OSU the best it can be."
Though numerous names have already been suggested to replace Murray, OSU says that will also be a "lengthy" and "deliberate" process.