The Oklahoma Department of Transportation announced Friday that Perkins Road/US-177 will be reduced to one lane of traffic in either direction between Hall of Fame Avenue and Lakeview Road, starting at 8 a.m. Monday.
Construction on the two-year, $18 million project began in December. 
Northbound and southbound vehicles will be using the west side of the road, traveling head-to-head in the southbound lanes. During Phase 1 construction crews will focus their attention on the east side of the roadway.
Although the heavy construction will extend from the intersection at McElroy Road to the north, drivers should be prepared for lane closures to begin as they approach the intersection from the south. 
They should also be aware that lanes will be striped at 10 feet wide and look out for signs warning of lane restrictions and driveway closings. 
ODOT has said some business driveways will be blocked along Perkins Road, but at least one entrance will be accessible at all times. The plan is for Phase 1 to be complete by fall, weather permitting, City of Stillwater Director of Communications Dawn Jones said.
Although the project will be under construction for almost two years, the contractor will be suspending work during the weekends of Oklahoma State University home football games, resuming after football season. 
City Manager Norman McNickle previously told the News Press there are penalties built into the contract for having lanes blocked during football game weekends.
Phase 2 will begin after the football season ends, and work will focus on the west side of the roadway.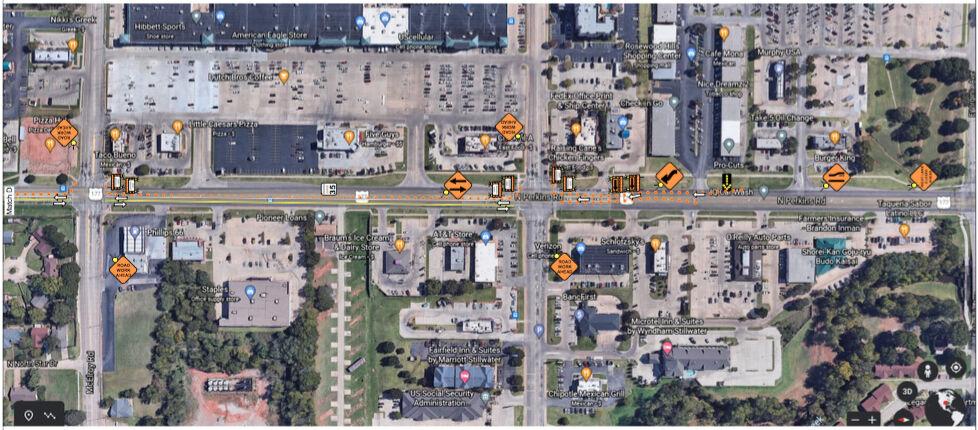 Drivers can expect lane shifts and reduced speed limits in work zones, ODOT warned. They should expect delays and allow extra travel time on Perkins Road or use alternate routes.
The contractor for the project - a partnership between ODOT and the City of Stillwater - is Duit Construction Company Inc., of Edmond. Work is expected to be complete in winter 2023.