Randy Blake, a Stillwater native and local firefighter, has faced a long, hard battle with the coronavirus. After four months of being in the hospital with several procedures, he is getting ready to be discharged after a double lung transplant.
Blake laughed as he said what his first plans would be once he's finally discharged from the hospital.
"Oh my gosh, thank God, probably get on my knees and thank God that I am alive and get the sunshine and just hug my wife and call my kids," he said.
Although Blake's wife is currently with him, his kids are still in town for school.
"They have school and activities, so we're trying to keep their lives as normal as possible throughout all the chaos," Blake said.
The road ahead for Blake won't be easy, and he said he has at least another three months of physical therapy and checkups on his lung transplants before he can return home to Stillwater.
Blake's journey surviving COVID-19
"So at the end of October 2020, I was diagnosed with COVID and went to Stillwater Medical Center, I think I was there for about a week and then my lungs started to deteriorate more and I think they realized I needed to be on ECMO," he said. "So they transferred me, they were looking for a bed somewhere and by the grace of God something opened up in Tulsa at Oklahoma Heart Hillcrest, so they took me in and basically put me on ECMO for five weeks and I think I was on a ventilator for seven weeks."
ECMO is short for extracorporeal membrane oxygenation.
Dr. Shair Ahmed, a surgeon at St. Joseph's Norton Thoracic Institute, described ECMO as, "a machine that has two very large cannulations that go into a large vein in the neck and a large vein in the groin. And basically blood is flowing from their body to this machine to function and serve the functions of the lungs. So, the blood comes out, goes to this machine, gets oxygenated, gas exchange occurs, the carbon dioxide comes out and the blood goes back to them."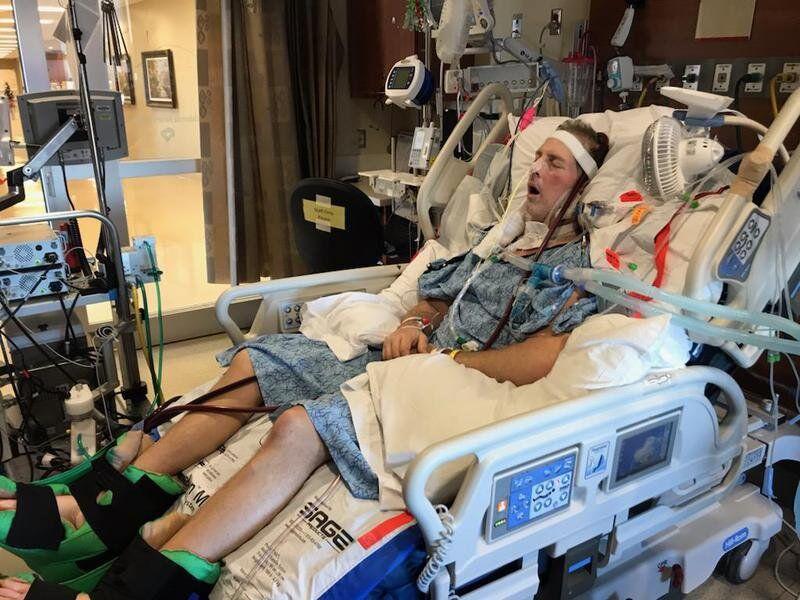 Blake had his double lung transplant approximately three weeks ago. Dr. Ahmed said lung transplants come with different challenges than ordinary surgery.
The entirety of the surgery lasted approximately four to six hours.
"In terms of making sure that new ones are working well, making sure they don't develop rejection, you know, they're always at risk for other types of infection because again, you know, the amount of immunosuppression they're on. Lung transplants are different than other transplants," Ahmed said.
Ahmed described Blake as healthier than 95% of people, yet he still suffered greatly from the coronavirus despite not having any pre-existing health conditions.
"I think it kind of speaks for itself," Ahmed said. "You know, you take a healthy 44-year-old firefighter, you know, with no medical history, who is healthier than you know 95% of the population without any family history, and you take that you take that person and you watch his course."
The doctor also said he didn't think Blake being a firefighter had any effect on the way his lungs reacted to the coronavirus.
"That's usually not something that we typically see with firefighters, especially with all the protective equipment that they do where you know they're pretty well suited to protect themselves from the outside environment," Ahmed said.
Blake said one of the challenges he will face after COVID is rehab.
"Having a lung transplant, the new lungs, your body sees them as a foreign object and wants to attack them. You have to take a bunch of medication that basically suppresses your immune system," Blake said. "So, I'm very susceptible to potentially COVID, or potentially anything, because I'm taking so much anti-rejection drugs so that my lungs can be accepted, that it really puts my immune system in a bad place."
He lost 55 pounds of muscle and has had to relearn basic skills such as walking and talking, something Dr. Ahmed said is normal given the circumstances.
Reaching the light at the end of the tunnel
Dr. Ahmed described Blake as a fighter, and said the support he received from his family and community made the difference in Blake's recovery.
Blake was extremely appreciative of the Stillwater community and his fellow Stillwater firefighters as well as his church.
He has been with the Stillwater Fire Department for almost 24 years and saved many lives during the 2015 Oklahoma State University homecoming crash.
Terry Essary, the Chief at the Stillwater Fire Department said, "words cannot say how grateful we are for Randy's continued recovery. He is an amazing fire officer, husband, dad and neighbor. He means so much to this entire community, and we can't wait to have him back in Stillwater."
The Stillwater community has rallied around Blake and his family, lifting him up in prayer throughout his battle with COVID-19.
Blake said he and his family will be returning to Stillwater once he is in the clear.
"Oh definitely, that's our home. My wife is here with me, my children are still in Stillwater and we've just been blown away with the support in Stillwater that we've received from friends and family, our church, my pastor. ... there's been so many people that just stepped up and treated us like family," Blake said.
Blake said he has a long road to recovery, but hopes to inspire other families in a similar situation, since his case isn't the only one Dr. Ahmed has treated since the outbreak of COVID.
"I would just say don't ever give up hope," Blake said. "There were times the doctor called to have them come and say goodbye to their dad because they didn't think that I was going to make it. They didn't give up hope and they prayed, and I was able to pull through."
Blake wanted to give a special thanks to all the doctors and nurses who treated him at various medical centers. He is also thankful for the support from his church, family, friends and the community of Stillwater.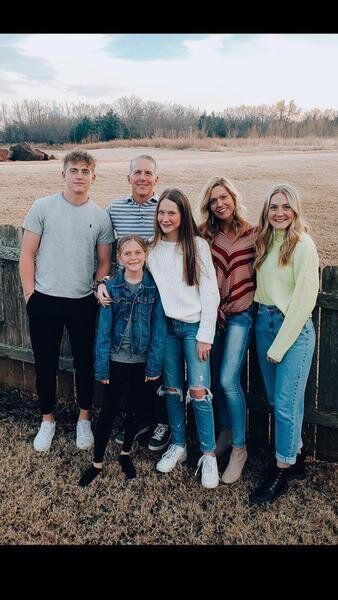 Dr. Ahmed said being from Oklahoma, it was nice to take care of someone from Oklahoma.
Blake also wanted to thank Oklahoma Heart Institute for everything the doctors and nurses did for him.
"I just want to reiterate how grateful I am for the Stillwater community, anybody who prayed, anybody who helped bring a meal to my children since we've been gone," Blake said. "And Norton Thoracic Hospital, they've saved my life and gave me a new set of lungs. And all the nurses and doctors have just been amazing."