"Bittersweet" was the word most often used as Capt. Randy Blake retired Friday from the Stillwater Fire Department after almost 24 years.
Blake was just 21 when he started his career with SFD.
"I was a young, stupid, idiot," he said. "… I kind of grew up here and love these guys. They helped shape me, this place did, and my family. It's been a huge blessing to be a part of this community and Stillwater Fire Department and the City of Stillwater."
While Blake's career as a firefighter was cut short by his battle with COVID-19 and subsequent double lung transplant, he is still alive and in a position to begin a new chapter surrounded by family and friends.
Blake, accompanied by his wife and children, gathered with his SFD comrades on the apparatus floor at Station No. 1 to listen as dispatch made an announcement over the radio known as the Ring-Down. It's a traditional final tribute for firefighters and police officers when they retire.
"It is with great pride to announce Capt. Randy Blake will retire after the completion of 23 years 6 months with the Stillwater Fire Department. During his tenure he has provided the highest level of service on behalf of the Stillwater Fire Department to the citizens of Stillwater, Payne County and the State of Oklahoma.
His expertise, dedication, and positive impact to all those he has had contact with, embodies our mission to respond quickly, perform professionally, save lives and property and be caring and compassionate."
Blake and his family then climbed into SFD's new ladder truck to take a ride in what Fire Chief Terry Essary said is a new tradition designed to include the firefighter's family and recognize the sacrifices they have made and support they have provided over the years. He rode in the front of the cab, sitting in the officer's seat for one last time.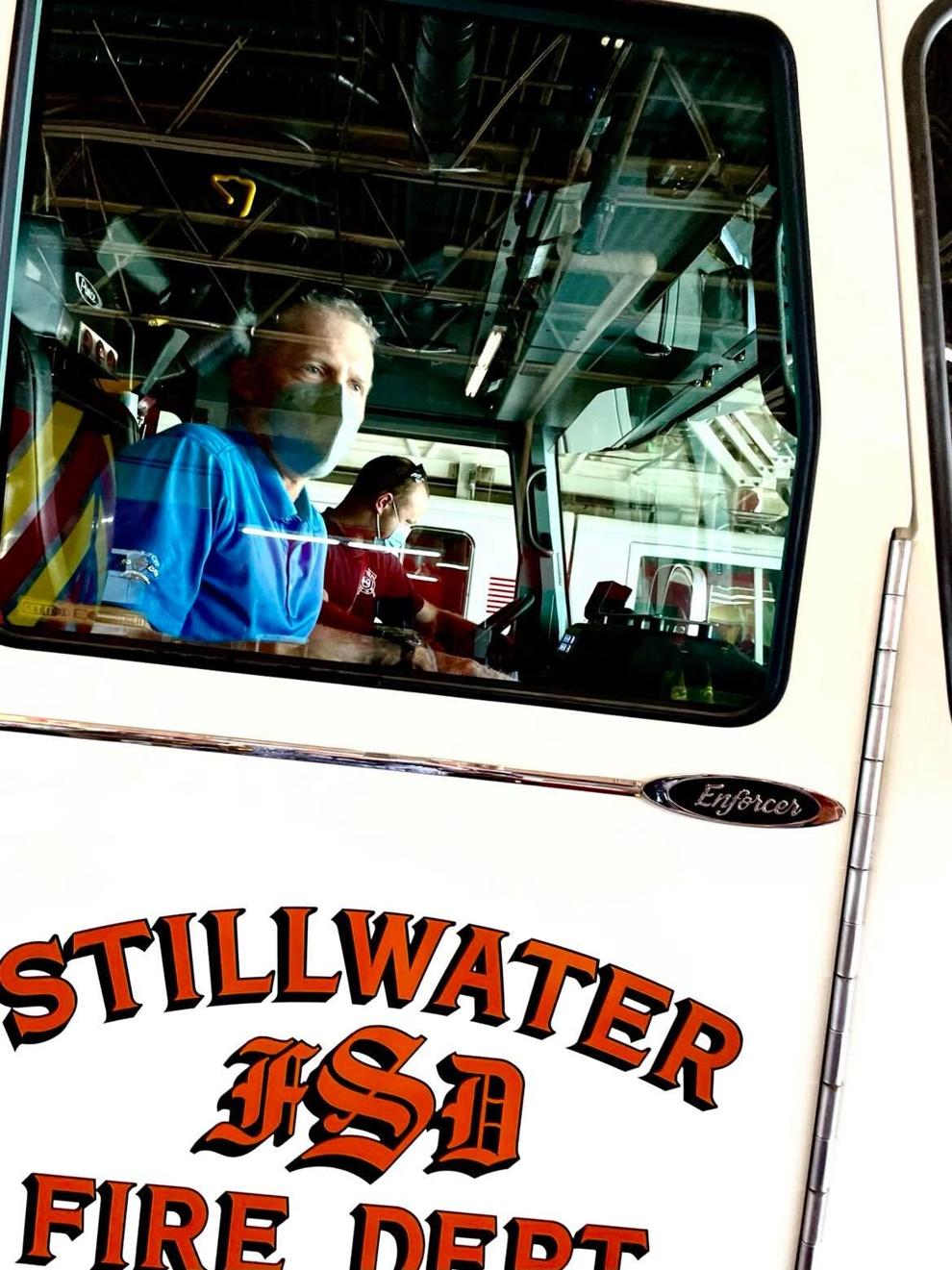 "The family takes the ride too, because we can't do this by ourselves … and with what Randy has been through, it just makes it that much more special because he's just a gift to us," Essary said. "So they all deserve a ride in the truck. We call it 'the Final Ride' but really it's bittersweet because we're just glad he's here to retire. And this is not the end of his story; this is the beginning of another one, so we're excited for that."
When Blake has regained more of his stamina and is cleared to return to work, he will begin a new civilian job that puts his fire service experience and the degree he earned from Oklahoma State University in Fire Protection Engineering to good use.
"With his experience and his degree … we have plenty for him to do as far as Risk Reduction Specialist and helping us out with our ISO (insurance rating) and help us out with our strategic plan for the fire department," Essary said. "And it's not just 'Hey, let's find something for Randy to do,' we have this need and this is a perfect fit so we're going to plug him in and really with what he has to offer, there isn't a fire department anywhere that wouldn't benefit from what he has to bring to the table."
They hope he'll be able to start some time in September but it really depends on how quickly he regains his strength and stamina. His body is still recovering and he can't handle a full-time job just yet. He still has one good day and one bad day, he said.
Blake quite literally battled for his life last fall and winter and nearly didn't get a chance at a second chapter.
He was diagnosed with COVID-19 in late October and spent about a week in Stillwater Medical Center before his lungs began to deteriorate. Hospital beds were already getting hard to come by at that point.
"...they were looking for a bed somewhere and by the grace of God something opened up in Tulsa," he told the News Press in February.
Blake was transferred to Oklahoma Heart Hillcrest in Tulsa and spent about five weeks on an ECMO machine, a specialized piece of equipment similar to a bypass machine that takes the place of a patient's lungs. It pulls blood from a vein, adds oxygen, removes carbon dioxide and warms the blood before returning it to an artery. He would also spend seven weeks on a ventilator.
Both required that he be kept sedated.
He remembers the first week of his hospitalization, but most of the later period is something of a blank. He remembers having a lot of really weird dreams but says the long-term sedation affected his memory.
At first he didn't remember much, including his wife and children. He also had to relearn basic skills like walking and talking.
When he was discharged from St. Joseph's Norton Thoracic Institute in late February following his transplant, Dr. Shair Ahmed explained that he will continue to have challenges unique to lung transplant recipients.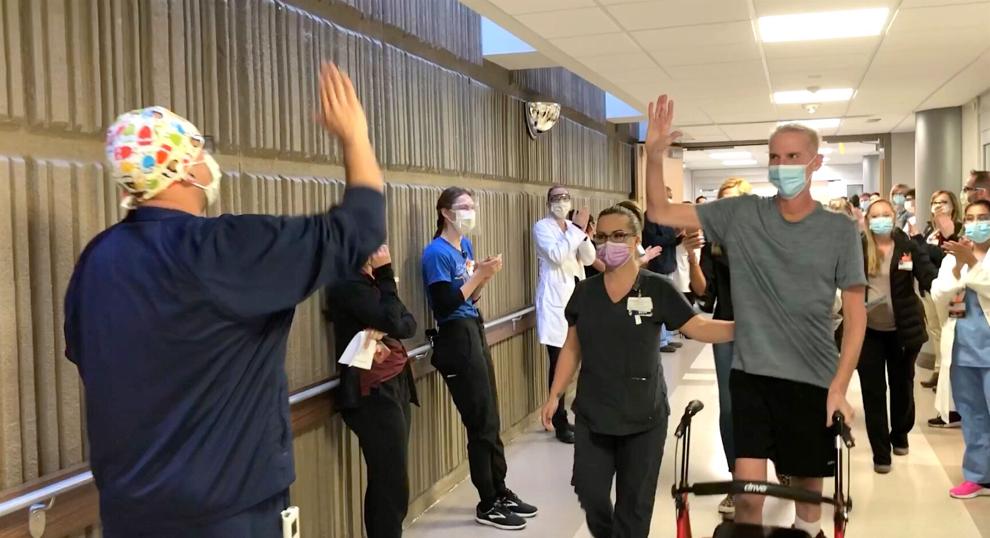 Blake will have to take drugs to suppress his immune system that prevent his body from rejecting his new lungs but also leave him more vulnerable to infections. He's still undergoing physical therapy and respiratory therapy.
His rehab program takes about five hours a day, he said.
The surgeon said Blake is an example of how the virus can strike down even young, healthy people.
"I think it kind of speaks for itself," Ahmed said. "… you take a healthy 44-year-old firefighter, you know, with no medical history, who is healthier than 95% of the population, without any family history, and you take that person and you watch his course."
Blake says the illness blindsided him. He lost 55 pounds of muscle while he was bedridden.
He says if he hadn't been as fit as he was before he became ill, he's not sure he would have made it.
He says his wife Jennifer is the rock who stayed by his bedside for four months, helping to save his life and keeping the family going during his illness.
"She's been rock solid, amazing" he said. "She saved my life with the doctors … There's no doubt without her on my side, I would not be here. She truly has been amazing, a picture of strength."
Jennifer is thankful for the support they received during their ordeal.
"I feel like half of my brain power every day is spent trying to think how I can look every person in the eye and thank them for what everyone in this town has done," she said. "He's just like a regular guy, we're just like a regular family and people have been so good to us. I just want everybody to know."
Blake ultimately credits divine intervention for his survival and said he wants to make the most of the second chance he's been given.
"I think God had a part in that, he was the one who ultimately showed me mercy and let me survive," he said. "… I'm filled with joy that I get to be here and saddened. My life probably isn't going to be as long as it would have been without the transplant and so every day you just try to be as intentional as you can be with the time that you're given.
"I just want to live a life worthy of the donor that gave me these lungs and the people that have walked along side me and helped my family and this community has just been amazing. I don't have enough words to say my gratitude for people that I don't even know who have brought a meal to my family when we were gone, that have prayed for us and helped with medical bills, all those types of things. I'm just forever grateful and I'll spend the rest of my life trying to pay it forward like people have done for me … everybody who prayed, those prayers saved my life."
Twitter: @mcharlesNP