The top Stillwater News Press stories of 2021 weren't always the most popular.
The biggest stories of the last year are those defined as having the biggest impact on the community. The following are the top five stories of the year as selected by the News Press staff.
The Deep Freeze
Collections of coverage from that time, were some of the most widely read for the entire year. The area was blanketed with snow, the sustained low temperatures hampered the entire energy grid and even threatened the city's water supply.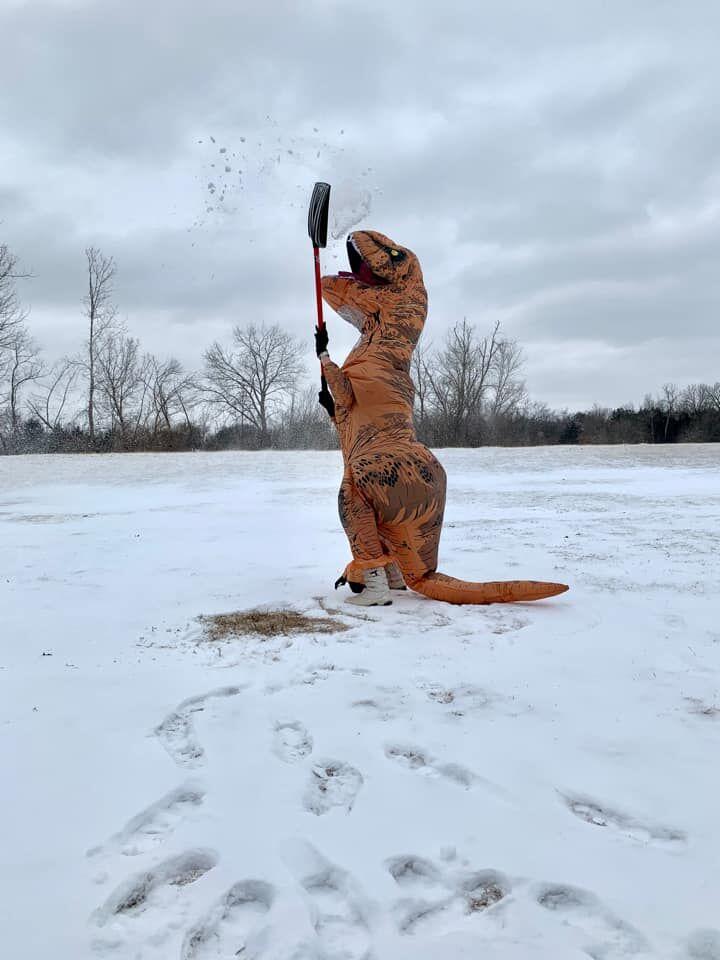 School closings began around Feb. 8 as ice coated the roadways. The temperatures from that point wouldn't escape the 20s. Strains on power companies began the next week, though Stillwater never had to deal with a full blackout.
For the people running the City of Stillwater and operating its electric utility, it's been several days of hoping for the best and preparing for the worst, usually with little certainty of which it will be or notice when it changes.
It's been a stressful situation for the city's utility customers and staff alike.
Twice on Monday the City of Stillwater was told it would need to implement temporary blackouts lasting about 45 minutes to save power and make up for a shortfall in the amount of electricity available across the Southwest Power Pool.
An area covering 4,300 meters was mapped out to cut demand by the required amount while avoiding critical infrastructure and facilities like nursing homes and hospitals. Homes on the same circuits as the critical facilities also avoided being shut down.
After scrambling to get prepared to shut off the designated circuits and announcing the outage to customers, the city utility was told to stand down both times, at the last minute.
Then on Tuesday morning, as demand peaked while people got ready for work, Stillwater Electric was once again told it would need to temporarily shut off some meters to save power. It's a practice known in the power industry as a curtailment.
City Manager Norman McNickle said city staff were only given five minutes between being told how much they would need to cut and having to shut those circuits down.
There wasn't enough time to warn customers or put out a map of the affected area until the blackout had begun. As a result, the electric utility received about 400 calls from people reporting power outages before the map could be released.
McNickle said SPP officials admitted they weren't giving much notice, but that's because they want to make sure the blackouts are absolutely necessary and they're calculating right up to the last minute.
Randy Blake
The entire community became invested in one man's battle against COVID-19. Blake was diagnosed with COVID-19 in November. Under 50, Blake was considered physically fit with no underlying health conditions. He still ended up on ECMO and then a ventilator. Eventually, he needed a double lung transplant. He was discharged in February.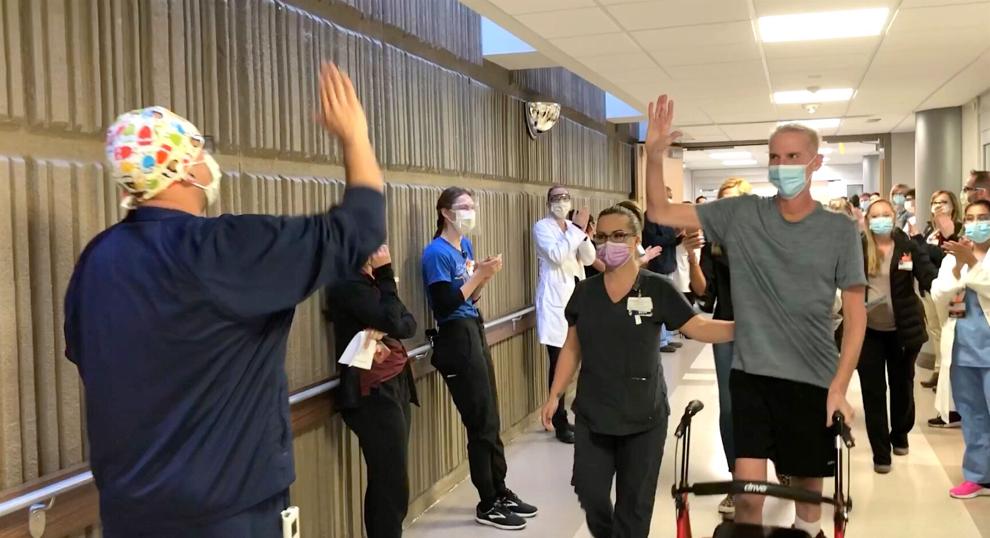 Ahmed described Blake as healthier than 95% of people, yet he still suffered greatly from the coronavirus despite not having any pre-existing health conditions.
"I think it kind of speaks for itself," Ahmed said. "You know, you take a healthy 44-year-old firefighter, you know, with no medical history, who is healthier than you know 95% of the population without any family history, and you take that you take that person and you watch his course."
•••
Blake said he has a long road to recovery, but hopes to inspire other families in a similar situation, since his case isn't the only one Dr. Ahmed has treated since the outbreak of COVID.
"I would just say don't ever give up hope," Blake said. "There were times the doctor called to have them come and say goodbye to their dad because they didn't think that I was going to make it. They didn't give up hope and they prayed, and I was able to pull through."
Blake wanted to give a special thanks to all the doctors and nurses who treated him at various medical centers. He is also thankful for the support from his church, family, friends and the community of Stillwater.
"Stillwater" the movie
Though filming had wrapped well before the pandemic, Focus Features held the release date because studio executives wanted the Matt Damon film to be seen exclusively in theaters. It was one of the first pictures shown to a live audience at the Cannes Film Festival. AMC Stillwater 10 had some of the earliest screenings in the country.
Directed and written by Oscar-winner Tom McCarthy, the film earned mixed reviews but it was still a big moment for the community. It was also a big moment for films in Oklahoma, which had been trying to generate new business in the industry for years with incentives and rebates.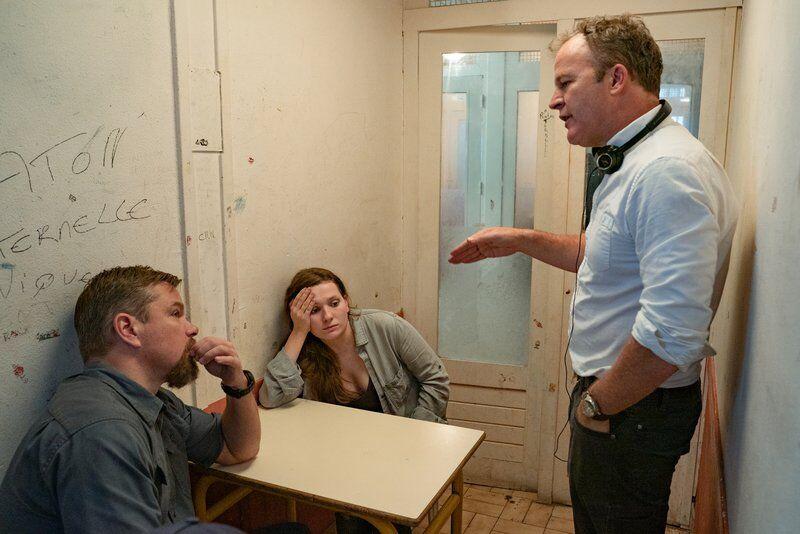 The story is about an Oklahoma oil field worker who travels to France to try to help a daughter who has been convicted for murder. While it has a classic fish-out-of-water setup, the film focuses deeply on character development and strong themes of regret. McCarthy also avoided giving the namesake town of his film a Hollywood spin.
McCarthy told the News Press what he learned by spending time in Oklahoma and getting to know people with very different lifestyles, backgrounds and political opinions has given him hope for America.
"I started doing a deeper dive into Stillwater and the history of Stillwater and Oklahoma in general, because I had never been," he said. "I had never been to Oklahoma at that point. I was a guy in an office in New York who is just looking at the country and being like, 'Where's a culture and a place I don't know?' and then the more I dug, I thought 'Wow, this is a really specific culture, a really specific sort of window into America that I don't really understand.'"
McCarthy, says he works sort of like a journalist when he's writing, so he got on a plane to Oklahoma and started calling the few people he knew in the state until a guy offered to show him around. He spent time walking around Stillwater, exploring the Oklahoma State University campus – which impressed him with its size and beauty – and hearing his first red dirt music.
It just felt right, he said. And the name of the town spoke to him on multiple levels.
Afghan resettlement
Terribly quickly after President Joe Biden announced that American military forces would move out of Afghanistan, the Taliban began to take over. The fall of Kabul was swift, and Afghans who had been allied to American forces had to flee and find a new place to live. For some, the destination was going to be Stillwater, Oklahoma.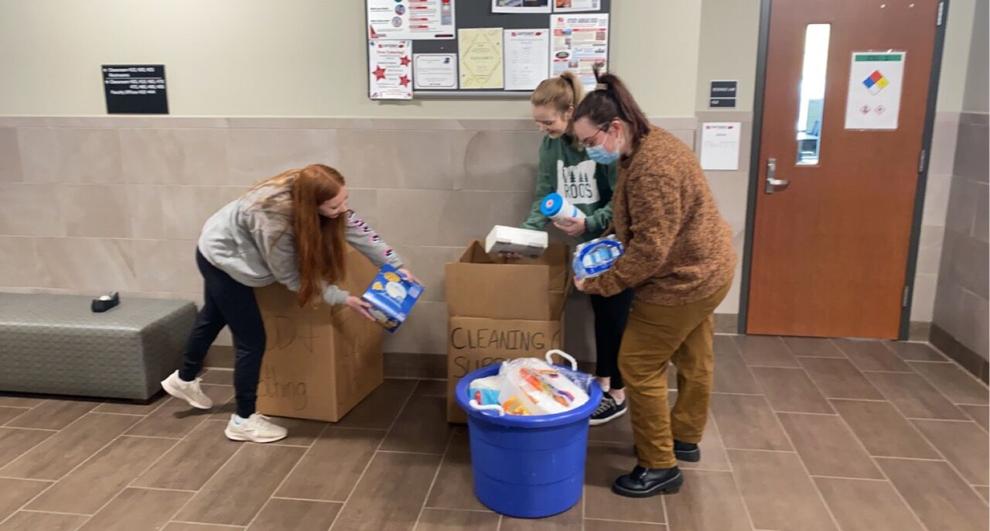 It's taken a while to get prepared, but Mike Fitzgerald, the Stillwater Operations Manager for Catholic Charities of Eastern Oklahoma said he wanted to make sure everything was in order before anyone was moved.
He said it's a fluid situation and plans have changed several times.
Over the next few months, 40 families – an estimated 160 people – will be settling into rental properties around Stillwater. About 25 families will be living in family housing at Oklahoma State University.
The university is partnering with Catholic Charities through the Afghan Family Project to provide housing and other types of support like free access to public transportation and English as a Second Language training for the new residents.
Most are young families with children, Randy Kluver, Dean of Oklahoma State University's School for Global Studies and Partnerships has said.
Individuals, businesses, churches and social services organizations have also generously supported the effort to gather furniture and other household supplies for the new residents, Fitzgerald said.
Bedlam
OSU's season is not yet complete, so it remains to be seen how it will rank among the all-time greats. Still, being on the businesses end of most Bedlam losses, the Cowboys entered the game with infinite possibilities. Especially, considering, that OU had already decided it was partnering with rival Texas to leave the conference – OSU did not get the invite.
PHOTO GALLERY: Cowboys claim Bedlam win to keep Sooners out of Big 12 title game
The future of the OSU's playoff or bowl destiny was up in the air. And, even though a spot in the conference title game was assured, they certainly wouldn't want to go in with a loss. The entire town could feel the anticipation of the game. Then there was the game.
The Sooners didn't wither.
On OU's final drive, Williams broke away for a 56-yard run, advancing to the Cowboys' 24-yardline. Although the Sooners were threatening to spoil OSU's lead, Cowboy left guard Josh Sills stayed calm as he watched the OSU defense from the sideline.
"I just smiled," Sills said. "The shorter field that they have, the better our defense is."
OSU's trusty defenders lived up to his expectations. After Williams threw three incomplete passes, true freshman Collin Oliver sacked him for a loss of eight yards on fourth down, icing the victory.