It just wouldn't be spooky season without a ghost story or two, especially one so wild and so true! I'm about to get chatty about a story so batty, you'll share it for Halloween too!
Several years ago, we attended an Oklahoma ghost story event at the Pawnee Bill Ranch. It was a dark and chilly fall evening as we explored the grounds of the Ranch, hearing the haunting tales of yesteryear.
One story in particular, mainly because they swore it was absolutely true, captured our attention. It was about a train robber named Elmer McCurdy. Our group was in disbelief and it's all we kept talking about for the rest of the night. It goes a little something like this...
After being honorably discharged from the Army, ol' Elmer decided a life of crime in Oklahoma was just what he needed. Unfortunately, he was an unsuccessful train robber and typically bungled every heist he attempted. McCurdy's final robbery occurred on Oct. 4, 1911 (keep this year in mind). McCurdy and two accomplices planned to rob a Katy Train after hearing it would be carrying $400,000 in cash intended as a payment to the Osage Nation. Per usual, the men stopped the wrong train and only made off with $46, 2 gallons of whiskey, a revolver and a coat. Early that following morning several sheriff's deputies with bloodhounds caught up to Elmer and shot him.
Now this is where it gets interesting... McCurdy's body was taken to an undertaker in Pawhuska, where it went unclaimed. The owner of the funeral parlor embalmed his body by pumping him full of an arsenic-based preservative that was usually used to preserve bodies for long periods of time when no next of kin are known.
He dressed McCurdy up, shaved his face, and propped him up in the funeral home.
Wanting to be compensated for his services, funeral home owner Joseph Johnson charged visitors a nickel to see "The Oklahoma Outlaw" AKA "The Enbalmed Bandit" AKA "The Outlaw Who Never Died." Upon learning of Elmer McCurdy and that there was money to be made, two carnival owners pretending to be his long-lost brothers showed up to claim his body. And then the real fun began...
Elmer McCurdy went on a nation-wide tour! He was used in a traveling museum of crime, which included wax replicas of outlaws Bill Doolin and Billy the Kid. Over the years, McCurdy's corpse was bought and sold to different sideshow carnivals, wax museums, the lobby of movie theaters and even used in the 1967 movie "She Freak." On Dec. 8, 1976, the production crew of The Six Million Dollar Man was filming scenes in a warehouse where Elmer's body was hanging. During the filming, a prop man moved what he thought was a mannequin out of the way – that is until the mannequin's arm broke off exposing a human bone and mummified tissue (GASP)!! Police and medical examiners were immediately notified.
Sixty-six years after his death in April of 1977, after months of examinations, phone calls and investigations, Elmer's body was released to the Indian Territory Posse of Oklahoma and finally laid to rest next to fellow Outlaw Bill Doolin in the Boot Hill section of Summit View Cemetery in Guthrie.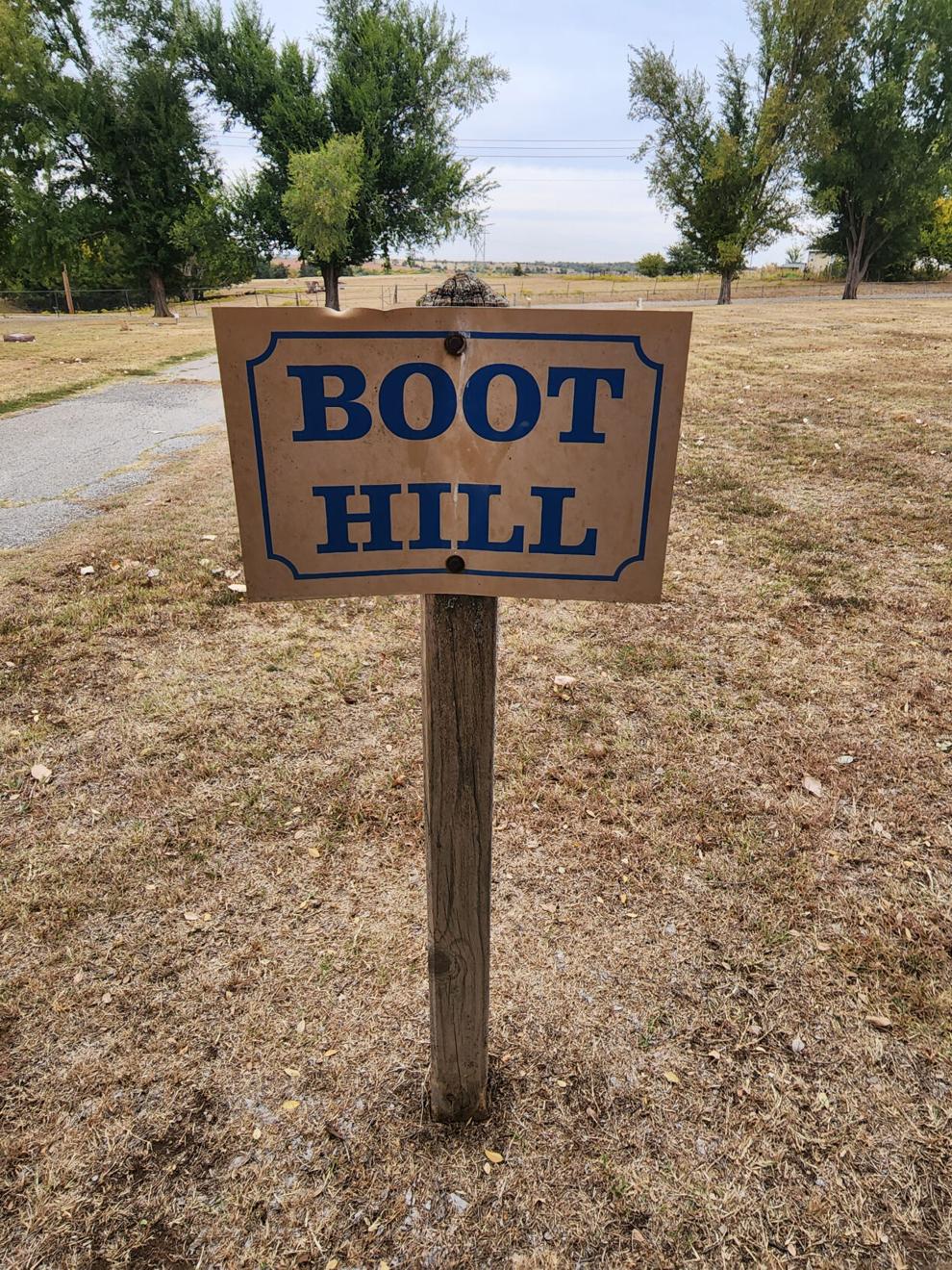 Rumor has it McCurdy was buried under several feet of concrete so his body could never be stolen!
Over the years there have been many stories, books, and podcasts about his life and strange death. Even The Oklahoma Historical Society recently did a webinar about him!
Every October we go visit Elmer McCurdy's grave to drop off a few coins and pay our respects. It's always fascinating to see how much money has actually been stuffed in the boot that stands in front of his tombstone. We've seen all kinds of trinkets placed on and around his tombstone as well, from Transformer action figures to keychains and stuffed animals.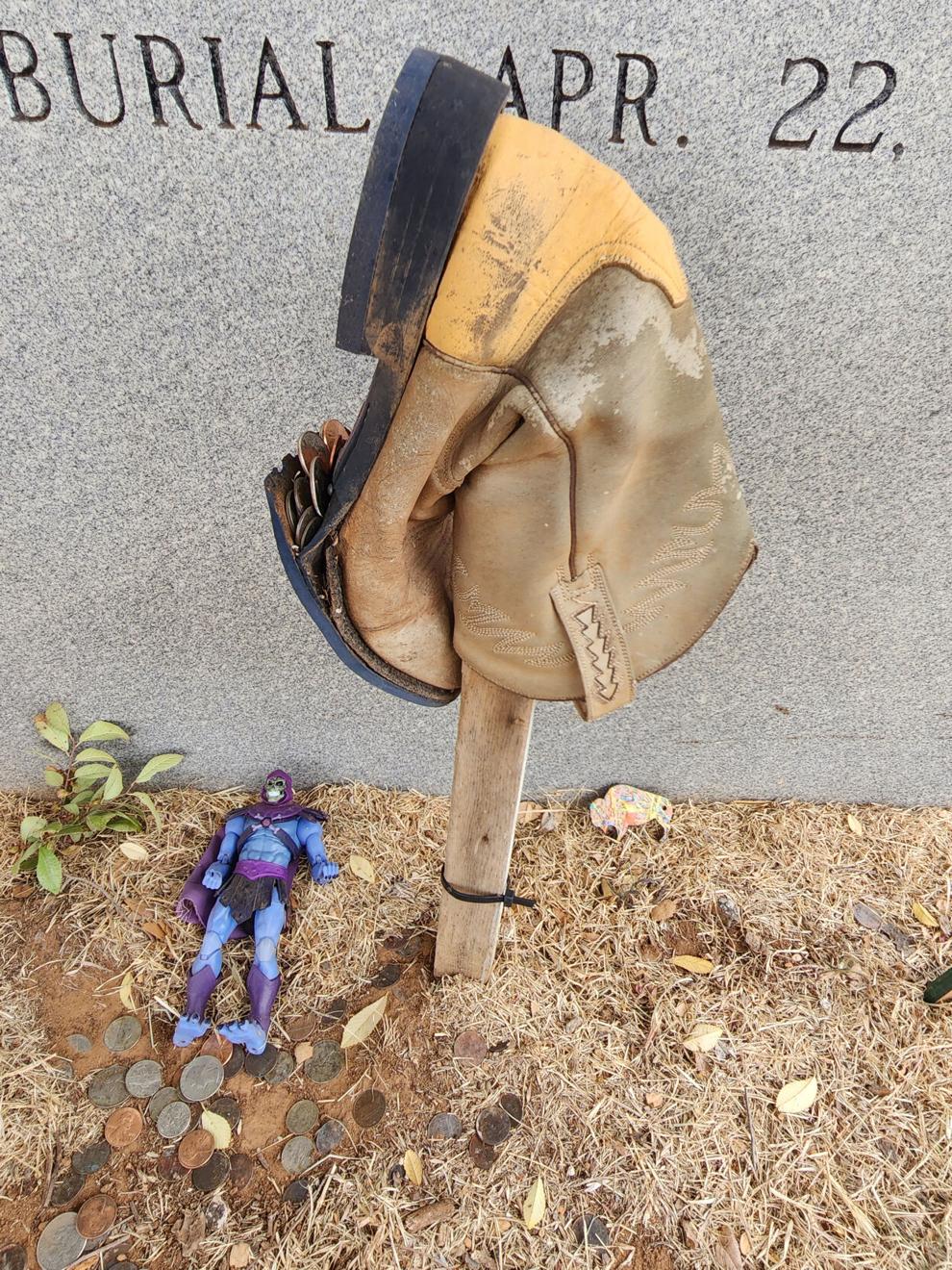 If you're wanting a Halloween adventure, take the quick drive over to Guthrie and give Elmer a visit!