Federal agents raided two Stillwater restaurants Wednesday morning in what the U.S. Attorneys office in Oklahoma City is calling the execution of "multiple federal search warrants." Multiple people were in at least temporary custody after the search at Tex-Mex restaurants El Vaquero and Palomino's in Stillwater.
What at first appeared to be an immigration raid like many conducted since Pres. Donald Trump announced a crackdown on undocumented immigrants, began to look like a more complicated issue, based on the actions of law enforcement and statements made by city leaders as the day progressed.
Local law enforcement told the News Press it was a combination of an "immigration and criminal" case. 
"While I understand the concern here, I have been informed that ICE was not in Stillwater today. Federal agents, including some from DHS served search warrants at two restaurants and a residence as part of a criminal investigation. This was not an ICE immigration action," Stillwater Mayor Will Joyce replied to a Twitter user who said Immigration and Customs Enforcement was performing raids in Stillwater.
Witnesses said the people taken into custody by federal agents were loaded into white vans.
"They took a bunch of guys and a little old grandma lady...there weren't that many girls," Susie Baker, office manager for the hotel located next to El Vaquero said.
Baker watched the raid from the hotel's lobby and says officers descended on the restaurant quickly.
"They parked two police cars in the front area there and then I saw the cops going in and out, coming in," Baker said.
She said the agents were there for several hours and took a dog into the building.
St. Francis Xavier Catholic Church pastor Fr. Brian O'Brien said he was notified about the raids as they began and he went to the restaurant closest to his church to find out what was happening. He found vehicles blocking the parking lot entrances at El Vaquero and a large number of law enforcement officers who were treating it as a crime scene and wouldn't let him on the property.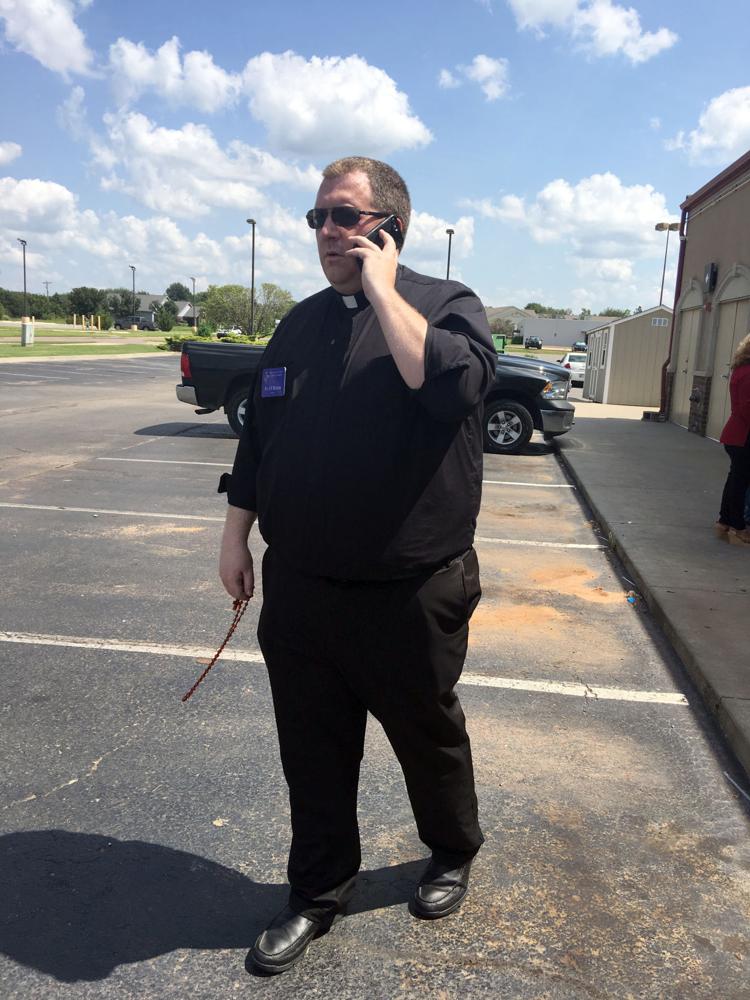 O'Brien said 13 people were picked up at El Vaquero. Workers at Palamino's said they weren't sure how many people were picked up there but they estimated about 5-10 people.
Some of those picked up by the federal agents had children in school, O'Brien said he was focusing on getting the names of those affected by the warrant service.
"We're still not exactly clear on what it is," he said Wednesday afternoon. "Is it immigration? Is it criminal?"
When reached by phone Wednesday evening, O'Brien said he had gone to the Stillwater Municipal Jail and found that the people who had been picked up were being held there. He wasn't able to speak with them but a Department of Homeland Security agent told him that not everyone would continue to be held.
Anyone who had previously been deported or who had a warrant would be detained, O'Brien said he was told.
"Some people have been released...the people who had children at home were let out first," he said. "Several people are already home...We're working to make contact with the families of the ones who were detained."
O'Brien said he believes the action wasn't a standard immigration raid seeking undocumented workers.
"It wasn't ICE," he said. "I think it's a case of people not distinguishing between different agencies...When people get arrested and they're latino, people assume it's an immigration raid."
Both restaurants were closed Wednesday and workers said they didn't know when they would be able to reopen.
El Vaquero and Palomino's are operated by members of the same extended family. No warrants were served at two additional restaurants operated by other members of the family.
"On the morning of Sept. 4, special agents with Homeland Security Investigations (HSI) executed multiple federal search warrants at two businesses and one residence in Stillwater, Oklahoma," reads a statement from Executive Assistant U.S. Attorney Scott Williams. "Since this is an ongoing criminal investigation, no further details can be released at this time, including the nature of this investigation."
Williams did say that multiple agencies were involved including the Department of Homeland Security and U.S. Marshals, but that any number of agents could be a part of the task force.