EDITOR'S NOTE: This is the first part of an ongoing series by the News Press.
Fewer than 5% of adult rape allegations have been prosecuted in Payne County between 2017-2019.
The Oklahoma State Bureau of Investigations received 194 reports of rape in Payne County between 2017-2019. Of those 194 cases, only eight adult cases have been fully prosecuted.
Four were charged as rape, three were charged as sexual battery and one was charged as forcible oral sodomy.
Of those four rape charges, one resulted in a rape conviction.
The other three cases took lesser charges and were offered plea deals by the Payne County District Attorney's Office.
OSBI didn't differentiate between the adult offenses and child offenses in its statistics.
But, even with the child crimes that were prosecuted out of the 194, that still means 150 reports weren't prosecuted. The victim's story was lost somewhere between the police investigation and criminal prosecution. Statewide the clearance rate for rape in 2019 was 17.4. Clearance is defined as when 1) a law enforcement agency has identified the offender, 2) there is enough evidence to charge the offender and 3) the offender is actually taken into custody. "A crime may also be reported as cleared by exception if some element beyond the control of law enforcement is present," according to the Crime in Oklahoma Report. The same report keeps clearance rate independent of arrest data. For comparison, the clearance rate for murder was 55.8 percent in 2019.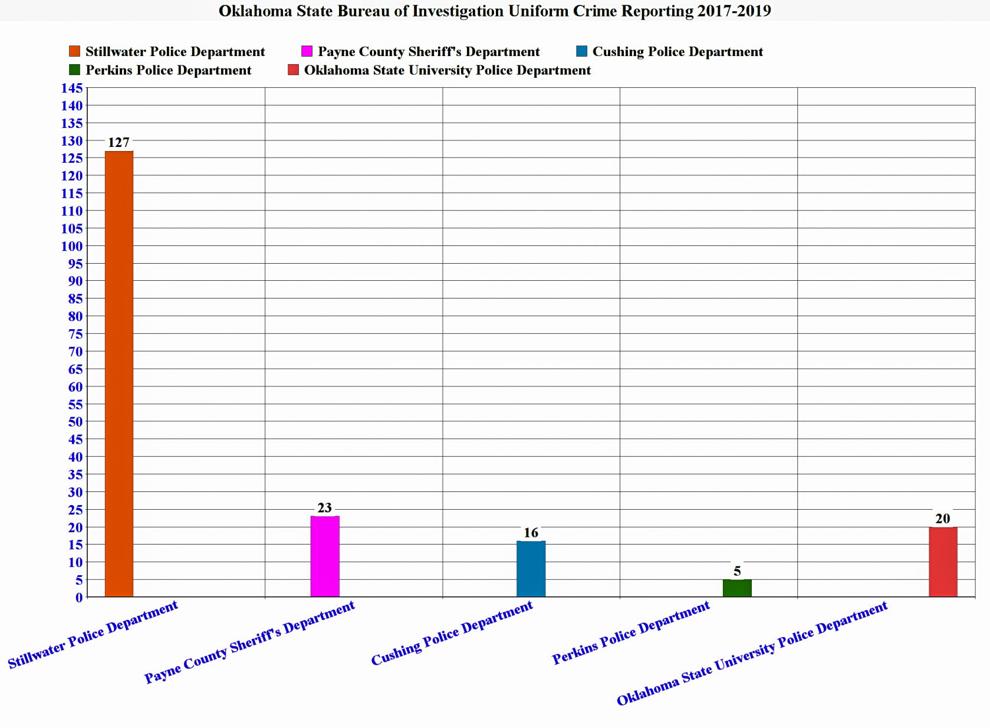 So why are sexually-based offenses not being prosecuted in Payne County?
District Attorney Laura Austin Thomas said the numbers in OSBI's report didn't seem accurate to her.
She also said a crime may be reported as a rape in the police log, but may not have actually been a rape.
"And then sometimes getting back to those numbers you have from somewhere, sometimes a person calls into the police department or comes to the police department and says 'I want to talk to this officer about rape.' It's written up in the call log about inquiry about rape. Officer comes down and she wants to do a book report," Thomas said. "She hasn't been raped, there's no rape report, there's no assault she's seeking information, but it's still listed in the PD system as a sexual complaint."
Thomas suggested the victims themselves are unaware of what rape actually is.
"This is amazing to me that people don't really know what rape is, but someone who's been touched may come in and report it as a rape. It's not a rape. So when they report it they document how things come in," Thomas said.
Thomas also questioned the veracity of probable cause affidavits written by law enforcement.
She said just because an officer recommends a certain charge, doesn't mean the District Attorney's Office will charge the suspect with that crime, or charge them at all.
Examples of lack of prosecution for arrests made
In 2019, Stillwater Police arrested one man for first-degree rape and assault with a dangerous weapon.
But no charges were ever filed against him in that case.
Another suspect arrested in 2019 by SPD was accused of first-degree rape, violation of a protective order and domestic assault and battery by strangulation.
He was eventually charged with a misdemeanor of violating a protective order.
Assistant District Attorney Debra Vincent weighed in on the issue regarding the lack of prosecution of adult sex offenses in Payne County.
She said, "It's really case by case, you know. I mean, there are common reasons, like victims not wanting to cooperate, it's very common. Maybe it's we just don't have any evidence to corroborate the victim's version of events. You can do it without anything to corroborate, but unless they are really, really strong, we're setting everybody up for disappointment."
Thomas said sometimes they get victims who really want to prosecute their attacker.
Still, charges aren't filed.
"We have victims that insist we file charges and we do not because the evidence is not there to prove our case beyond a reasonable doubt," Thomas said. "We have cases that it's not where we disbelieve anything. We might believe her but there is zero corroborating evidence and the defense is consent. We're not gonna win."
Thomas said through her experience dealing with victims and sexually based cases, she knows what the community wants and what they don't want.
"Someone that wasn't a DA very long and not an assistant very long and didn't have experience may very well file something that we won't file," Thomas said. "Cause we know in our experience what will and won't work. What our communities do and don't want."
Misconceptions surrounding sexual assault
"Victims feel the need to conform to the stereotype of what real or 'ideal' victims look like. For example, women who are sexually assaulted are expected to do the following," Stillwater Police Detective Mary Kellison said.
• Offer physical and/or verbal resistance to unwanted sex;
• Express clear and explicit non-consent to unwanted sexual contact;
• Discontinue contact with the person who has been inappropriate sexually or who has assaulted them;
• Demonstrate perfect or near-perfect recall, including a consistent and linear narrative of "what happened."
Kellison said these misconceptions can hinder a victim when they testify against their attacker in court.
"As a result, these myths, biases, assumptions and expectations interfere with how victims' testimony about their experiences is heard and understood in sexual assault trials," Kellison said.
Acquaintance rape, the most common
"Rape, and other sexual assaults, are rarely perpetrated by strangers. A significant majority of sexual assault allegations come from people who at least know each other and, very frequently, come from situations where the reporting person and the suspect have had prior consensual sexual relations," Vincent said.
It's a common misconception that sexual assaults and rapes are perpetrated by an attacker who hides in the shadows and takes the victim by surprise.
Although this can happen, a majority of these crimes are committed by someone the victim knows.
"More than 70% of sexual assault victims know their attackers, compared to about half of all violent crime victims. What is difficult is getting the general public on board with what sexual assaults really look like," Kellison said.
According to the Rape Abuse and Incest National Network, 33% are committed by a current or former spouse, boyfriend or girlfriend.
Acquaintance rape or sexual assaults are rarely reported to the police, according to James Madison University.
With over 70% of assaults being perpetrated by an acquaintance, JMU reported only 2% of acquaintance rape are reported to police.
Expert witness John Foubert said another myth surrounding sexual violence is rape victims shouldn't be believed.
"We have built up many myths about why rape victims should not be believed. One of these myths is that you can't be raped by a boyfriend or husband. Yet, many rapes are committed by people you know, including romantic partners," Foubert said.
Perpetrators of sexual violence
A perpetrator is described as someone who has carried out a harmful or illegal act.
In cases of sexual violence, the perpetrator is perceived differently than any other crime.
"He is sitting there in a suit and he looks real nice. In a rape case your defense is 'it wasn't me or it was consensual' that's the defense. He has to pick one or the other," Thomas said.
Vincent said most often the suspect and defense will admit that sexual relations took place, but will say it was consensual.
"The most frequent allegations we review are what you might call 'he said/she said.' Both parties admit to sexual contact, and the question becomes whether it was consensual or not. There is often very little evidence one way or the other to corroborate the allegations or the defense," Vincent said.
The aftermath of sexual violence
"In the aftermath of trauma, victims may make statements that appear to be incomplete or inconsistent. They may also seek to hide or minimize behaviors they used to survive, such as appeasement or flattery, out of fear that they will not be believed or that they will be blamed for their assault," Kellison said.
Kellison said research has shown that women who have been victims of sexual violence often suffer from Post Traumatic Stress Disorder
"A significant number of sexual assault victims experience post-traumatic stress disorder In fact, research suggests that sexual assault is by far the most frequent cause of PTSD in women. (National Center for Post-Traumatic Stress Disorder, 2005)," Kellison said.
Detective Kellison said each victim responds to these crimes differently. Some choose to report the assault, while others choose not to.
"It is common for some victims to come forward immediately to report being sexually assaulted. Still, it is far more common for victims to delay reporting or not report at all," Kellison said.
Just like each victim responds differently to a sexual assault, a victim also reacts in their own way.
She listed some ways a victim may react during the assault that don't align with the way people view victims in the moment of an assault.
• Freeze
• Not report or delayed reporting
• Not remember aspects of the event
• Have blanks in memory
• Have inconsistencies in memory
• Struggle with decision making
• Not say 'no' clearly to unwanted sexual contact
• Exhibit no physical injury from a sexual assault
• Be unable to identify the perpetrator to the police
• Exhibit no apparent emotional expression following a sexual assault
• Provide what might appear to be inconsistent statements at different points in time
• Blame themselves for the assault
• Have a relationship with the perpetrator after the assault
• Deny or minimize the assault
• Recant the experience
"But what might appear to be an 'inconsistency' in the way a victim reacts or tells her story may actually be a typical, predictable, and normal way of responding to life-threatening events and coping with traumatic experiences," Kellison said.
Ashlynd Huffman can be contacted at ahuffman@stwnewspress.com
Twitter: @ashlynd8