PHOTO SLIDESHOW: Protests continue Sunday in Enid
Alexander Ewald | Enid News & Eagle
Around 100 people demonstrated Sunday, June 7, 2020, in front of the city administration building starting at noon, as a second consecutive day of peaceful protests in Enid over the killing of George Floyd proceeded without much pushback.
As featured on
Chants and speeches stopped as the crowd then knelt for eight minutes and 46 seconds in a moment of silence. Floyd, a black man, died on Memorial Day after a white Minneapolis police officer knelt on his neck for the same amount of time while Floyd was handcuffed and face-down.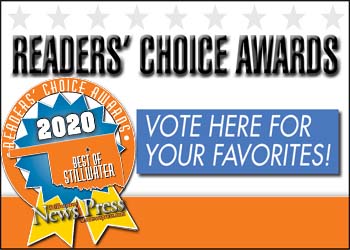 Dan Middlebrook, 77, passed away June 24, 2020. His livestreamed Funeral Mass begins 4:00 p.m. Wednesday, July 1, 2020: St. Francis Xavier Catholic Church-Stillwater, Oklahoma. Celebration of Life begins 6:00 p.m. July 1, 2020: Meditations Events.
Betty Hart, 92, died June 23, 2020 in Cushing, Oklahoma. Her memorial service begins 10:30 a.m. Monday, July 6, 2020 at the Strode Funeral Home Chapel- Stillwater, Oklahoma. Strode Funeral Home is in charge of arrangements.
James Hugh Fox, Cushing resident, passed on Thursday, June 25, 2020 at 60. Funeral services will be held at 10:00 a.m., Tuesday, June 30, 2020 at Crossway Church, Cushing, Oklahoma. Palmer Marler Funeral Home, Cushing, OK