While Senate bills are starting out in the House committee process, our work on the House floor is limited right now. However, we have spent time this week recognizing various individuals and teams and have approved a few resolutions as well.
On Thursday, many of the legislators wore orange, one of my favorite colors, to celebrate Oklahoma's public lands. I presented House Resolution 1002 to raise awareness about the importance of public lands in our state. State and federally-owned public lands, which make up about 6% of the land in Oklahoma, provide both jobs and recreation for all Oklahomans. I have loved using Oklahoma's public lands throughout my years in youth ministry and have thoroughly enjoyed taking my family hunting on the same public lands I grew up hunting. The House adopted the resolution, and the Senate adopted a similar resolution as well.
This week, I had the opportunity to recognize the Ripley High School girls fastpitch softball team that won state last October! This was the first ever for a Ripley girls team in any sport and only the second state title the high school has gained. On Tuesday, they came down to the Capitol for a floor presentation in recognition of their state championship and their 40-5 record. I am so proud of their hard work and accomplishments!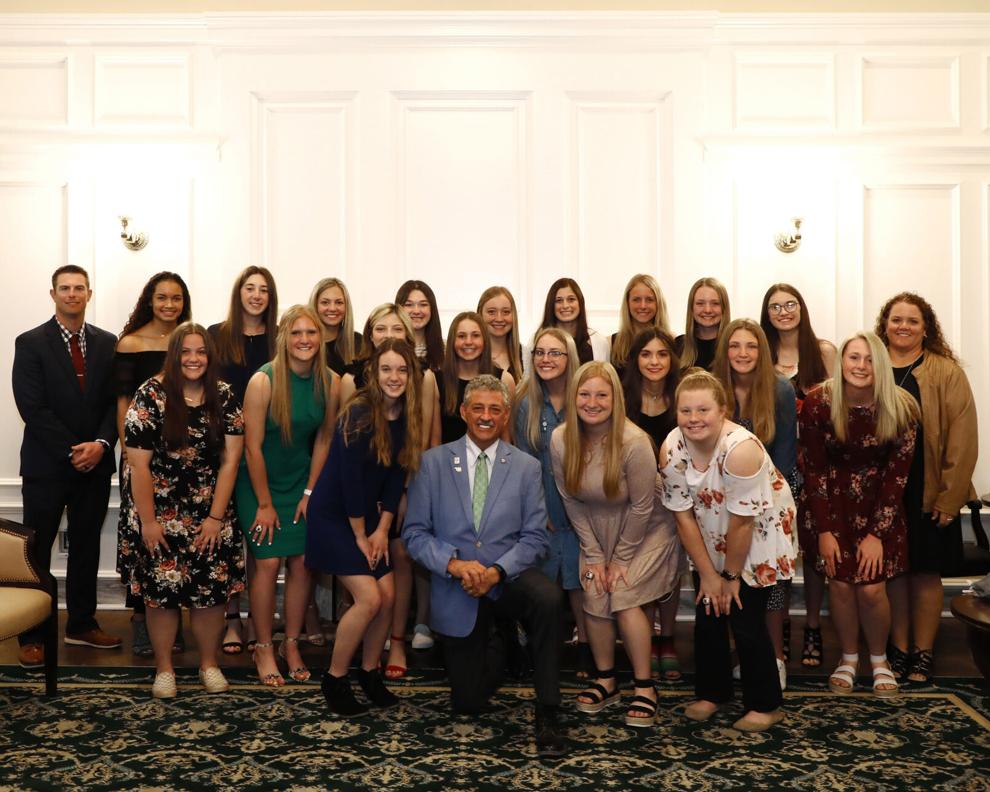 On Monday evening, I attended Celebrate Recovery in Cushing to commemorate the group's three-year anniversary. Celebrate Recovery is a twelve step Christian recovery support group that focuses on "freedom from hurts, habits and hang-ups." It isn't just for recovery from addictions; it also provides support for a multitude of things like mental illnesses, eating disorders and anger.
The Cushing group meets on Mondays. They have dinner at 6 p.m., followed by a large group meeting from 7-8 p.m. and a small group meeting from 8-9 p.m. Afterward, they serve coffee so people can mingle.
The meetings take place at the First Christian Church of Cushing at 300 E Moses. Meetings are open to the public and everyone is welcome to show up and grow. There's also a Celebrate Recovery group that meets in Stillwater, and Drumright has recently started a group as well.
I have teamed up with Susan Lewis to bring the Celebrate Recovery ministry to prisons to help inmates. Once people leave prison, familiarity with this program leads them to local Celebrate Recovery meetings, which provides them with a sense of community and a 'forever home,' as Susan says. She has done a great job of advocating for former inmates and helping them achieve their goals.
This program is so important because they are reaching people that can't necessarily afford to go to mental health facilities or therapy. To me, it's doing what Jesus talks about in Matthew 25:40, "Whatever you did for one of the least of these brothers and sisters of Mine, you did for Me." It's important to serve everyone in the community, not just those who can return the favor or give you honor for it.
As always, please feel free to send me an email with your thoughts on any bill or give me a call. My email address is john.talley@okhouse.gov and my office phone is 405-557-7304. Thank you!
Rep. John Talley, a Republican, serves District 33 in the Oklahoma House of Representatives, which covers Logan and Payne Counties.