Jarret Doege might have needed superhuman vision and a heavy suit of armor to keep the Oklahoma State football team's relentless defenders from knocking him off his feet.
Even then, it could have been a challenge.
One by one, the Cowboys barraged West Virginia's starting quarterback from different directions, sending the next man up to challenge him as if they were participating in a pie-throwing contest at a carnival – and they constantly hit their target. As OSU sacked Doege – the Big 12 Conference's leading passer – over and over, the Mountaineers had no way to create efficient offensive sequences, and the home team's energy spiraled in Milan Puskar Stadium.
Overpowering yet another opponent, the Cowboys' gritty defense led them to a 24-3 victory against WVU on Saturday in Morgantown. Following the three points allowed to Kansas the week prior, it marked the first time since 1948-49 that a Cowboy team held conference opponents without a touchdown in back-to-back games.
Throughout the season, coach Mike Gundy has cautiously complimented OSU's defensive unit, saying he doesn't want to jinx the group, but the praise he offered after the Cowboys' rout of Kansas led to only another defensive blowout.
"We're just becoming a defense that everyone can rely on," defensive coordinator Jim Knowles said following Saturday's performance. "I keep saying it, but it's important."
No. 11 OSU sacked WVU's quarterbacks a total of eight times, nearly tying the program record of nine that was set against Baylor in 1998. Doege's status as the Big 12 quarterback with the most passing yards per game couldn't rattle the Cowboys (8-1 overall, 5-1 conference), who limited him and backup Garrett Greene to 116 yards through the air.
With a nearly nonexistent run game – as OSU held WVU (4-5, 2-4) to 17 rushing yards – the Mountaineers had no choice but to throw the football.
That couldn't yield many positive results, either.
Multiple Cowboys pitched in to stifle WVU's offense. Super senior linebacker Devin Harper had the first chance to sack Doege, wrapping him up for a loss of seven yards to bring up second down and 17 during a first-quarter drive that ended with a punt.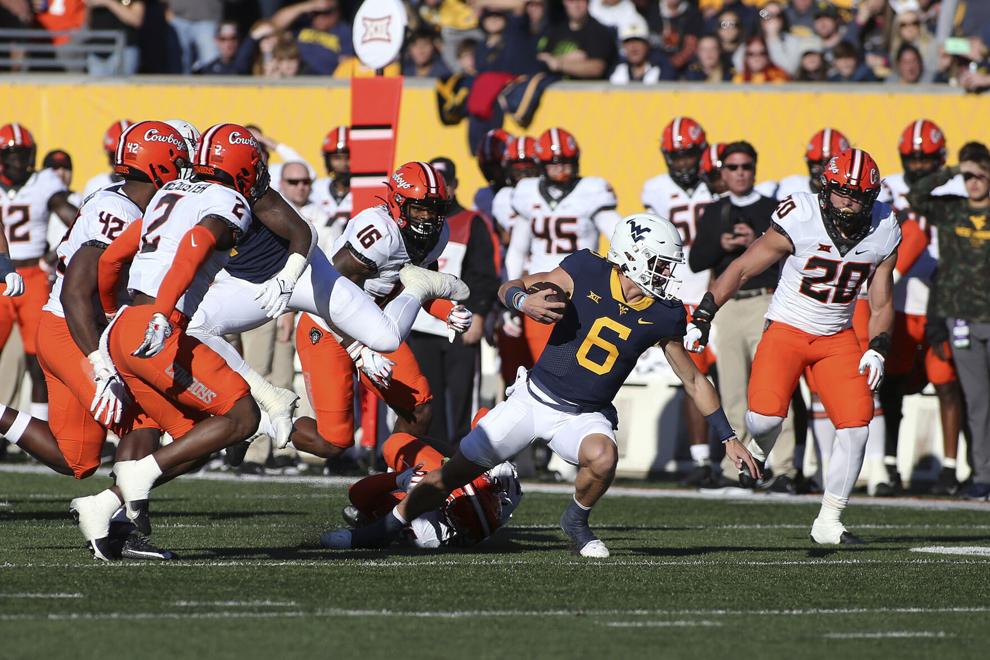 Harper and redshirt senior Brock Martin – who has carried his usual competitive fire with him since his return from a dislocated elbow – led OSU with two sacks each. Freshman Collin Oliver continued his reign as the Cowboys' season leader, sacking Doege once to bring his total count to 5.5.
"I loved our pressure, obviously, up front," Knowles said. "I don't think I blitzed one time. We won a lot of individual matchups up front. The guys were getting off the ball, and we really pressured the quarterback without bringing in extra guys."
The constant defensive highlights provided the Cowboys with pep as if they were playing in front of a home crowd.
After Martin barreled into Doege to force a three-and-out in the third quarter, defensive end Tyler Lacy, who had already sacked Doege once, leaped in celebration. Harper flexed after bottling up Doege for the second time. The Cowboys controlled the game, preventing WVU from scoring after Casey Legg's 30-yard field goal on the opening drive and allowing the Mountaineers to convert on only two of 14 third downs.
OSU's offense needed a little time to kick into gear, but once it did, the Cowboys gradually created separation between themselves and WVU.
With 8:32 left in the second quarter, OSU jumped to a 7-3 lead. Redshirt junior quarterback Spencer Sanders threw a 6-yard fade to super senior receiver Tay Martin, who caught it in the right corner of the end zone, and they recreated the play for a 12-yard touchdown in the third quarter.
Sanders completed 21 of his 32 pass attempts, throwing for 182 yards, two touchdowns and one interception. In the first quarter, Dante Stills picked off Sanders at OSU's 40-yardline, but it made no difference in the outcome. The Cowboy defense delivered another three-and-out, largely thanks to redshirt junior safety Jason Taylor II, who sacked backup quarterback Garrett Greene for a loss of 26 yards to bring up third down and 33.
The Cowboys built enough momentum to carry a comfortable 17-3 advantage into the fourth quarter, and running back Jaylen Warren added an extra cushion, running for a 13-yard touchdown with 13:20 left.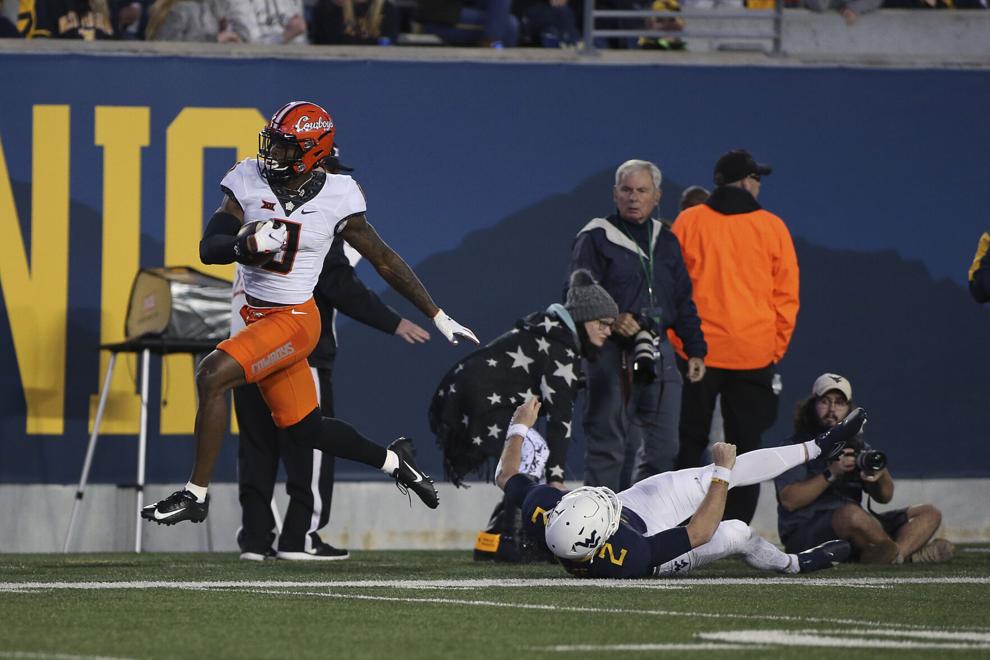 Next, OSU faces TCU – which is coming off a win over No. 12-ranked Baylor in TCU's first game without Gary Patterson as head coach – on Saturday at home. The Cowboys are continuing to defy expectations for Big 12 defenses, and as they play their final three regular-season games under the watch of the College Football Playoff selection committee, this defensive consistency is something they will need.
"There's a difference between hoping and thinking, and knowing," Knowles said. "We know it now in the core of our being that we can win games and be dominant, and that's a good feeling."