SCOTTSDALE, Ariz. – Notre Dame may not be sure about who will be the play caller for the Oklahoma State defense for Saturday's Fiesta Bowl, but the Fighting Irish know well enough about the Cowboy defense.
While a decade ago, an Oklahoma State team would have drawn more conversation due to offense, players for Notre Dame are drawn to the opposite side as the Cowboy defense was a top 5 defense in many statistical categories this year.
"No. 1, I think of their great defense. We know what we have when we're playing Oklahoma State," Notre Dame tight end Michael Mayer said. "They got a great defense this year. They got some great players. They had a great DC. So that's kind of the first thing that comes to mind, but we will be prepared."
Notre Dame offensive coordinator Tommy Rees discussed how they have gone through film for all 13 games for the Cowboys, but have paid a little more attention to the two games that resulted in losses for Oklahoma State.
Looking at the losses to Iowa State and Baylor, Rees saw that it wasn't as simple as the offenses for the Cyclones and Bears being able to figure out the stout Cowboy defense. It was more a development of the flow of the game.
"I think you look at the Iowa State game, they hit a couple chunk plays. That was probably the difference in the game," Rees said. "They hit a couple of big throws and got down into plus territory and were able to finish that. And that's probably the difference in the game.
"I thought Baylor, they had a couple of turnovers defensively that put (its offense) in good field position, and they were able to execute and had a really good plan on where they wanted to attack."
According to Rees, Oklahoma State looks familiar to a pair of defenses they played earlier this year – a Cincinnati squad that delivered Notre Dame its only loss, and Wisconsin, which also had a top 5 defense but gave up 41 points to the Irish (with 31 coming in the fourth quarter).
"They're similar to both. I think they are almost a combination of the two," Rees said. "… They have the veteran presence. They have the two real good inside linebackers. They are strong, and they are aggressive at the point of attack. Similar to Wisconsin.
"And then they are very multiple like Cincinnati was, right? You got three-down, four-down (lines), three-high safety, movement all over the place. So it's almost a blend of the two, which presents a lot of challenges in itself."
Irish expected to utilize freshman tailback
Notre Dame will be without its leading rusher with Kyren Williams foregoing the bowl game to begin his preparations for the NFL Draft.
With that, the Fighting Irish will rely on a sophomore who has battled through injury and a true freshman at tailback.
Sophomore Chris Tyree is expected to start, but has been limited this season between dealing with turf toe and working as the backup to Williams.
"We see a great opportunity," Tyree said. "Kyren was such a big piece in our offense. That's where we got a lot of our energy from."
But there are also a lot of expectations from within the Notre Dame program and by Irish fans and media in terms of Logan Diggs.
Despite playing in four fewer games than Tyree, Diggs has nearly as many carries (43) and rushing yards (207) as Tyree – who has 50 carries for 213 yards. Diggs also has more touchdown runs (3) than Tyree (1).
"We need to go back to the Virginia Tech game … Logan's in there – game on the line, two-minute drives, protection, receiver out of the backfield. He was able to step into that moment and really own it," Rees said. "From there, I thought you saw week to week his game improve.
"There's a maturity and patience to his game. His ability to see things, react, keep things vertical on the front side when he needs to, not afraid to find the backside cut for a home run."
And according to the man who will be handing the ball off to the tailbacks, quarterback Jack Coan has had an eye on the freshman running back.
"I'd say from day one, he's had a big swagger and confidence to him that was noticeable," the Notre Dame signal caller said. "And from day one in fall camp, I saw how talented he was. Then going on, I saw how smart he was in protections and finding holes and things like that.
"So he's made so many plays throughout fall camp and during practice throughout the year. So I was super excited when he got his first opportunity to touch the ball. And I knew he was going to have success here from pretty much day one."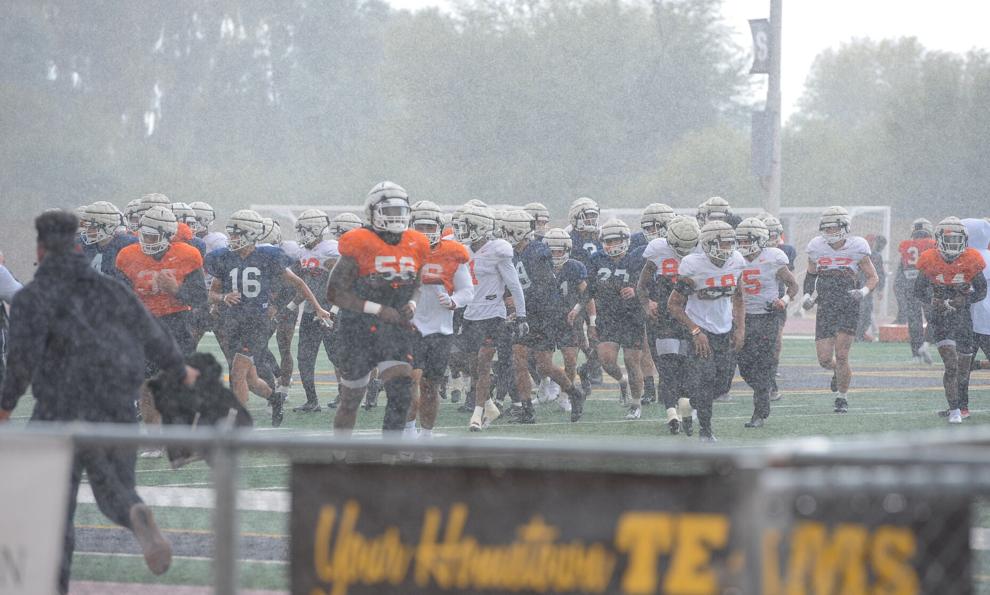 Bowled over by Oklahoma weather
The Oklahoma State football team traveled over 1,000 miles just to practice in what would be more typical weather in Oklahoma than in Arizona.
Tuesday's practice, which was open to the media for the first 15 minutes, started with a brief rain shower with the temperature in the upper-40s – while the high in Stillwater reached into the 70s.
The cold rain didn't seem to be too much of a distraction for the Cowboys, however.
It started off as a sprinkle while the team was stretching but had turned into a downpour by the time they huddled to break into position drills. Following the huddle, there was loud hooting and hollering from the players amid the rain.
Fortunately, the shower passed by in about five minutes and made way to a bit of sun before the media portion ended, allowing the passing drills that closed out the open part of practice to be run clean with few errant passes or dropped passes due to the wet conditions created.