AJ Ferrari joined a rare brotherhood in the most historic college wrestling program in the country.
The Allen, Texas, native became just the third true freshman in Oklahoma State history to win a national championship – the first one since Pat Smith in 1990.
"The legacy, having that history, it's crazy," Ferrari said. "To idolize these dudes, like Coach Chris Perry, two-time NCAA champ, Pat Smith a four-timer doing it as a true freshman. It's just crazy and to be able to chase that and do what he's done, and now me, if I choose to, could have five years – which is insane to even think about. …
"It's history. It's awesome to be a part of such a great program – the greatest, the most NCAA titles of any collegiate team."
Ferrari beat Pittsburgh's Nino Bonaccorsi by 4-2 decision in Saturday night's championship at 197 pounds to make history.
His victory brought an end to a championship drought by Oklahoma State, which hadn't had an individual champion since Dean Heil in 2017. Heil and Ferrari both won in St. Louis, Missouri.
"That was real important. They're hard to get," Oklahoma State wrestling coach John Smith said.
Though Ferrari – who finished 24-1 on the season – made history, it wasn't necessarily his wrestling that stole the show.
After creating a viral video Friday night with his post-semifinal match interview on ESPN2, the Worldwide Leader in Sports couldn't get enough of college wrestling's Italian Stallion.
The post-match process with ESPN typically lasts a few brief remarks from the recent winners, but with Ferrari it was a show all its own once again. He even teased a possible move up to heavyweight during his exchange with the floor reporter.
"My goal was actually, whenever I was 12 to 18, my goal was 700-pound deadlift, 600-pound squat," said Ferrari, who boasted a 665-pound deadlift following the semifinals. "I hit the 600-pound squat, but I haven't hit the 700-pound deadlift. We'll discuss that when I go heavyweight – coming soon."
Putting on a show is what the former No. 1-overall high school recruit has done throughout this postseason.
After victories in the Big 12 Conference Championships – which he won to garner the No. 4 seed at the national tournament – and then again this weekend, he would flex and act like he was shooting his ankle bands after he threw them up in the air.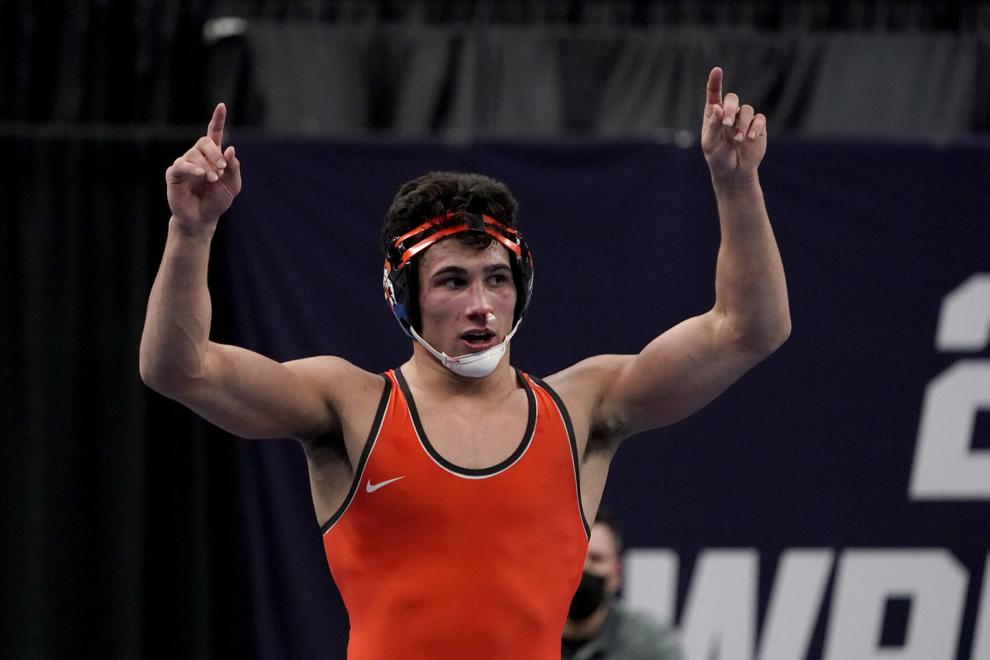 It's a show that even his teammates enjoy watching.
"I love every bit of every celebration he does," Cowboy heavyweight Austin Harris said Friday night. "He deserves to celebrate as much as he wants to. You can just see the love he has for the sport, and his teammates and coaches."
However, there is certainly a "fine line" – as Smith said – when it comes to putting on a show and showboating.
One of those moments came after Friday's semifinal when he Ferrari faked spiking his headgear after the win – which Harris did in celebration after pinning the No. 11 seed in a consolation match that warranted a team point deduction. Though he didn't actually spike the head piece, Smith was quick to snag it from Ferrari while he was flexing.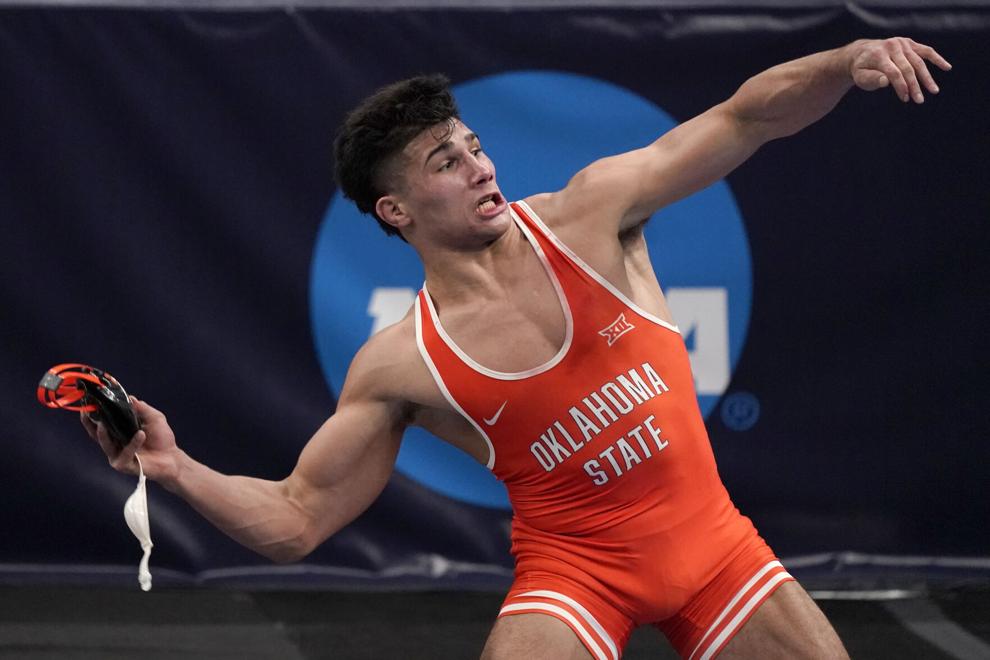 "I think he's done it in a playful way – he's not disrespectful to his opponents, he's not dancing around them or doing anything that's negative," Smith said. "I think he loves wrestling, he has fun, he has little fear and he's a young guy that's got a lot of spirit about himself.
"He talks a big game, and he shows a big game."
And in reality, Oklahoma State's newest national champion doesn't care about perception.
"I don't really give a crap whether people hate me or like me," Ferrari said. "… I'm not going to care too less about what people online are saying. It's just motivation man."
But the season wasn't completely Ferrari flexing and winning.
In fact, the Cowboy coach likened Ferrari's season arc to that of Smith's brother, Pat, the year he won his first of what would be four national championships.
"There are similarities, it took a loss I think for both Pat – who lost a few more times – but a humiliating loss for Pat and I think the same with AJ," Smith said. "It kind of just triggered an attitude that you're looking for. I think from that point forward, he really developed some skills that made the difference at the Big 12 and the NCAA championships."
Fix falls again in national championship match
Daton Fix found himself in familiar territory and with a similar result in the NCAA Division I Wrestling Championships.
The top-seeded Oklahoma State 133-pounder benefited from two late stall points in his championship match against Penn State's Roman Bravo-Young to force overtime.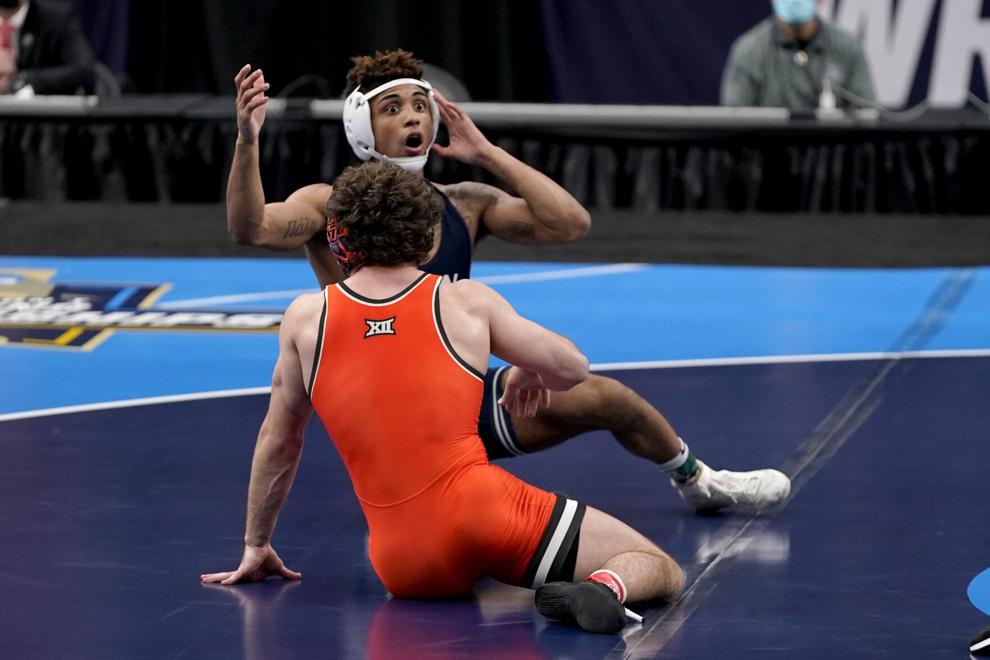 But Fix finished the same way he did in the 2019 championship match – under his opponent in the sudden victory period. Bravo-Young landed a takedown of Fix with less than 20 seconds remaining in the first overtime period to lock the Sand Springs out of a national title once again.
"He had a really tough semifinal, and obviously a tough final match with getting ridden out in the second period," Smith said. "It took a lot out of him."
While the season didn't end the way Fix would have liked – again – Smith was also quick to point out that that it hasn't been a normal process to this point for his sophomore leader.
Fix took an Olympic redshirt last season and then was issued a one-year USADA suspension for unknowingly having a banned substance in his system. So he ended up going 23 months between wrestling in a college setting, and had only wrestled six matches from the end of his suspension to the start of the postseason.
"I feel like he's not real seasoned," Smith said. "… Just felt like his top and bottom was a little behind. There's no fault in what he did, just maybe needed a few more battles during the year that he didn't get through our conference – the weight class didn't really offer enough battles for him really preparing for this tournament."
Cowboys go from afterthought to trophy winners
In the final NWCA Coaches Poll at the end of the regular season, Oklahoma State was viewed as a contender for just finishing in the top 10 at the NCAA tournament.
Picked sixth in the coaches poll, the NCAA selection committee agreed in part by the way the seeding rolled out. Only three Cowboys were expected to reach All-American status.
Instead, Oklahoma State ended up with six All-Americans and claimed the third-place trophy in the team race with 99.5 points – behind champion Iowa (129) and runner-up Penn State (113.5), but well clear of Arizona State in fourth with 74 points.
"I think it's important to bring home a trophy," Smith said. "I think when we realized in February that we had injuries that was going to force us to fight to stay alive. For us, staying alive is staying alive for a trophy.
"It didn't look good, but as you saw through the weekend, we had a lot of young men step up and perform well. There's a lot of storylines with this team here at this tournament, and most of those storylines are really good. I can't really think of a negative one."
One of the injured wrestlers in the lineup actually turned out to be one of the biggest storylines.
Junior Wyatt Sheets, who torn the ACL in his left knee, was a late add to the field as the No. 33 seed and ended up finishing eighth for All-American status.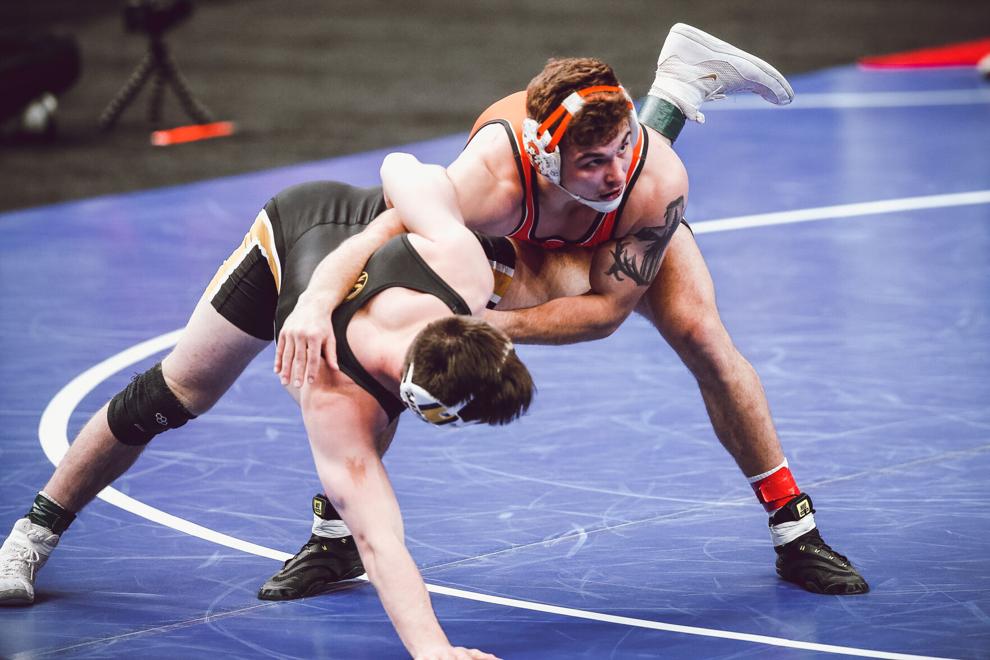 Also finishing as All-Americans were senior Boo Lewallen (fourth at 149 pounds), sophomore Travis Wittlake (fourth at 165) and senior Dakota Geer (fifth at 184).
"This gives them an opportunity to just believe that next year, I'm a better wrestler," Smith said. "'Whatever I did here this weekend, I expect more next year.' I think that's what you hope for. The experience builds them mentally to reach deeper and for higher goals."