Fifteen years ago, CJ Moore was an MLB.com intern reporting on the Colorado Rockies during their first and only season to appear in the World Series.
2007 was a uniquely momentous year for the Denver-based ball club, but game highlights aren't the only memories that stand out to Moore, now a college basketball writer for The Athletic.
He also witnessed how left fielder Matt Holliday's 3-year-old son, Jackson, became a popular guy in the clubhouse because of his precocious baseball skills.
"I just remember all of the players would take turns pitching to him, and it was just pretty incredible to watch how well he could hit the ball at that young of (an) age," Moore said. "Especially now, having kids and knowing kind of when their hand-eye coordination comes, (I think) the way he could do it at 3 years old was pretty unreal."
Before Jackson was old enough for kindergarten, he had established himself as a pint-sized slugger at Coors Field.
Sunday night, at age 18, he established himself as the first player selected in the 2022 MLB Draft.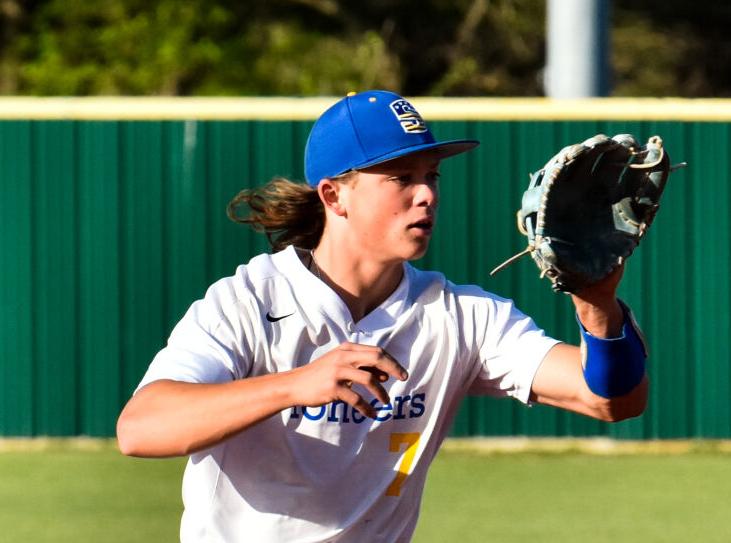 What makes someone a No. 1 pick? The question invites debate, and the answers are complex – it's human nature for opinions to vary. But you don't have to be a fly on the wall in Baltimore's draft room to understand why the Orioles were drawn to Holliday, the shortstop from Stillwater High. With Holliday's baseball history in mind, several reasons become obvious.
First, the statistics jump out. Mike Elias, the Orioles' general manager, described Holliday as a "five-tool" shortstop. Breaking down the definition of a five-tool player shows how Holliday fits into every category.
Hitting for average? As a senior, he posted an unbelievable .685 batting average. Hitting for power? He checked that box, too, with 17 home runs. His speed allowed him to rack up 30 stolen bases, and he satisfied the fourth and fifth requirements – good throwing and fielding – with only three errors throughout the season and a .980 fielding percentage.
Holliday's success also exists because of something that isn't quantifiable, a trait that doesn't fit into any of those five categories but affects all of them. Jimmy Harris, Holliday's high school coach, said it best: "He's dedicated his life to baseball."
Yes, Holliday had an early advantage. He grew up in MLB clubhouses with an all-access pass to learning about the game because of his father, Matt, a seven-time All-Star. Sons are following in their fathers' footsteps, as the MLB Draft continued to show us when the Arizona Diamondbacks selected Druw Jones, the son of 10-time Gold Glove honoree Andruw Jones, with the second pick.
The family legacy didn't mean Holliday would magically hear his name at the beginning of the MLB Draft. He had to decide to be invested in the game. He had to work. He had to want this.
From the age of 3, he did. After the Orioles selected Holliday, Denver-based sports producer/photojournalist Jeff Howe shared a video on Twitter of Holliday – then a toddler dressed like a miniature man in a white polo shirt and cargo shorts – throwing the ball to his dad, swinging a bat and rounding the bases. The shaggy-haired, rosy-cheeked toddler had skills.
It makes me smile to see a kid enjoying baseball so much, especially knowing where that love for the game would take him. My claim to fame as a toddler was memorizing the names of players featured in a deck of All-Century baseball cards, but I have to admit that doesn't hold a candle to Holliday's wunderkind ways.
He not only knew the names of the greats, but also had a knack for imitating their batting stances.
"I think he would do David Ortiz," Moore said. "And then I want to say Jeff Bagwell too, because I think Bagwell kind of had a funny stance, and he could do his. I think there were more than that, but those are the couple that come to mind."
The legend of Jackson Holliday grew. In a recent column, Benjamin Hochman of the St. Louis Post-Dispatch reflected on the time he learned about Holliday's talent. Hochman arrived in Denver in 2007 to cover the NBA's Nuggets for the Denver Post, but he was hearing stories of a promising 3-year-old athlete in a different sport.
"Everyone in the media group, media corps, would occasionally bring up just how talented this young boy was at baseball, and it kind of became like a thing that people knew about," Hochman told me. "I just remember thinking, 'Wow, there must be ballplayers' kids (here) every year, but the fact that so many different people are bringing up the same kid means this kid must be pretty exceptional.'"
Hochman and Moore discovered what the sports world now knows: it's rare to meet a kid with Holliday's baseball aptitude. Combine that with his genuine passion for the game, and that's how he engineered a young career that made scouts see his sky-high potential.
As a senior, he took online classes, arranging his schedule so he could work on his craft and train with his dad, continuing those bonding moments they had when Matt played in the majors.
Hochman credited Matt and Leslee Holliday for nurturing their eldest son's love of the game and pointed out that not every MLB player's kid grows into a superstar on the diamond.
"Clearly, whatever Matt and Leslee did and the other family members did, it was the perfect amount of motivation, teaching, but also letting the kid grow into the game himself because he didn't burn out," Hochman said.
Throughout his childhood, Holliday also paid attention to role models outside his family, from third baseman Nolan Arenado to fellow shortstop Derek Jeter.
One night before the premier of the seven-part ESPN documentary detailing Jeter's celebrated career, Holliday took a step into realizing his own major-league dreams when the Orioles picked him.
Someday, far into Holliday's career, perhaps people will look back at his Stillwater High School days with the same nostalgic incredulity they have when they see footage of him swinging the bat at age 3.
He had an unparalleled senior season – I will remember sitting on the Couch Park bleachers and witnessing moments such as when he hit not one, not two, but three home runs to fuel a tremendous comeback win against Tulsa Union.
It's Holliday's story, a true account that inspires awe as if it's a tall tale, and those of us who write about baseball are honored to simply sit in the background and document it.
Hallie Hart is a sports reporter for the Stillwater News Press. She can be reached at hhart@stwnewspress.com.