Oklahoma State quarterback Spencer Sanders was deemed the hero the Cowboys needed in the aftermath of their 20-14 win against Iowa State in Week 10.
It was a come-from-behind victory that was fueled by the redshirt senior taking over the offense in the waning moments of the third quarter, an impromptu return after missing the seven quarters of football prior with a lingering shoulder injury.
While his late-game heroics helped Boone Pickens Stadium to deafening roars – going 9 of 13 for 84 yards and a touchdown – his absence leading up to that moment was just as loud and just as important as his resurgence.
"I'm proud of those guys that got to play. Gunnar and Garret, they played well," Sanders said following the win over the Cyclones. "Let's not discredit that."
True freshman Garret Rangel and redshirt freshman Gunnar Gundy both took advantage of the opportunities that Sanders left behind in against Kansas State, Kansas and Iowa State.
After Sanders' injury, Gundy played the final few minutes against the Wildcats. But they both made their first collegiate starts, with Rangel getting the nod against the Jayhawks and Gundy doing so against the Cyclones.
"These young quarterbacks are getting really good experience," Cowboys coach Mike Gundy said. "Rangel got to play on the road and got to play with a minimal attack on the perimeter. … Gunnar got to play in a live situation with some of the same issues but against a very, very, very good defense."
Rangel's start came on the backend of a two-game losing streak, an uncharacteristic skid for a program that hasn't lost back-to-back games since 2019. With Kansas scoring early and scoring often, Mike Gundy and Co. got a good look at what Rangel had to offer.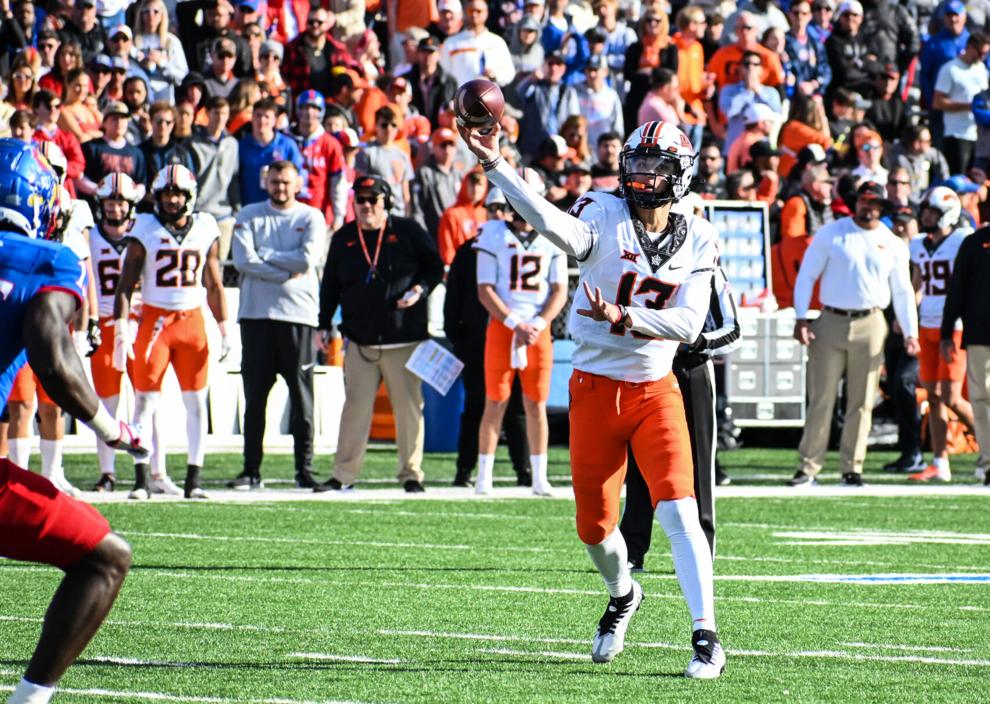 A native of Frisco, Texas, Rangel went 27 of 40 (67.5 percent) for 304 yards with two touchdowns and three interceptions. With the Cowboys forced into a pass-heavy offense, Rangel attempted the fourth-most passes by an OSU quarterback this season, with Sanders' season-high (57) coming during the Week 7 win over Texas.
"I think we put him in a bad position," OSU offensive coordinator Kasey Dunn said after the loss to Kansas. "We just didn't really help him out a lot. … I think he's gonna be a great player here for us, and that was just a tough start for him."
"I liked what he did," Mike Gundy said while previewing Iowa State. "I like how he threw the ball, and what I like is he competed. I thought that was important. Gonna make mistakes. That's just the way it is when you're a freshman."
Mike Gundy evaluated Gunnar, his son, too. Gunnar Gundy went 5 of 12 for 103 yards with a touchdown and two interceptions against the Cyclones.
While the offense collectively struggled, he put a deep pass on a dime to wideout John Paul Richardson, who outran two defenders on his way to the end zone for an 83-yard touchdown. It was the lone bright spot of the Cowboys' offense until Sanders' arrival.
"Gunnar made some plays. There's a couple times he could've progressed a little bit further in his reads," Mike Gundy said Monday afternoon. "We gotta call it like it is, they had pressure on him in the first quarter. … When you're young and there's pressure on you, sometimes your reads go faster."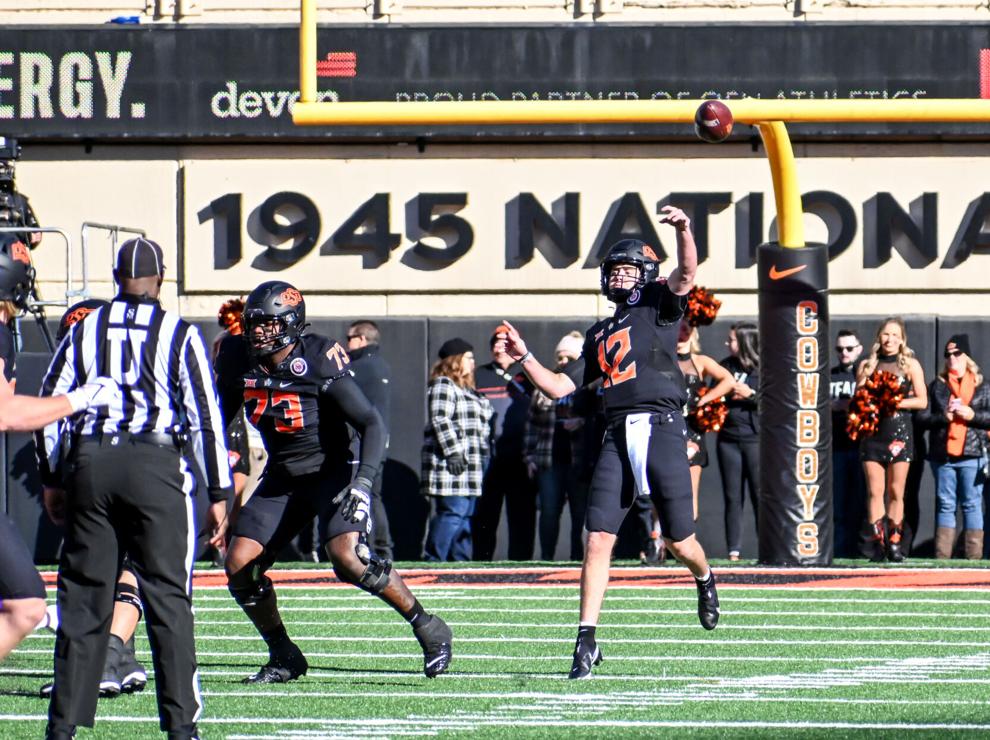 But overall, Mike Gundy thought Gunnar played well against a defense that entered Saturday afternoon as 10th in the country. Gunnar's only real mistake, Mike Gundy said, was his second interception, which was a result of a forced pass down the sideline on third-and-long.
"Whether it's him or any other young quarterback, you can't do that at this level," Mike Gundy said. "It's OK to throw the ball away and punt. You can't pull plays like that off at this level like you did in high school. Those are learning curves."
Mike Gundy doesn't have some special regimen for Sanders to heal any quicker. He and his staff aren't going to do something different that would immediately make him ready to go against the Sooners.
In fact, they'll do as they've done every game since the win over Texas Tech on Oct. 8
"We're gonna have to treat him the same way we've treated him the last five weeks," Mike Gundy said. "It'd be good to get him in there and let him play. But, yes, he's the one making the decisions on whether he's playing or not."
And if that's the case, expect No. 3 to trot out there in what could possibly be his last game in the coveted series. He was even sure of it after leading the comeback win over Iowa State.
"I'm playing next week," Sanders said. "Ain't no question about it. You can count me in."
Follow News Press sports reporter Jon Walker on Twitter @ByJonWalker for updates on Oklahoma State athletics.