Donnie Hoffman has been the Ripley High baseball coach for 27 years, and he's won a lot of games and appeared in seven state tournaments.
But, one of his proudest moment was watching his son, Kaleb, accomplish the ultimate feat for a high school coach this fall. To make it even more special, Donnie was in the dugout with the Ripley fast-pitch softball team when it won the first-ever state championship for any girls' sport at the school that Kaleb graduated from in 2010.
"I'm really, really proud of him," Donnie said. "Coach (Eric) Castle over at Leedey is a good friend of mine who's won many state championships in softball, and he said, 'Nice guys don't always finish last.' I told him the same thing about Kaleb. He tries to run his program right, make his girls act right and have a philosophy that he believes in, to see him do an excellent job with his team and with his girls is a proud moment. I couldn't be more excited for him with the success he's worked really hard to do it right.
"… When he asked me to help him the last couple of weeks and be in the dugout to where he could bounce a couple of ideas off me, I laughed at him and told him, 'You need me around like you need a hole in your head.' But, he appreciated me being there and I appreciated getting to be there. I told him it may have been easier in the dugout than outside the fence watching. It was a thrill to get to be in the dugout with him going through that and to watch him and his girls be successful. … It was a dream come true to get to do that."
Donnie watched his son coach the Lady Warriors to a 6-4 victory over Binger-Oney at the USA Softball Hall of Fame Complex in Oklahoma City. The father and son shared a long hug after the historical win.
For Kaleb, it was a dream come true in his team's third-straight fast-pitch state tournament, and it earned him the honor the Stillwater News Press All-Area Softball coach of the year for the second time in three years. Kaleb was very thankful for the award, but he credited his father and longtime Ripley basketball and track coach Doug Scott for teaching him the way to coach a group of athletes.
"I've been so blessed my entire life from the time I was 4 years to be around my dad and coach Scott, and watch the way they coached and the way they managed teams," Kaleb said. "It's to have a high expectation for the kids, not just athletically, but also in moral and character, because I don't believe you'll be successful as far as wins and losses if you don't have high expectations for your team and hold them to a high standard in their character and morals, as well.
"Being around my dad and Coach Scott and the way they've orchestrated their programs and built their programs, it's had the largest influence on me and my coaching career."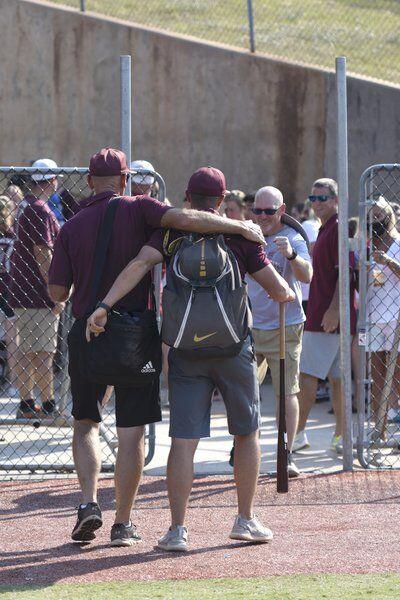 Kaleb said the school's administration and his assistant coaches were key to the success he's had. He said he can't thank them enough.
Kaleb came back to his alma mater to begin the 2015-16 school year, and has been coaching the Lady Warriors since that fall. His first season was a rough one as the Lady Warriors won four games – an improvement of three from the previous year.
The 2016 season saw the uptick of the program as it won 14 games. In 2017, the Lady Warriors went 20-14, were district champs and won a game in the regional tournament.
"At that time, it was just a dream," Kaleb said of winning a state title. "We just wanted to get better every day. The first couple years I was back at Ripley, we were talking about the teams that were competing to even go to the state tournament, let alone win a state championship, and telling our kids that's the level we're trying to get to. We were trying to get our program to where we were a perennial state tournament team. … Obviously, we were able to get to that point."
The program really took over in the spring when the slow-pitch softball team earned a state tournament berth. That spilled over into the fall fast-pitch campaign, where Ripley advanced to its first state tournament since 2004 and first under Kaleb's leadership.
"It was huge," Kaleb said. "The first time that we went, which was four years ago, we had gotten beat in the regional finals the year before, and that was when we started feeling like we were playing well enough we could make the state tournament. To finally get in that spring and really knock the door in, I think that's when our kids started looking around and saying, you know what, the state tournament should really be our expectation."
Ripley came one win shy of a state title as it lost in the championship game, 5-2, to Amber-Pocasset. Last year, Ripley lost in the first round of the state tournament.
This year's returning players, and incoming freshmen, were motivated by the past two experiences. They had one simple goal this fall, and they achieved it with three victories in three days at state.
"I think both losses motivated us," Hoffman said. "The year we got beat in the finals, I think if you would have told us going into the year that we'd get beat in the state championship game, we wouldn't necessarily expected that. It wasn't that we didn't know we were a good team, we just hadn't been to that point yet in our program. Last year, when we got beat in the first round, that was honestly probably more of a shock to us than going to the final the year before. Our kids gained valuable experience in those first two trips and you could just tell they had the mindset of unfinished business this year. They just wanted to get over the hump."
At the state tournament, the Lady Warriors overcame an early deficit in the opener to beat Mooreland, 9-1. In the semifinals, they again found themselves trailing, but rallied late and beat Sterling, which knocked off Morrison the day before, 5-4.
After playing from behind the first two days, Ripley grabbed a 2-0 lead in the first inning of the title game. The Lady Warriors had to fight off a late rally by Binger-Oney to win the championship.
"Obviously, the way we ended the season was really impressive," Kaleb said. "When you look at our season as a whole, going 40-5 and playing the competition that we did – teams in all classes – we played a very rigorous schedule. The one thing I can say about our team is we didn't just play well the last week of the season, but we really put it together for eight weeks. Our kids had a great focus about them and a great mindset. You could tell we'd been to the state tournament the last couple of years and fallen short. I think they were just really focused, had a goal and worked hard to compete at a high level every day so they'd have a chance to achieve that goal.
"It wasn't just about this group of kids that were on the field this year," he added. "It was a dedication to the great players that had come through the years before that put our program at an area where we had an opportunity to compete for the state championship. It wasn't just one year in the making."