Stillwater High graduate Dewi Blose significantly dropped her times in two events at what wasn't supposed to be her last swim meet of the year.
Blose was set to finish her sophomore season in Athens, Georgia, this week.
Her second year at the University of Kansas came to an abrupt end Thursday.
The NCAA canceled all winter championships, triggering the first big closure of sporting events as a measure to slow down the spread of the novel coronavirus.
Canceling the NCAA men's basketball tournament – better known as March Madness – sent shockwaves around the country. But, for Blose, it was the NCAA swimming championships that she was most looking forward to this month.
"My coach talked to me before everything happened and asked my opinion on it and if I was still comfortable going, because he wanted whatever was best for me and to stay safe," Blose said. "I had an idea before it actually got released, so I had a bit of warning before I heard about it.
"Then my coach said KU was banning all athletic travel, so I knew I wasn't going before there actually was no meet. It would be a great opportunity, but I don't know if it's worth it to get sick."
Blose qualified for the national championships for the first time after an incredible Big 12 Championship meet. She was going to be the lone KU representative at the meet.
"It was very exciting," KU coach Clark Campbell said. "You kind of have an idea of what will make it when the entries are due, because they put out a pre-selection list. We knew she was on the bubble, but on the good side of the bubble, which is always nice when that happens. When it became official, we were all extremely excited for her."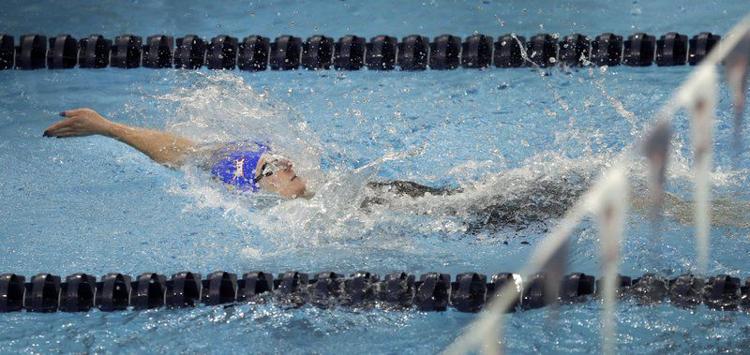 The SHS graduate, who ended her prep career with four gold medals and a fourth team state title, was set to compete in the 100-yard and 200-yard backstroke races at the NCAA meet.
Now, she won't get the opportunity to race amongst the best in the country. Yet, she is taking a positive approach to an announcement that's been tough for athletes.
"It is disappointing, but it's nice to know I did qualify for the meet and I'll always have those times," Blose said. "I'm just looking forward to next year and hopefully qualifying again.
"I wasn't expecting to go to NCAAs in the first place. So, I wasn't too wrecked about planning on it all year, making it and then not being able to go."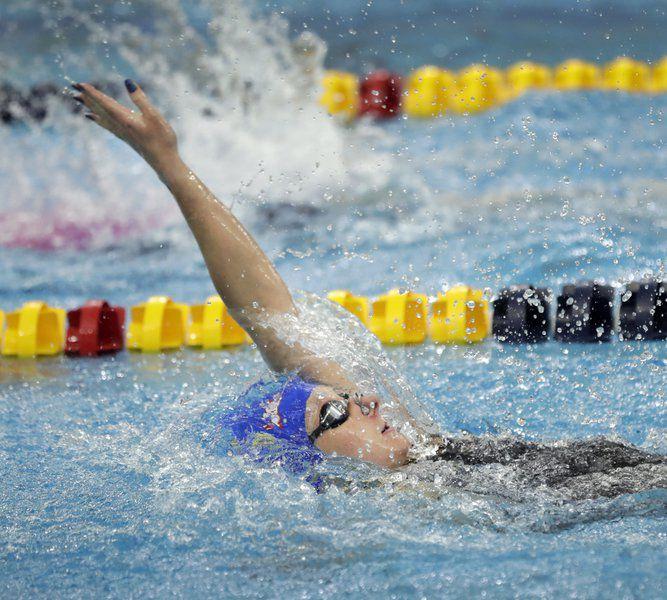 When she headed to Morgantown, West Virginia, to compete at the Big 12 Championships the last week of February, Blose wasn't thinking about the NCAA meet in March. She just wanted to swim her fastest times.
That's exactly what she did, helping the KU women's team to a second-place finish behind powerhouse Texas.
On the third day of the event, Blose entered the 100-yard backstroke prelims with the seventh-best time. In the prelims, she dropped two seconds off her seed time and finished fourth in a time of 53.02 seconds.
Later that night, she improved her personal-best time again and slid up one spot ahead of one of her teammates. Her time of 52.44 seconds was good enough for a third-place finish and bronze medal.
"In the morning, I dropped more time than I expected to, so I was a little bit nervous going into finals that I wasn't going to be able to drop more time. Then, whenever I finished and looked up at the board, saw my time and looked my coach – he looked pretty optimistic about my time being good enough for the NCAAs. It was very exciting."
Despite swimming her fastest time ever, Blose had a mild reaction in the pool after her time was displayed.
"I smiled and looked over at my team," Blose said. "They were all very excited for me."
On the final day of competition, Blose entered the 200-yard backstroke with the fifth-fastest seed time, but once again dropped a lot of time in the prelims. She dropped more than two seconds and finished third in the morning race.
The 200 backstroke finals kicked off the last session later that night. Blose once again shined, dropping nearly two seconds again, finishing runner-up in the race in a time of 1:54.61. She set a personal best by four seconds that day.
"As I was swimming, I felt really tired and knew it hurt way more than it did in the morning, so I thought there was no way I was going to beat my time," Blose said. "Then, I took my last turn and I saw I was hanging with some of the other girls that went really fast that morning, so I said, 'OK, I can do this.' So, I just kicked out underwater, powered through the wall and finished."
It was that final 25 meters that drew the attention of the TV announcer on the Big 12 Now network. The announcer was impressed with Blose's finish.
Blose trailed Texas' Evie Pfeifer by 0.25 seconds, but she used her dolphin kick off the final wall and stayed underwater until she passed Pfeifer. Blose edged her at the finish by 0.19 for the silver medal.
"I'd say my dolphin kick is what helps me swim that fast," Blose said. "If I didn't have that, I definitely would not have gotten that time. We worked on it a lot this season, and it definitely paid off big."
Her coach was also impressed by Blose's finish.
"That was awesome," Campbell said. "Talking to her after it was over was really interesting. Dewi is pretty low key. She said when she was underwater, she looked over and said, 'Yeah, I can catch her.' By gosh, she did. When you're in her sights and she's in the mood to mow you down, there's not much that can help you."
Blose's dolphin kick is a weapon in her arsenal, and it's something that continues to get better as she improves.
"We knew when we were recruiting her that she had that and we've really been working hard on it," Campbell said. "The underwater dolphin kick is such a huge part of college swimming. She's getting better and better at it as she gets older. We're still working on it, but she's definitely capitalizing on it right now."
That type of improvement has been what's impressed Campbell. He's seen that over the past year after what he and Blose called a tough freshman year for her.
After she graduated from SHS in 2018, Blose moved to Lawrence, Kansas, and began what KU calls it's "Summer Bridge Program," which helps incoming freshmen become adjusted to college life while being on campus.
Yet, there was still plenty of adjustments to make swimming at a Big 12 school coming from the high school environment. Campbell said Blose was getting used to a full load of classes, a full load of swimming, traveling all around and the team's weight program. He said her life took a 180-degree turn and that took time.
"She was just more comfortable with the work load," Campbell said. "I think that was the biggest thing I saw. The weight room was a big switch for her. Our lifting program is very swimming specific, so it's really different. It's not like your typical lifting routine. It's very specific to what we do, and it takes a while to get used to and she got used to the training."
Blose admitted the weight program was maybe the biggest adjustment. She went from no weight lifting in high school to attending a program at 6 p.m. every Monday, Wednesday and Friday at KU.
"Last year was definitely pretty rough for me," Blose said. "I hated weights, I absolutely hated it waking up early every other morning. But, this year, I've become stronger in the weight room and more optimistic, I guess, since I've been able to lift more, it pays off in the pool. So, it's helped my attitude."
Blose said her swimming last year was rough. It got off to a rocky start and she didn't do as well as she wanted in her inaugural season as a Jayhawk.
Instead of letting it get her down, Blose kept working hard and adjusted to life as a Div. I swimmer with a business management major. The often quiet Blose also began bonding with her teammates better this year.
"There is definitely a learning curve," Blose said. "Some people handle it better than others. You just have to kind of be relaxed and handle whatever is thrown your way.
"This year, I've become more of myself around my teammates. I've gotten to know them better and they've accepted me for who I am and how I act around the pool and the water. I've had more fun and been more relaxed this year. I'm not as reserved outside of the pool as I was last year."
All of that combined helped Blose have a successful sophomore campaign. It also took some learning from her coach.
"I actually think I helped her better as a coach, because I had a longer time to figure her out," Campbell said. "There are some things that she does really well, and there are other things she doesn't, so we made sure we were going to her strengths."
One thing he learned is having Blose compete less in her best event was better for her in the long run. He did admit it's not too uncommon.
"She actually raced less backstroke this year," Campbell said. "Doing a lot of backstroke does not help her. The less backstroke she does, the better she does. It's crazy. I've seen some athletes like that over my coaching career, but you have to kind of figure them out. Now, we got it down pretty well where we know the right proportions of how much she should be doing of certain things."
That resulted in her having an outstanding Big 12 meet, which qualified her for the NCAA meet. Now, her future is unknown as sports have been shut down everywhere.
Blose wants to swim at the Olympic Trials, which are set for late June in Omaha, Nebraska. The qualifying time standard in the 100 backstroke is 1:02.69, but it must be completed in a 50-meter pool, instead of the traditional 25-yard pool where she's used to competing.
For now, she's just waiting to get back into the pool and begin training again, whether for the Olympic Trials or her junior season in Lawrence.