Gage Gundy wanted to skip the haircut.
As the youngest of three boys, Gage was accustomed to mirroring his brothers and dad, who regularly went to the barber to maintain their short, spiky hairstyles. Several years before Oklahoma State football coach Mike Gundy debuted his mullet, the quartet of Gundy guys matched until Gage was the spontaneous little trendsetter who strayed from the family routine.
Gage's mom, Kristen, said he was probably in second or third grade when, while older brothers Gavin and Gunnar were ready for their appointments, Gage suddenly proclaimed he didn't want a haircut.
"What's wrong?" Kristen asked, but nothing was bothering him. He had simply made an independent decision, and he stood by it, refusing to get a haircut time after time when his brothers cooperated.
Kristen didn't know why Gage had abandoned the low-maintenance style, and then one day, in the car, oldest son Gavin put everything in perspective: "Mom, it's just hair."
It might have been a trivial matter, but through the years, his signature shaggy hairstyle has endeared itself to the Gundy family, becoming one of several defining traits that differentiates Gage from his brothers and reflects his laid-back personality.
"He's been that way always, and I've always teased that he was my '70s child," Kristen said. "He's just a free spirit, and his hair kind of goes right along with it."
Gage, the starting quarterback on Stillwater's playoff-ready football team, is now an easygoing, outdoorsy, strong-willed high school junior. The youngest and tallest Gundy carries himself with a cool confidence, not shy to speak with candor or question convention. Middle brother Gunnar said Gage doesn't want to follow everyone else. But when he has an idea that interests him, he sticks to it and devotes himself completely to it.
That's how he is elevating his football career.
Growing up in a family of quarterbacks didn't mean Gage had to commit himself to sports. Focusing on football had to be something he was compelled to do, much like his on-a-whim idea to grow his hair. Once he decided to fully immerse himself into the rigorous lifestyle of a disciplined quarterback, no one could stop him.
"With Gage, he's changed dramatically," Mike said. "And when I say dramatically, I mean big time, really in the last year. He's always played football, he's always played baseball and then he's an outdoorsman. But about a year ago or maybe a little more, his mental makeup and his willingness to work changed 100 percent completely."
His transformation has allowed him to lead the Pioneers through high-stakes situations.
Gage launched a deep pass to sophomore receiver Heston Thompson on a fade route to defeat Mustang in the final minute on fourth down. He lifted Stillwater to a double-overtime victory at Deer Creek. And now, he is preparing for his first playoff appearance when Stillwater hosts Booker T. Washington at 7 p.m. Friday.
It's a lot of pressure for a first-year quarterback, but Gage embraces his role.
Risk and reward
Stillwater coach Tucker Barnard zoomed into the photograph from the Pioneers' thrilling win against district foe Deer Creek.
In the snapshot, Gage was breaking away for a long run, tightly gripping the football in his right hand with Antlers defenders behind him. On the final drive of a double-overtime game, it could have been a panic-inducing moment for anyone, but if nervousness was beginning to creep into Gage's mind, his face completely masked it.
His eyes weren't wide with uneasiness. He didn't grimace with anxiety.
Instead, Gage wore a stolid expression as if he were casually jogging on the field during a midweek practice. After noticing how The Oklahoman's Sarah Phipps had captured the quarterback's demeanor in one picture, Barnard had to pass it on to his fellow coaches.
"I was like, 'Is there anything more Gage than that?'" Barnard said. "It's just calm, cool, 'Nothing's gonna get me too riled up.'"
Throughout the season, Gage has maintained composure during tense moments, not letting unpredictable changes in a game rattle him. This is how he sets an example for his teammates.
"If you stay calm, everybody sees that I'm calm, so then everybody's just like, 'All right, it's fine,'" Gage said. "But if they see that I'm worked up, then it's not gonna be good."
Gage's poise traces back to his experience playing numerous pressure-packed games on travel football and baseball teams as a kid, his dad said. It's also an innate part of his personality, something no one can magically create.
In the Gundy family, it's a trait unique to Gage.
By contrast, Gavin said he can get nervous easily, and Gunnar, who steered the Pioneers to back-to-back state championship appearances, took a strikingly different approach to his quarterback responsibilities than Gage does. Gunnar is analytical, meticulous, concerned with the minutiae of the game.
Gage studies, too, but his energy is more relaxed. Gunnar said he thinks there are benefits to both strategies.
"Watching him do that, I've been very, very proud of him to just naturally have that attribute," Gunnar said. "Because that's hard for a lot of people, especially when it's your first year playing, so I think he's really developed that naturally."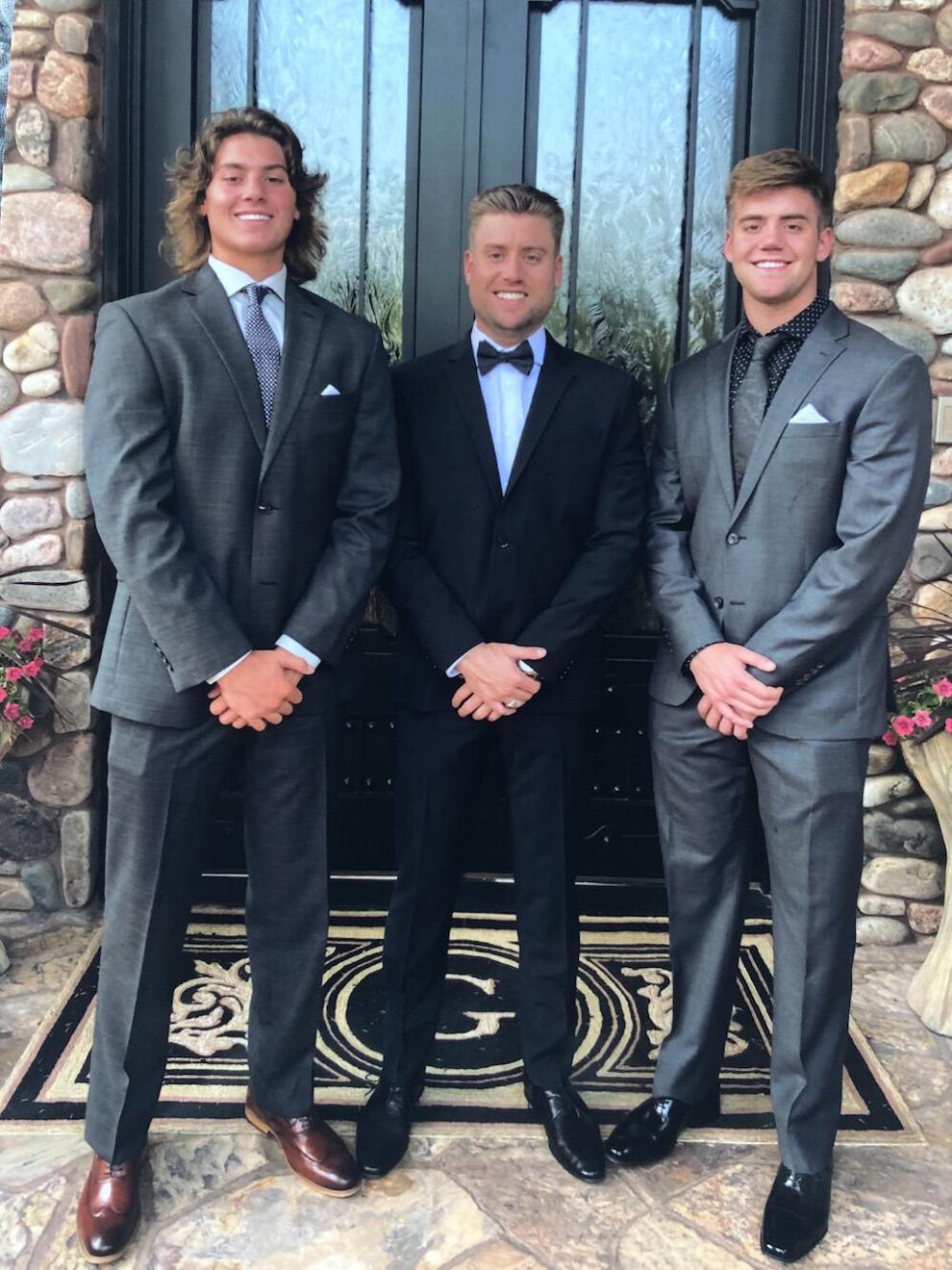 Gage had that same attitude when he spent more time roaming around his family's ponds than throwing passes on a football field. All three Gundy sons were active in sports from the time they were young children, but unlike Gunnar, Gage's attention bounced from football to other activities.
"Gage was more all over the place," Kristen said. "If it was football time, great. If it was baseball time, great. If it was hunting time, great. He just kind of popped into each thing when it was time."
Often, Gage's free spirit led him outdoors, where he was content with fishing and hunting and spending time with friends. If one of Kristen's sons could help her stay alive on a deserted island, or perhaps even succeed on the TV show "Survivor," it would be Gage, she said.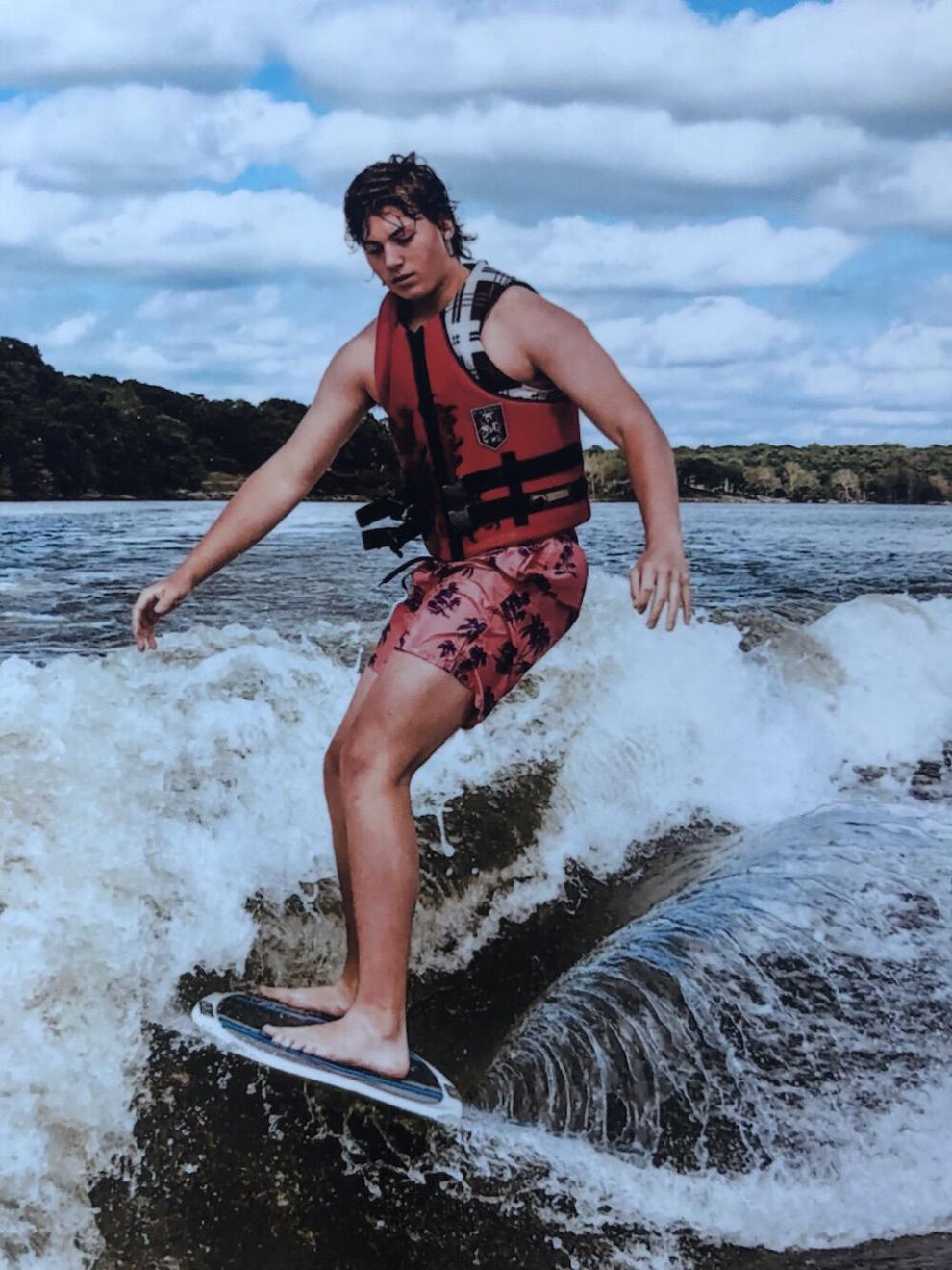 His adaptable, survivor-man mentality accompanies his headstrong outspokenness, creating an often-entertaining combination for the Gundys. Kristen referred to Gage as a firecracker. Gavin said his youngest brother is a jokester who enjoys pranking Kristen, often jumping out from behind doors to scare her as if he's making his best attempt at an "America's Funniest Home Videos" clip.
Gage, meanwhile, rarely succumbs to fear. Kristen remembered a time when he was around 10 or 11 years old, and, after a couple of days of going hunting but finding no doves, he spotted one outside his bedroom window. Suddenly, Gage got into the Gundys' safe, grabbed a shotgun, opened his upstairs window and shot the dove before Kristen, who was busy preparing Gage's food in the kitchen, could stop him.
"I was livid," Kristen said.
After she reprimanded him and declared there would be no more hunting, Gage explained that he had carefully followed the safety tips he learned from his dad and grandpa, holding the gun properly and checking to ensure none of the family dogs were in the way. As Gage has matured significantly since then, Kristen has come to view that once-terrifying moment as a representation of his personality.
He's a risk-taker, but his risks are calculated. He doesn't mind bending the rules sometimes, yet he also cares about following them.
With a balance of boldness and caution, Gage can thrive on the football field.
A sudden change
Gage Gundy paused for a few seconds to ponder the question.
Is there anything that makes you not calm?
It might be difficult for some people to imagine something that shakes Gage out of his steadiness, but soon, he had an answer.
"Being late to places," Gage said. "I freak out."
Gage needs to take time with his pregame routine. Running through it with haste makes him feel uneasy, he explained. Once, on the way to a scrimmage in Norman, the Pioneers' bus got caught in traffic, giving Gage and his teammates only about half an hour to prepare and five minutes to warm up.
Gage had no way to control the situation, so he said he tried to stay positive. Then, with a grin, he admitted: "It got under my skin a little bit."
Although Gage has no power to resolve traffic jams, in many situations, he can make choices that directly influence his mentality. He realizes this, so on game days, he usually arrives at the field two-and-a-half hours early. His teammates might not be there yet, but he doesn't mind.
If he has plenty of time, then he can stay calm.
Since Gage increased his focus on football, most of his days are built around a stringent schedule. He goes to school, heads to football practice, does extra workouts and studies film. Kristen said he might not arrive home until 8 or 8:30 on a typical weeknight because he's busy working on his craft.
"I'm really proud of what he chooses to do," Kristen said. "No one tells him to do that, and that's all on him."
When Caleb Allen graduated and Gage knew he was next in line for the starting spot, something shifted in his mindset. He absorbed as much knowledge as he could from Gunnar, who is now a member of the Cowboy football team. Gage also took inspiration from professional quarterbacks, including Seattle's Russell Wilson, his favorite.
"I felt like I needed to be ready and have more knowledge for this season, so I felt like I needed to start doing more," Gage said. "I started watching a lot of videos and stuff on NFL quarterbacks and what they do."
Those videos involve not only film breakdowns, but also discussions about topics such as healthy diets and sleep patterns, everyday habits that can greatly impact a quarterback's effectiveness.
Gavin, who has watched his little brother grow from a rough-and-tumble toddler into a driven high school athlete, said Gage's intense focus on football has surprised him. Gavin wondered if Gage would lose interest by the time he was in high school, but instead, his love for the sport grew. Gage, who doesn't usually spend his free time poring over books, is now enthralled with reading anything that can help him learn how to pattern himself after successful quarterbacks.
His self-motivation is strong, and Gage's family knows how far his stubbornness carries him. Once, Gunnar watched his younger brother spend hours lugging branches across the ground and stacking them by a pond near the Gundys' house. Sometimes, Gage's friends pitched in. Gunnar was baffled, but he knew better than to tell Gage his mystery project was silly. That wouldn't stop him.
After a couple of weeks, Gunnar realized an enormous, 10-foot structure had taken shape by the pond. Gage had constructed a duck blind for hunting.
"If he finds anything that he wants to do, he's gonna do it the right way and do it for as long as it takes," Gunnar said. "And I think that's transferred over to his game in baseball and football."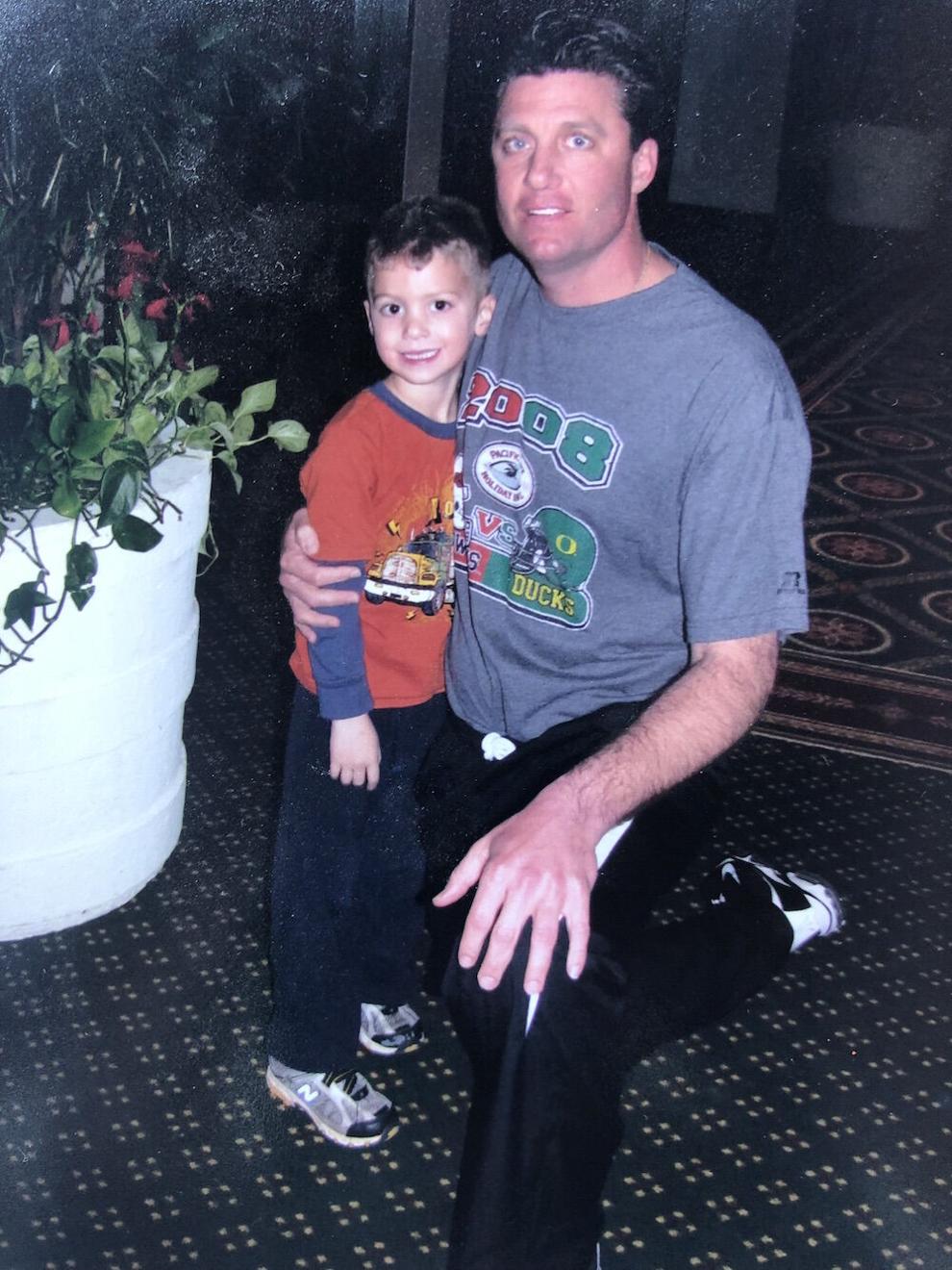 Choosing his path
Mike Gundy realizes Gage's free time is limited during football season.
As a Division I coach and a former quarterback, Mike can relate, but he's still adjusting to Gage's packed schedule. At one time, Gage was waking up early to train before school, and Mike, aware of how important it is for teenagers to get enough sleep, wasn't sure it was a good idea.
So Gage flipped his routine, working out late at night instead of in the morning. On a recent weeknight, Mike planned to eat dinner with his youngest son, but Gage and center JaKobe Sanders were still weightlifting at 9:30 p.m.
Gage's dad respects his dedication. When Gage wants to learn about the intricacies of the game, Mike is happy to help, though he doesn't credit himself for Gage's progress. The ways to prepare for a football career – the quarterback drills, the weight training, the research – are steps only Gage can take.
Mike keeps in mind a piece of advice his dad gave him about raising children.
"They're gonna choose their path, and then you need to be able to support them based on whatever path they choose," Mike said. "I never really understood that until I watched the way that (Gage has) changed."
This metamorphosis was vital for Gage to successfully fill the role as starting signal-caller. Barnard pointed out that members of a team are always paying attention to the quarterback, so he has to be a tone-setter. For Gage, the idea of embracing a leadership position is clicking, Barnard said.
Teammates such as Sanders, who said Gage is like a brother to him, have also noticed his effort.
"He's stepped up a lot," Sanders said. "In the past, he was serious, but he wasn't as serious. Ever since he knew he had the starting role, he's really stepped up in his game and stepped up in working after practice and doing extra."
Gage said he thinks all of his work during the summer was worth it, and his statistics show the results of his persistence. Heading into playoffs, Gage has 1,324 passing yards for 17 touchdowns, as well as 374 rushing yards for seven touchdowns.
Gage has established himself as a dual-threat quarterback and a solid punter. His height might fool people into thinking he would be a stationary pocket-passer, but Gavin knows otherwise.
"Every time he takes off, it kind of looks like he's gonna stumble, but then he just starts striding," Gavin said. "He's pretty fast. Every time I see him take off, that's what shocks me."
Gage has evolved on and off the field, yet he's the same independent-minded, carefree kid whose one-of-a-kind character has amused the Gundy family for years. He continues to enjoy his time outdoors, sometimes taking a paddle boat on fishing expeditions with Sanders. If the boat tips – which happens sometimes – they swim to the bank carrying their fishing poles.
Mike said most of all, he is proud of Gage's compassion. He might have a mischievous side, but he also takes time to help others, driving teammates home after practice and supporting people around him who are going through struggles.
"He's a great guy, and he impresses me every single time I come back and see him," Gavin said. "I think he's gonna be really special, whether that be in sports or whatever he wants to do."
Through it all, Gage maintains his calm confidence, the energy personified in the photograph of him carrying the football at Deer Creek. In the picture, his shaggy hair sticks out from the helmet on one side, a reminder of the maverick mindset that has defined him since childhood.
Kristen is happy with it.
"It fits him perfectly," Kristen said. "And now, I would be sad if he ever cut it."