JaKobe Sanders could lead a strength training session at any time of day.
When gaps in their busy schedules align, members of the Stillwater High football team assemble in Sanders' garage – half of it has morphed into a fitness center – and tackle the strenuous workouts he creates. It doesn't matter if they start before sunrise or nearly at midnight.
Sanders' family members are accustomed to hosting guests.
Once, his mother, Keysha, awoke to hear barbells clattering in the garage at 5:45 a.m. and found her son already lifting with a few of his buddies. Another time, his older sister, Chablee, arrived at her parents' house on a Sunday afternoon to see a collection of random cars outside, all belonging to guests at Sanders' home gym.
Weekends aren't off days for Sanders, a junior center for the Pioneers. Although he is a quiet 16-year-old high school student, he takes on a different role when he's weightlifting with his teammates.
"He'll actually be the strength coach for the day when we get over there," said quarterback Gage Gundy, one of Sanders' closest friends.
It's all part of Sanders' commitment to excelling. He's preparing to compete at the next level while galvanizing his teammates into sharing his lofty goals. Sometimes, his dedication leaves his mom in awe. When she asked him why he was working out so early in the morning, he gave her a straightforward reply: there wouldn't be time after football practice, and he had to do his extra lifting sometime during the day.
"He's very serious about whatever he does," Keysha said. "It's just how he's been his entire life."
Sanders' parents set up the weightlifting equipment during the COVID-19 lockdown in 2020, fulfilling his request so he could stay active during a time when it could have been easy to abandon his routine. Growing up in a family of deep football tradition, Sanders has shaped his work habits and ambitions with inspiration from those who surround him.
Now, it's his turn to influence others.
"I went from being a young guy, a sophomore, a freshman, to being a junior and being a team captain," Sanders said. "I've been playing a long time, so now I have to turn the corner and become a leader."
Sanders, who started for the Pioneers as a freshman, doesn't have to look far to find examples. His maternal grandfather was a standout Oklahoma State running back and teammate of Terry Miller. Sanders' sister Chablee played soccer at Oral Roberts, and their father, Joe, would have walked on as a Cowboy offensive lineman if an injury hadn't disrupted his plan.
Keysha, who has shown Sanders how to be detail-oriented, always reminds him, "Iron sharpens iron," a phrase that comes from a Biblical proverb.
"That's what we've told him all of his life," Keysha said. "...He knows who the iron is that he needs to be with and to acquaint with to make himself better. And so that's exactly what he does. Iron sharpens iron. So he's getting there. It's just a matter of time."
She is one of many who recognizes and nurtures his potential.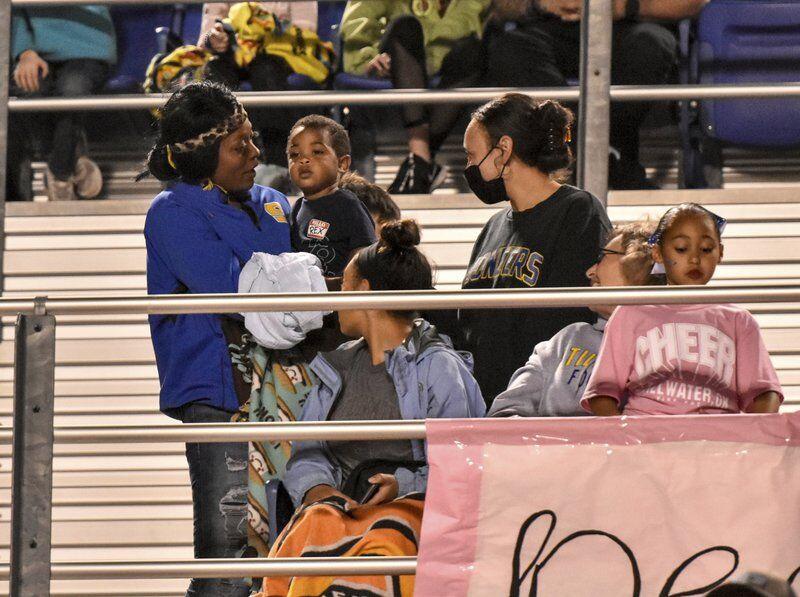 Like grandfather, like grandson
More than most people do, Robert Turner understands the value of a steady offensive line.
Robert, Sanders' grandfather, relied on the men in the trenches to bottle up defenders and create gaps for him when he was a fullback at OSU in the 1970s. He credits teammates such as All-American center Derrel Gofourth for helping him enhance the Cowboys' run game.
Forty-five years later, Robert is watching his grandson fill that ever-important center role, pancaking defensive linemen to open up creases for Pioneer rushers Noah Roberts and Holden Thompson. The traits Robert saw in his dependable Cowboy teammates have surfaced in Sanders.
"It was pretty important that they spent the time in the weight room that was needed for upper-body strength," Robert said. "And I think that's made the big difference in him, even in his performance in high school, is how strong he is."
Sanders has heard many tales from his grandfather's time on the gridiron. When reflecting on those anecdotes, Sanders immediately recalled a story from a Big Eight matchup against Colorado, one that illustrated the offensive line's significance.
"He always talks about how his O-line was getting that last final push, and he got in the end zone," Sanders said. "He broke his femur in that same game but still got in the end zone."
After playing at OSU, Robert took his career to the NFL, first with the Miami Dolphins and then with the Houston Oilers, the team that later turned into the Tennessee Titans. Now, Robert and his wife, Annette, live in Stillwater and support their grandson at every game, encouraging him and complimenting his blocking skills afterward.
It's the continuation of a longtime family football tradition rooted in Oklahoma. Sanders' grandparents met on their first day at OSU. Annette said she wasn't focused on dating football players, but Robert finally won her over during their second semester and also endeared himself to her dad, an avid fan of the game.
The family's love for sports analysis crosses through generations, strengthening the connection between Sanders and his grandparents, and their bond encompasses much more than football.
They're proud of Sanders' 4.00 GPA. Robert enjoys bass fishing with him. Annette makes sure to set aside time to eat dinner and catch up on life with Sanders, as she does with each of her other grandchildren.
She's fueled Sanders' tenacity and resilience, too. He described his grandmother in a few words: "the toughest woman I know."
In 2015, when a vehicle plowed into the crowd at OSU's Homecoming parade, Annette survived life-endangering injuries and persevered through an extensive recovery process. Sanders, then an elementary-aged child, supported his Grammy, as he calls her, the whole time.
"He's watched me through all of that, being in the hospital and having to learn everything all over again," Annette said. "But he was right there with me."
During those difficult times, the local football community rallied around Sanders' relatives. This was a natural reaction because his family is constantly immersed in Stillwater athletics, attending events not only for Sanders but also for his friends.
Sanders' grandmothers – his dad's mother and Annette – refer to themselves as "the Grammys," two faces Sanders can consistently spot in the crowd cheering him on at Pioneer football games.
Annette said she still has a T-shirt displaying the names of Sanders' first and second-grade team members, a memento from the days when the kids were learning the basics such as which direction to run.
He has come a long way since then.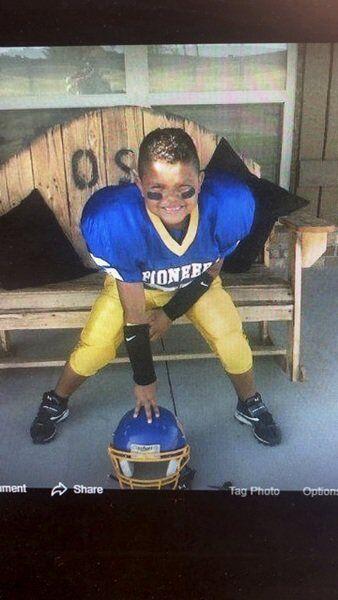 'Natural-born protector'
Keysha Sanders is sometimes baffled when she watches her son relentlessly barrel into defensive linemen and flatten them on the field.
The ruthless character he portrays during games seems to contradict everything else about his disposition. Keysha described JaKobe the son, or JaKobe the student, as tenderhearted, analytical and reserved.
Disregard his stature at 6 foot 3 and 285 pounds, and Sanders might not be the kid many people would expect to fill the role of a starting center with a whopping 31 pancakes – which he said weren't enough – on a Friday night.
"He's very quiet," Keysha said. "He's taking it in. He's listening because he wants all of the information. On the field, I don't really know where he gets that mean streak. It's unreal to me. It really is because he's not that way in person."
Sanders has been a staunch rule-follower since early childhood, Keysha said. When his family visited the zoo, he strictly adhered to every "stay off the grass" sign, even if he saw someone else briefly leave the sidewalk for a shortcut. He's a cautious driver. When his 7-year-old sister rides her bicycle, Sanders blocks off her path with cones to shield her from cars. Keysha called him "a natural-born protector."
It might appear strange for this considerate teenager to wreak havoc on opposing nose guards, but perhaps his thoughtful nature and on-field behavior aren't paradoxical at all. Instead, they might be closely intertwined; his distinct personality could be a major reason he has established himself as a star at a position that doesn't usually receive the glory of offensive skill players.
Sanders' commitment to rules translates to avoiding penalties on the field. The logical mind he uses to solve complex math problems can also come in handy when he spends hours poring over film – engineering and strength coaching are two of his potential career options.
And his protective instincts kick in when he's playing among his teammates. After snapping the ball, Sanders himself becomes a metaphorical "traffic cone," the human barrier sparing Gundy and Co. from danger.
"He takes it personal when our quarterback gets hit," offensive line coach Charlie Johnson said. "So that's kind of how all that carries over from off the field to on the field."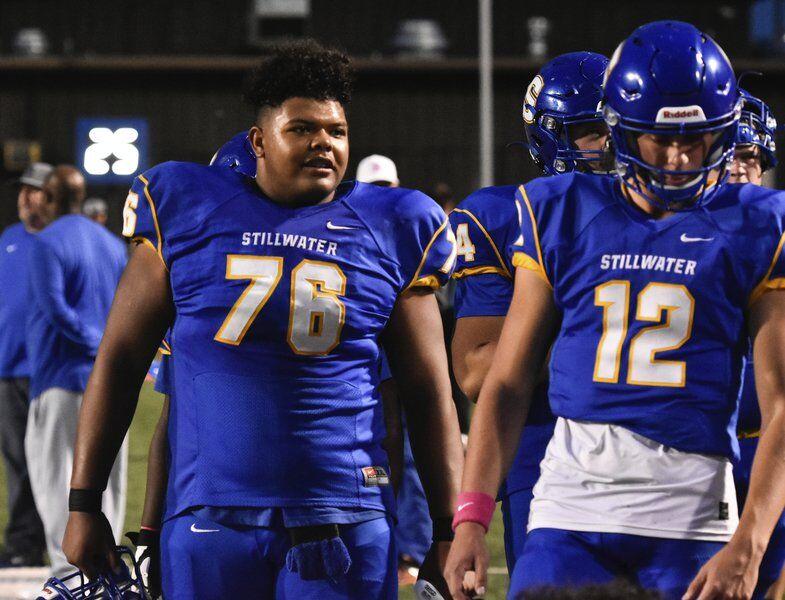 All of those qualities combine with an additional ingredient that fuels his fire in games: pure competitiveness, which runs through his family. Sunday nights at the Sanders household often revolve around fun but heated rivalries, whether everyone is playing a card game or Monopoly.
The family favorite is cornhole, and games can sometimes last until 11:30 p.m. Sanders is determined to keep dueling with his dad, Joe, tossing bean bags with the comically fierce competitiveness of clashing Jedis in a Star Wars scene.
"There is always a clear winner at our house, and that comes with lots of trash talk," Keysha said. "He knows that we're gonna love him regardless, but you totally are gonna get the trash talk if you miss something."
Outside the cornhole contests, Sanders' father is a constant advocate and mentor, teaching him about the footwork and hand placement he needs at the line of scrimmage.
Joe can share this wisdom because he played in the trenches himself, intending to walk on at OSU until a drunk driver hit him, taking away his opportunity. The accident left him with a broken hand, unable to assume a proper lineman stance. Now, Sanders is carrying on Joe's football dreams, and oldest daughter Chablee has noticed how much this means to her dad.
"Watching Kobe play, for him, is a huge thing," Chablee said. "He's always been really competitive with everything he's done, and him not being able to play in college, I know that he wants the best for my brother."
Chablee has also shaped Sanders' athletic goals. She played soccer at Oral Roberts, proving to herself she could make it on a Division I team despite standing no taller than 5 foot 2. Her brother doesn't have to worry about a height disadvantage, but he has mirrored her high effort level, sometimes even surprising her by surpassing it.
"I thought the dedication and the work ethic would be more of a struggle for him," Chablee said. "But something clicked the past couple of years, and he's dedicated himself to what he really loves. He's probably more dedicated and more disciplined and has probably a higher work ethic than I thought that I had growing up, and for me, it was really shocking to see that."
When uncontrollable circumstances disrupted his routine, Sanders took after the family example, responding with more persistence.
Establishing a trend
Stuck at home when the COVID-19 pandemic hit, Sanders approached his parents with a carefully planned wishlist.
He rattled off a list of weight training equipment and described how each item could benefit him, using scientist-like reasoning to refute his parents' concerns of making potentially frivolous purchases that would have to fit like a puzzle in the garage.
A squat rack and bench. Bumper plates for Olympic lifts. Several barbells.
"We'll see," Keysha and Joe told their son after listening to his spiel. "We'll see."
As a mom, Keysha said she's familiar with the way kids are momentarily fixated on Christmas presents only to quickly discard them, enamored with the boxes more than the gifts themselves, she said. Would her son use a home gym?
She wasn't sure, but he needed something to lift his spirits. The pandemic was preventing him from doing his usual weight training workouts, also taking a toll on his mindset.
"He was really stressed at first just because he wanted to continue to grow and be better," Chablee said. "But as soon as they got all that gym equipment, he kind of took off with it, and he just saw an opportunity to better himself."
Keysha and Joe surprised him, flipping half of the garage into a weight room, and no one ever had to worry if the investment was worth it.
During lockdown, Sanders worked alone. One day, Keysha realized how her son had changed. Sanders had dropped more than 50 pounds and added muscle, transforming from a baby-faced football player into a brawny lineman preparing for a college career, all because of the new weight room.
"Never in a million years would I have thought that he would have utilized it like he did," Keysha said.
His personal dedication started a movement. He inspired Keysha to work out, too. When the Pioneers reunited for football season and saw Sanders' metamorphosis, they bought into his methods, joining him at the home gym.
Although plenty of gyms in Stillwater have reopened, many of Sanders' friends continue to lift at his house. It builds camaraderie. They motivate one another.
"He's a trendsetter, let's put it that way," Sanders' grandpa said.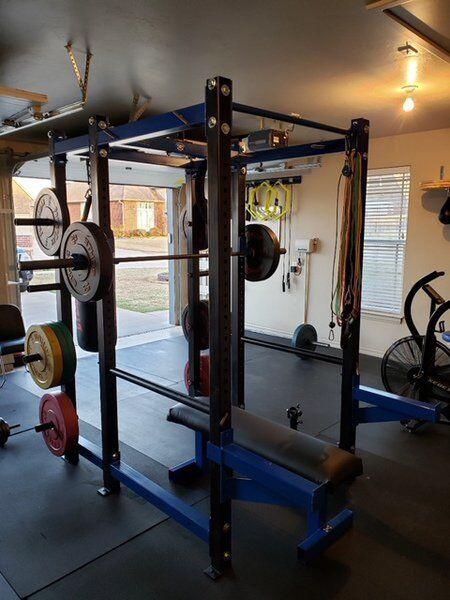 Sanders prides himself on feats of strength, setting Stillwater's squat record at 605 pounds, bench pressing 385 and clean lifting 305. His power also translates to the wrestling mat, where he has competed as a heavyweight on Stillwater's defending state champion team.
Keysha remembers how the wrestling journey started. At first, she was adamantly opposed to the idea – her son was only in second grade – but Joe said it could help Sanders' hands and footwork. Through the years, as Sanders researched offensive linemen whose wrestling backgrounds helped them climb the ladder to college football and even the NFL, he was completely on board. Keysha changed her perspective as well, seeing how wrestling has helped him.
Sanders is taking every step he can to pursue his dreams after high school. He said he would love to play on the same field as his grandpa, and whether he suits up in a Cowboys jersey or visits OSU as a member of an opposing team, he wants to be a Division I athlete.
"Anywhere that will give me a chance, I will consider," Sanders said.
As an uncommitted recruit, Sanders has garnered attention in multiple prep football rankings and articles. While the achievements pile up, Sanders continues to evolve as a teammate, expanding his personal boundaries and embracing the opportunity to lead.
"He just entered this last offseason with a whole different attitude," coach Tucker Barnard said. "He was just such a great worker and really, when he came into the weight room after he was done wrestling, he just brought a new energy with him."
Sanders is still the quiet kid who doesn't demand attention. He's still the athlete who retreats to his space with headphones and, before the Pioneers run out on the field, unassumingly stays near the fence while some of his teammates are eager to be the first to emerge from the wagon-shaped tunnel.
That's who he is. But Sanders is also talking to his teammates more, striving to keep them even-keeled and focused leading up to kickoff. He looks up to offensive line coach Johnson, who had a similar leadership style when he played at OSU and went on to win a Super Bowl ring. Johnson said his teammates recognized he wasn't overly talkative, but when he spoke up, his words were full of meaning.
"I always kind of took that as a point of pride that my peers realized that," Johnson said. "And I think that that's kind of the same way with JaKobe. … When he decides that he needs to say something, then his teammates listen."
Through words and actions, Sanders' impact resonates with the Pioneers. Once, when describing how to approach game day, running back Noah Roberts made sure to say, "Follow Big JaKobe."
As the Pioneers look to Sanders on the field, they also follow him in the weight room. No one else rivals Sanders' level of weightlifting, Gundy said, but the junior center's coach-like presence motivates his friends to elevate their self-expectations.
Iron sharpens iron.