Barry Sanders had a long list of people to thank.
In typical Sanders fashion, he spent his time behind the microphone giving credit to others, from Oklahoma State administrators to family members to coaches. Many of those individuals, including his mom and his high school coach, were members of the crowd that gathered to celebrate him Saturday before the Cowboys faced TCU.
After Sanders finished speaking, the Cowboy Marching Band's steady drumroll ushered in the moment spectators had awaited. The new statue outside the stadium was uncovered, revealing a large bronze representation of Sanders, known to many OSU supporters – and others – as the greatest running back of all time.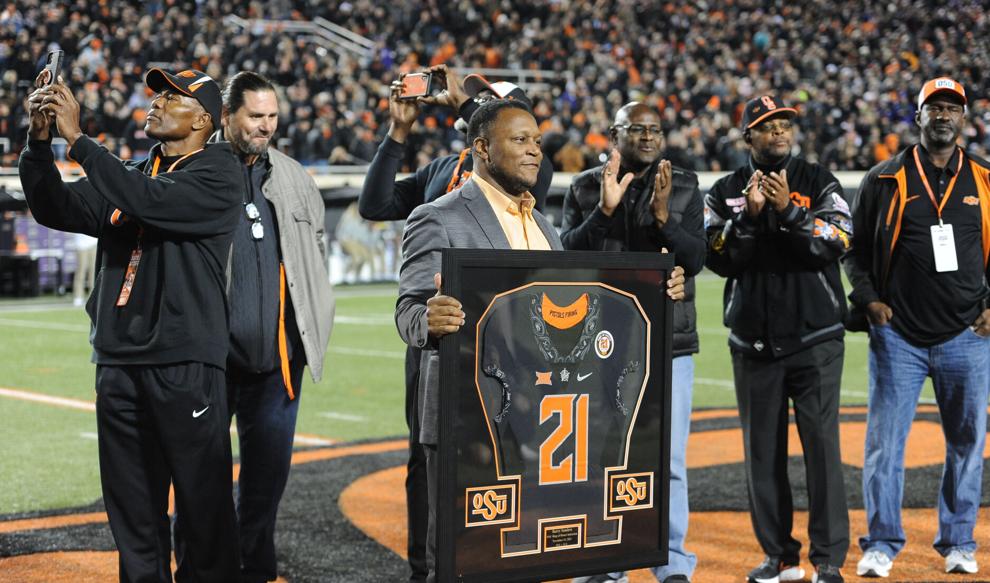 As members of the crowd cheered while getting their first glimpse of the statue, an orange-streaked sunset painted the sky above Boone Pickens Stadium, a fitting backdrop for a night to honor a Cowboy superstar.
The often-quiet Sanders then had a rare moment of embracing the spotlight, joking with reporters about sculptor Harold Holden's many options of iconic plays for the statue to immortalize.
"Fortunately for me, there's a couple of good shots to choose from, so you can only choose one," Sanders said. "But if they want to choose another one and put one up somewhere else, knock yourself out. Nah, I'm playing."
There might have been only one Sanders statue installed on campus, but the Cowboys paid tribute to him in more than one way. At halftime of OSU's game against the Horned Frogs, Sanders became the second member of OSU's Ring of Honor, joining Thurman Thomas to have his name and number displayed above the west end zone.
The Cowboys' uniforms featured Barry Sanders Ring of Honor patches that displayed his retired number, 21. 
Sanders, once a recruit out of Wichita North High, said when he arrived at OSU, he never would have dreamed he would someday be represented in statue form outside the stadium. Sanders reminisced on the day when his father dropped him off at OSU during the summer of 1986 and described the thrill of having a college football career ahead of him.
"For me, it was just step-by-step progression," Sanders said. "No one knew who I was when I came here. I was just excited to be here, going from that to being an All-American kick returner as a sophomore, and thinking, 'Man, I don't know if it can get any better than this.''"
But it did.
In 1988, Sanders won the Heisman Trophy, averaging 237.5 rushing yards per game and 7.7 yards per attempt while scoring 44 touchdowns. His single-season record of 2,628 yards still stands. Sanders, who furthered his illustrious rushing career with the NFL's Detroit Lions, has established himself as a Cowboy legend. 
Everyone who spoke at the statue ceremony, from former OSU coach Pat Jones to present-day coach Mike Gundy – Sanders' quarterback – emphasized the ways Sanders has impacted the Cowboy football program as an athlete and as a person. At halftime, the messages of appreciation continued with videos from Troy Aikman, Emmitt Smith, Desmond Howard and OSU alumnus Garth Brooks.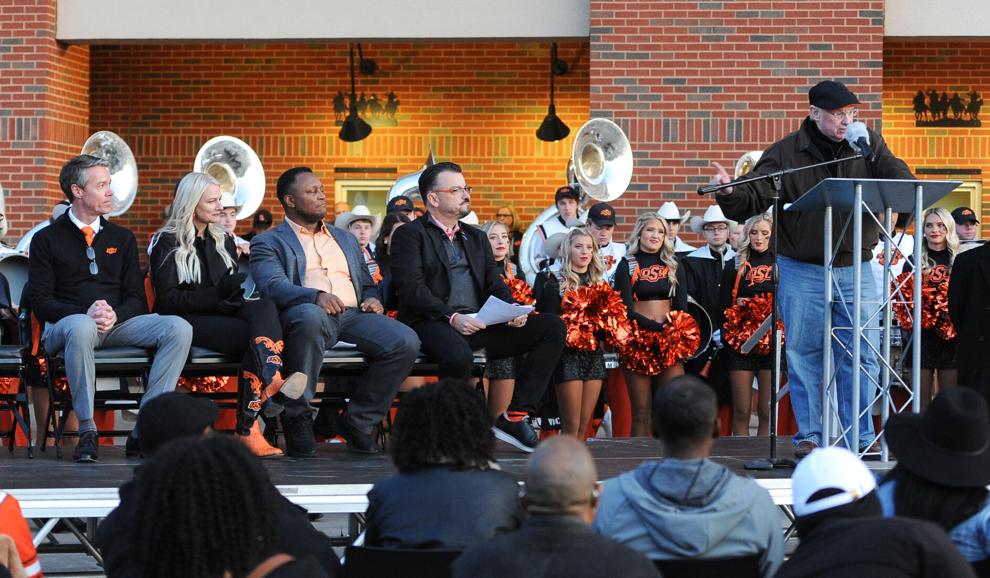 "(Sanders) is, regardless of position, the best player that's ever played the game," Jones said. "And as we reflect back, that is unbelievably special. A friend of mine was talking about this not too long ago and said, 'You know, he was not just the best player we had. He was the best player that anybody had.' This is Barry Sanders."
This weekend, Sanders had the opportunity to spend time with the current Cowboy running backs, passing on his wisdom to them.
"I was just telling them how those moments, like the night before a game, for me, (are) just special memories," Sanders said. "Just the butterflies and the tension, and just playing over the game in your mind. It almost made me feel back in that setting, so I enjoyed it."
Now, Sanders has a new personalized memento to represent his Cowboy football career. He received a trophy-sized version of the nine-foot-tall statue, and as he talked about deciding where to put the small replica, he again revealed his sense of humor.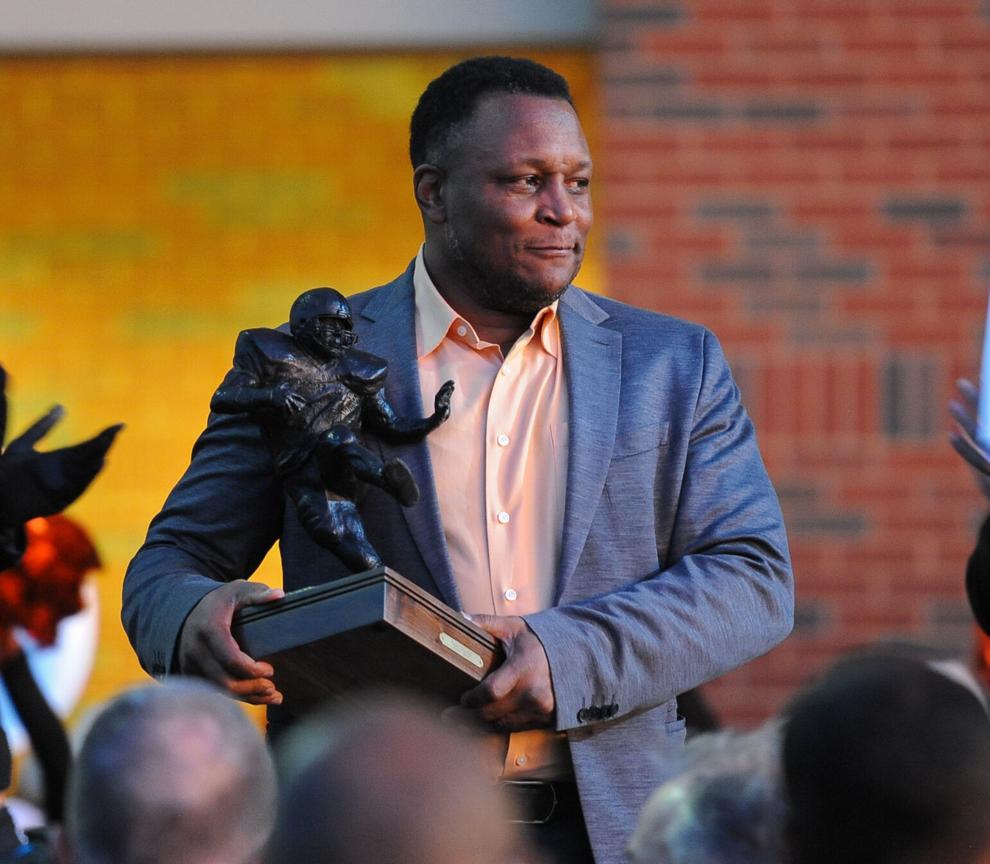 "I'll find a good, special place," Sanders said. "I may have to have a little tug-of-war with my mom, because she has my Heisman. My dad, he wouldn't let the Heisman out of his sight when he was alive, so maybe at some point, I can sneak it out of their house. Me and Mom will have to figure out who actually gets this one."
Follow News Press sports reporter Hallie Hart on Twitter @halliehart for updates on Oklahoma State athletics.