Oklahoma State softball coach Kenny Gajewski sensed that someone – no, something – might appear next to him in the aftermath of the Cowgirls punching their ticket to a fourth-straight Super Regional.
They had just strung together a thrilling rally in the seventh inning to take down Nebraska. Gajewski popped on a headset, sparked a conversation with the ESPN crew atop Cowgirl Stadium and, within seconds, had a visitor hovering over his right shoulder.
Meet Bullet, a shades-wearing, hat-rocking hobbyhorse given to Gajewski and Co. from a trio of local elementary schools in a gesture that rejuvenated the Cowgirls ahead of the postseason and served as their de facto mascot through the first part of it.
"I knew that there was stuff going on behind me, but I'm not quite sure I knew everything," Gajewski said through a laugh on Wednesday afternoon. "Then they handed me that stick, and I just grabbed it. And I looked like a complete moron. They think it's the funniest thing of all time."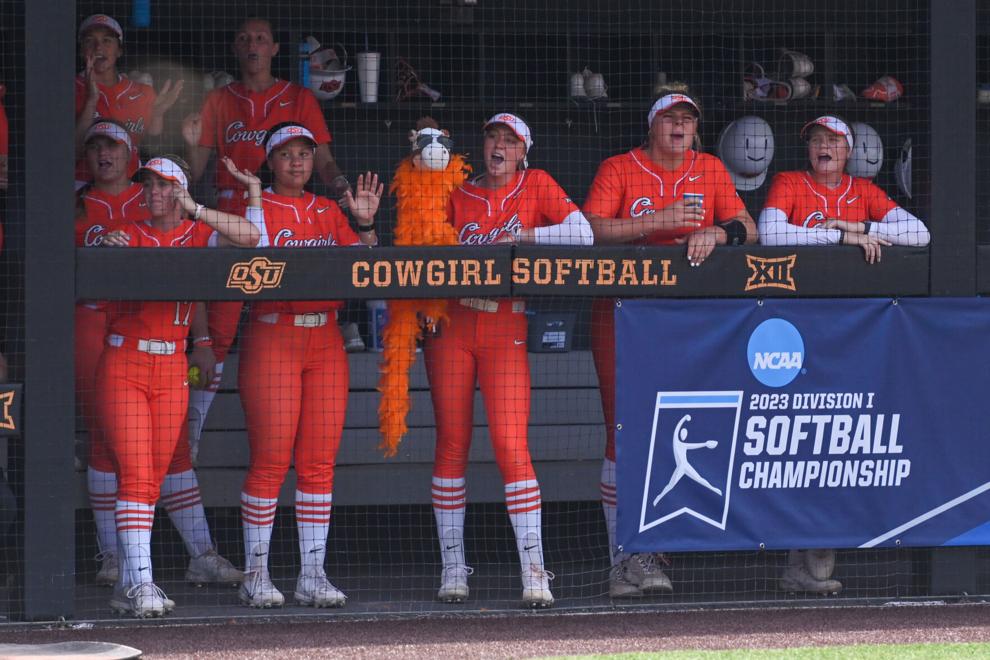 OSU took what's become an annual weekend trip to Broken Bow since Gajewski was hired following the 2015 season. It's a way for the team to get away, collectively watch the NCAA selection show and let loose before getting the postseason started.
It was much needed this year. Things were suddenly bleak. The Cowgirls had dropped 11 of 13 ahead of Selection Sunday, including a defeat that gave Kansas its first win in the Big 12 tournament since 2007.
The getaway, Gajewski has since said, gave the Cowgirls air in their tires. What was waiting for them when they got back was gas in the tank, oil in the engine and wiper fluid for a bug-filled windshield.
Someone within the softball program didn't want the refresher to stop once the Cowgirls returned to Stillwater. So, they approached a few local elementary schools – Morrison, Richmond and Westwood – to give the team's facilities a facelift.
And it just so happens that Christy Williams, the principal at Morrison, is an avid OSU fan.
"I attend all the games, so they kind of have a special place in my heart," Williams told News Press. "I thought, you know, they just really needed to know that there are people who do believe in 'em."
Williams' students weren't supposed to be in school that day. It was the week before summer break. Morrison, a four-day district, is only in session Tuesday through Friday.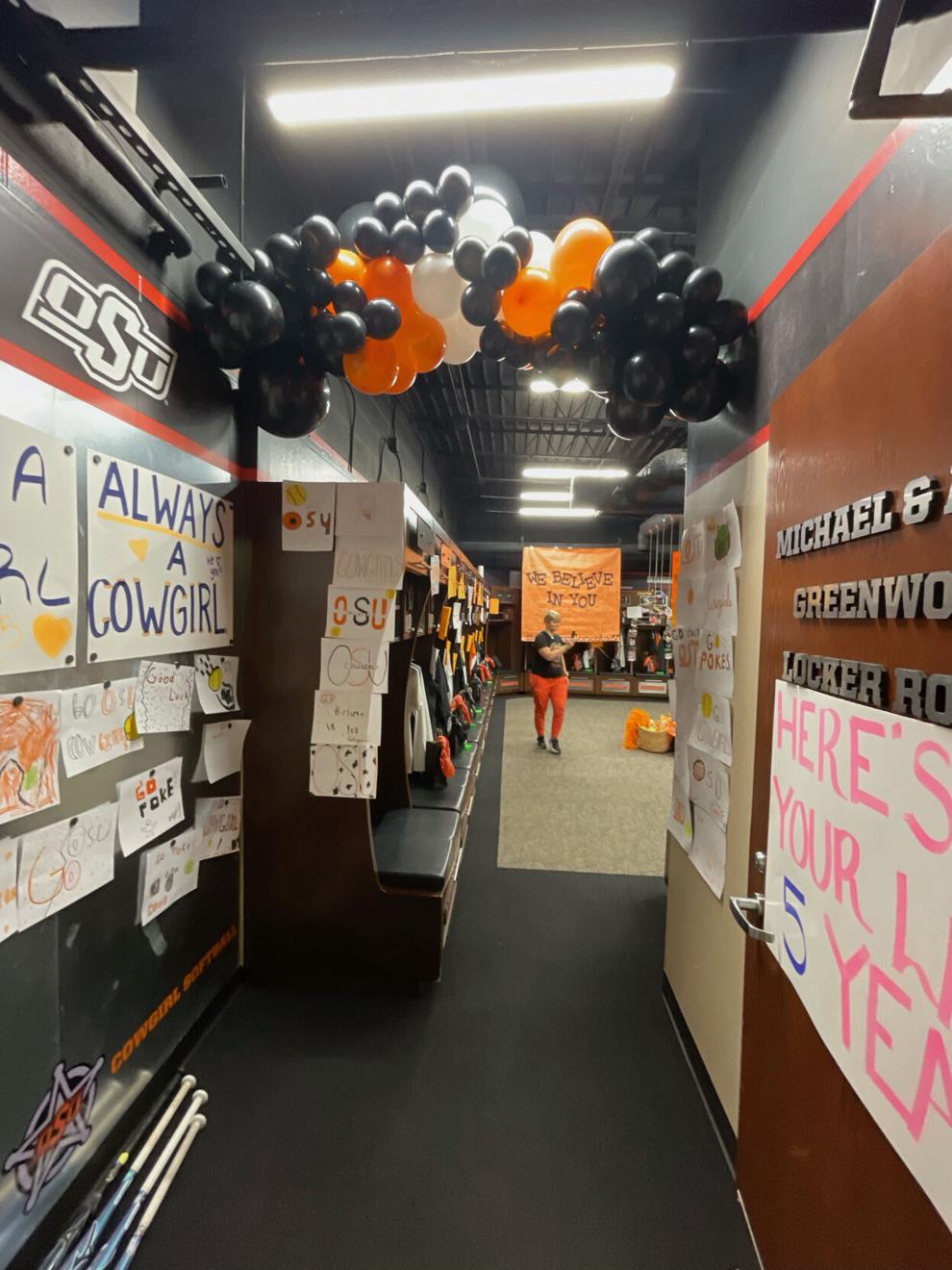 But thanks to a makeup day from inclement weather, students were there. Williams saw an opportunity, one that wasn't schoolwork, and had everyone – kindergarten through sixth grade, and even some preschoolers – lead the charge.
By day's end, they had more than 200 pieces of paper, all with something different illustrated, yet all conveying the message to the Cowgirls that Williams always wanted to get across: "We believe in you."
"Sometimes it takes the little people who are honest to help you realize that," Williams said. "When those naysayers come out, that's tough."
In addition to all of the individual illustrations, Williams put together a banner – somewhere along the lines of 10 feet by 10 feet, she estimates – and had everyone sign it. It was one of the first things the Cowgirls saw in their locker room once returning from Broken Bow.
For Morrison staff and students, it was bigger than just extending a helping hand. It was about giving back to a team that had already given something to them.
One of OSU's teamwide NIL deals, Williams said, required the Cowgirls to visit a couple of local schools. Perry Elementary was one of them. Morrison was the other.
And Williams put a similar banner together in the fall, one meant to welcome in the kids' newest visitors. It was hung on the fence, waiting for the Cowgirls to arrive.
Mother Nature had different plans.
"By the time the team got here, the wind had picked up and ripped it," Williams recalled. "So, they never actually got to see it. They didn't even know that."
Months later, included in all of the encouragement plastered throughout OSU's facilities was Bullet, the stick horse provided by one of the elementary schools, which the Cowgirls named after the live horse featured at every OSU football game in Boone Pickens Stadium.
"I just feel like we've kind of taken that and used it as something that can give us energy in the dugout," Cowgirls second baseman Rachel Becker said. "I think it's just really fun to have new things like that in our dugout to keep it fun and keep everyone involved and keep everyone's energy super high."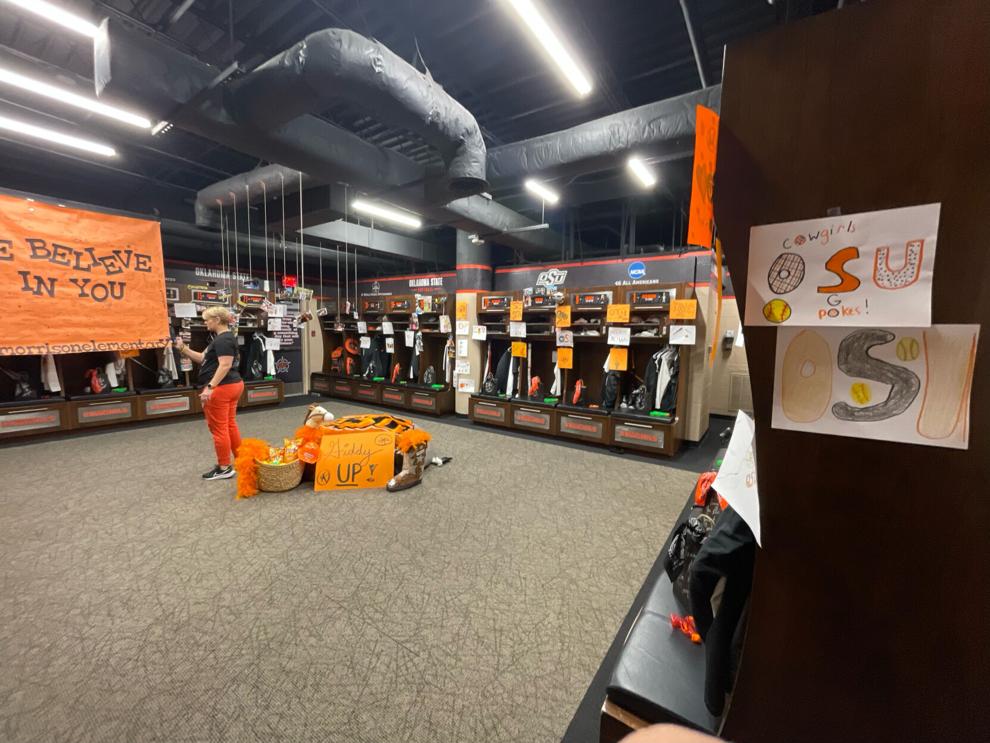 There was also an orange, fuzzy lei – which Bullet has also worn at times. There was a Cowboy hat. There was a bright orange hard hat, too.
Gajewski wore it all. And for what he couldn't wear? No problem.
While shortstop Kiley Naomi held Bullet next to Gajewki's face, center fielder Chyenne Factor and pitcher Kyra Aycock stood on each side of their coach and held up crawfish. Real, living, moving crawfish from one of the players' dads who flew in 350 pounds of the crustaceans to tailgate throughout the weekend.
"I'm like a punching bag to these guys," he said, sitting between Factor and Naomi on Wednesday. "I just wear it, nonstop. If that's what they need, that's what I'll be."
Everyone in the program has bought in. They "adopted" Bullet, pitcher Kelly Maxwell said. Since, he's become a regular on TV, made the rounds on social media and even found his way onto shirts.
OSU will host Oregon for a best-of-three Super Regional starting at 8 p.m. Thursday in Cowgirl Stadium (ESPN+). Taking two from the Ducks would mean a fourth consecutive trip to the Women's College World Series in Oklahoma City.
But ahead of this weekend, one thing is for sure: It's worked thus far. All of the decorations, all of the silliness and especially all of Bullet's spirit, it's all worked for the Cowgirls.
"It's cool. I mean, I think that's what people love about our program," Gajewski said. "We don't do it like everybody else. … I just love the fact that these guys love to have fun."
Follow News Press sports reporter Jon Walker on Twitter @ByJonWalker for updates on Oklahoma State athletics and more.