College softball fans might expect to see some fireworks or grudges spotlighted when Oklahoma State and Georgia square off Thursday afternoon in the first round of the Women's College World Series in Oklahoma City.
Emotions run high at the USA Softball Hall of Fame Complex every year when the final eight teams compete for a national championship. One might think emotions will be extra high when the Cowgirls play Georgia simply based on the fact that two former Bulldog starters will be wearing orange and black.
However, the chances seem small if you ask either of the players. OSU seniors Alysen Febrey and Jordan Doggett transferred from Georgia after the 2019 and 2020 seasons, respectively, but they aren't worried about their opponent at 1:30 p.m. Thursday.
In fact, they are actually looking forward to seeing former teammates and coaches on the diamond. 
"I don't have any problem with it," Febrey said. "I'm honestly kind of excited about it. I have no hard feelings toward anybody there. It's my birthday today (Monday) and Coach Lu (Harris-Champer) was one of the first people to text me. I'm excited to see everybody and I think it will be a good game."
OSU (47-10) reached the WCWS by defeating Texas on Sunday in the final game of the Stillwater Super Regional. A day earlier, unseeded Georgia swept No. 4-ranked Florida in the Gainesville Super Regional.
The Bulldogs won, 4-0, and 6-0 as the road team. That came a week after Georgia won its NCAA Regional although it wasn't the highest seeded team. No. 13 Duke was the top seed of the regional, but the regional sites were pre-determined, so the Bulldogs were rewarded by playing at home.
Georgia's victory over Florida meant it was going to play OSU at the WCWS if the Cowgirls won their Super Regional over Big 12 Conference foe Texas. But, Febrey and Doggett weren't thinking ahead to playing their former squad, as they had to defeat Texas in a winner-take-all contest first to lock up a spot in OKC.
Now, the Bulldogs (34-21) are the Cowgirls' next opponent on the schedule. There's no animosity either way, according to both former Bulldogs turned Cowgirls.
"They just happen to be who we're matched up with and that's our most important game," Doggett said. "Whoever it was going to be is our most important game, regardless of who's in the other dugout. I don't really think the name or team really matters to us. We're just focused on us and who we've got to get through to get to what we want in the end."
Doggett came to OSU this year after all spring athletes were granted an extra year of eligibility following the early cancellation of the 2020 season. She helped the Bulldogs to a 23-5 record, appearing in 27 games and hitting .360 while scoring 27 runs.
The Georgia outfielder hit three doubles, three triples and two home runs. It was on pace to be her best season at the plate before the pandemic ended the season in mid-March 2020. 
However, much like her friend who left Georgia a year earlier, Doggett opted to play her final season elsewhere. The McDonough, Georgia, native turned to the transfer portal, where she eventually reconnected with her former teammate.
"I'm a big homebody, so me even thinking about going more than an hour and 15 minutes away from home was really scary," Doggett said. "I was just really comfortable in that position and I had more more season, so I thought let's just get through it, get it done, and then move on with my life with grad school or whatever I was going to do at that time. Then when COVID hit, I'm like I'm not happy either, so I decided to take a chance on myself and see what I can do to potentially make myself more happy.
"I talked to (Febrey) a lot when I was trying to make my decision. She told me to just do it, because you have nothing to lose, so try to see if somewhere new makes you more happy. She told me (OSU) was looking for someone, and so I took my chance on that. I think I made the right decision."
Febrey admitted she didn't try to influence Doggett's decision too much, but she did tell her friend the Cowgirls were looking for another player to add to the roster.
"I just wanted her to be happy," Febrey said. "Obviously, I wanted her to come here, but I thought even if she didn't end up at OSU, would she be happy going somewhere else? I just remember supporting her and wanting her to just be happy. I'm happy that it's OSU, but I'm happy if she would have went somewhere else and it made her happy."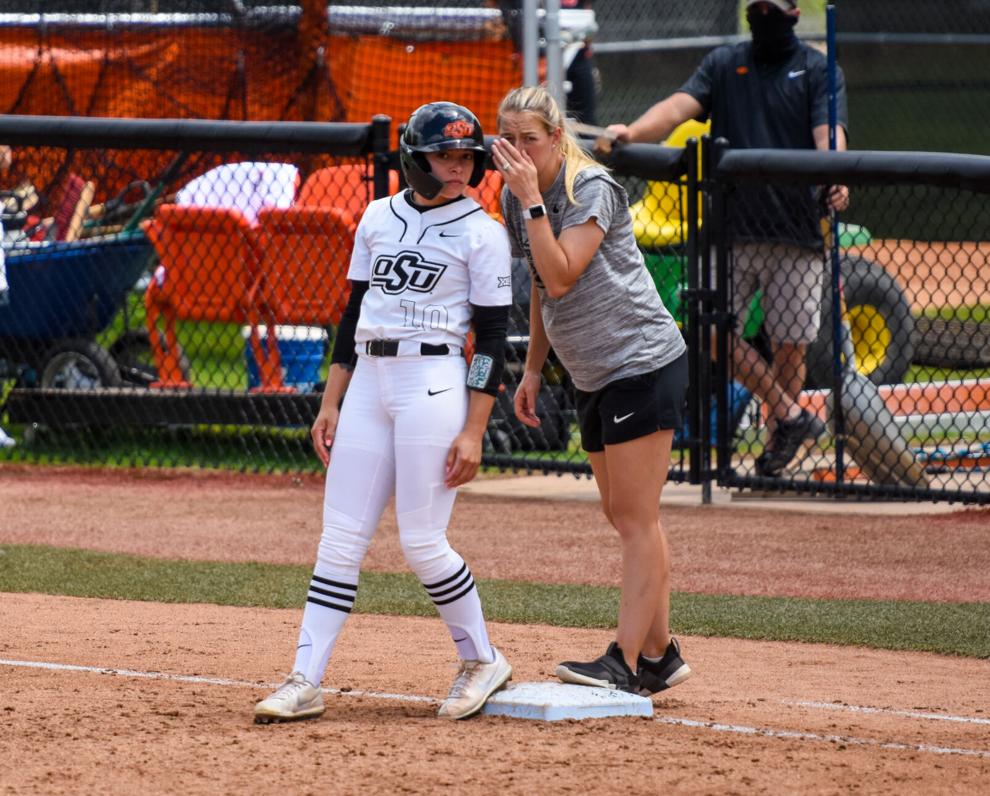 A year earlier, it was the reverse situation. Following the 2019 season – their junior season at Georgia – Febrey chose to leave her home state after another solid season. She started 53 games at right field after playing first base her first two years at Georgia.
Febrey batted .314 with nine home runs and 36 RBIs. She helped the Bulldogs go 42-19, but their season ended in the NCAA Regional round.
Months after her junior season ended but before her senior year started, Febrey entered the transfer portal. She wanted a new home for what she thought was her last year of collegiate softball.
"I wanted a new opportunity," Febrey said. "I got this opportunity to go to grad school. It just felt fitting. I wasn't having as much as I wanted to. I had a year left and I wanted to be a part of something that could win a national championship.
"I went into the portal kind of late not knowing what was going to happen. It was kind of spontaneous to go in at the end of July. Not many transfers do that, it's more when their season ends."
A familiar face came calling. OSU coach Kenny Gajewski tried to recruit Febrey when he came to Stillwater before the 2016 season. She chose Georgia, but a few years later, she finally accepted Gajewski's offer.
"Coach G, when he was at Florida, he recruited me there, and then when he got here, I was his first recruit. I told him, and he never lets me live that one down. When I went into the portal, he reached out to me, and I came on a visit here. I had other ones set up, but I canceled them. I knew I wanted to come here when I came on my visit."
The news hit Doggett hard, because their friendship began blossoming after the 2018 season in which the Bulldogs went to the WCWS. 
"I was sad, I was really sad," Doggett said. "We had gotten so close. It was here and Mahlena O'Neal – if you saw one of us, you saw all three of us. It was really sad and really hard in the beginning, but I was really happy for her. This is what she needs to be happy again. If she was happy, then I was happy for her."
Doggett and Febrey became friends in eighth grade. They played on the same travel ball team for a year. They also played against each other during high school, so their friendship remained.
In the fall of 2016, they both went to Georgia as freshmen. They were friends, but weren't very close. Febrey blames herself for that.
"My freshman year, I was kind of quiet and kind of kept to myself and didn't really hang out with that many people," Febrey said. "I think it was not until our sophomore year when we went to the World Series that we actually started becoming friends. We were fine our freshman year, but just didn't really hang out. That was partly on me. I was a shy girl my freshman year."
Doggett agreed. It was nothing personal, though.
"She was that way in travel ball, too," Doggett said. "When we got to college, it wasn't like Alysen, why aren't you around? We knew she kind of kept to herself. After the World Series and that whole season, we all bonded and it was the summer after that when we really got close."
In the spring of 2018, Georgia advanced to the WCWS, where it went 0-2, but the experience was something neither Doggett of Febrey will ever forget.
"I remember watching the World Series growing up and to be there, it was like, 'Wow, this is what I watched my whole life,'" Doggett said. "It was really surreal to actually be there and be on that field playing in front of all of those people."
Febrey agreed, saying they were surprised to be playing in OKC. That's why when she left and came to OSU, she wanted to go somewhere where reaching the WCWS was almost expected, and ti was for the Cowgirls following their trip in 2019.
"The year I transferred, I knew I was coming here for that," Febrey said. "I didn't just transfer to be on another team. I wanted to be a part of something that could get to the World Series and compete to win a national championship. At that time, I had no intention of leaving Georgia, so I just thought it was awesome and I enjoyed it. After I transferred, I thought we could win it."
Now, she will be trying to win it all as a Cowgirl. But first, she must defeat her former team on the biggest stage.
"Like Jordan said and Coach G harps on a lot, whatever game we have ahead of us is the most important game of the year," Febrey said. "Getting that first win is awesome, because then you're not worried about the double elimination, but we can't look too far ahead."